By Mark Taylor
A team approach is helping improve trout habitat on a popular fishing stream near Harrisonburg, Va.
Trout Unlimited's national staff partnered with the local TU chapter and a property owner to improve a section of Beaver Creek, a spring-fed stream that runs through private land but that is open to public fishing through a unique cooperative program.
The effort is part of Trout Unlimited's focus on the North River watershed and its popular public trout fishing streams, including Beaver Creek, Mossy Creek and the headwaters of the North River.
Funding for the work was provided by a variety of sources — including two businesses that rely on clean water.
Virginia Eagle Distributing, a beer distributor in Western Virginia, in partnership with longtime TU supporter SweetWater Brewing Company, provided a $5,000 grant through a special fund-raising program designed to enhance public trout fishing in Virginia.
Virginia Eagle and SweetWater donated $1 for every case of SweetWater beer purchased in Virginia Eagle's distribution footprint from Dec. 2, 2019 to Jan. 3, 2020.
"As a company, Virginia Eagle has a great appreciation for the well-being of the communities we serve," said Scott Heinz, the company's chief operating officer. "We are very fortunate to live and work in an area with such a vast amount of natural beauty. It is truly our pleasure to offer this donation in support of preserving the health of our local waterways."
Massanutten TU, the chapter that helps manage the public trout fishery on the stream, contributed with labor, an Embrace-a-Stream grant and money raised through daily fees collected from anglers who fish the stream.
"Beaver Creek is the chapter's special outreach project to our community," said Massanutten TU treasurer Brad Striebig. "It is a great location to host anglers at all levels and is especially conducive to teaching new anglers.

"It's a spot where my kids and I have some very special memories, and our chapter also uses this section for a spring field trip associated with TU's Trout in the Classroom program and to introduce military veterans to fly fishing at the annual Beaver Creek Invitational."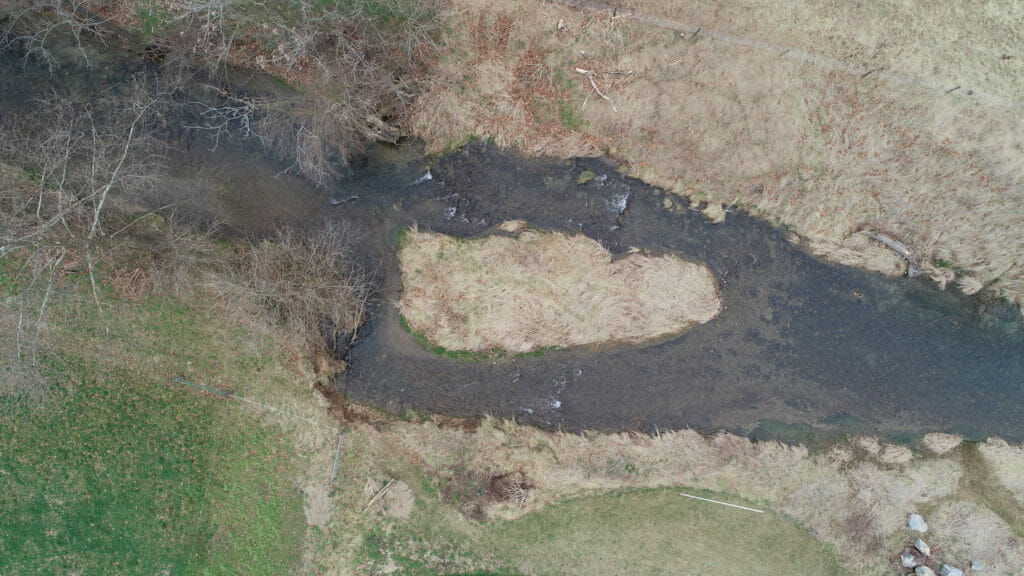 The property owner helped to significantly reduce costs by donating materials and labor, including large boulders collected on the property.
Students from the James Madison University Department of Engineering and the Massanutten Regional Governor's High School assisted with the collection of stream data that assisted with the natural channel design process.
"This was the epitome of a high-impact, low-cost project," said Dylan Cooper, the TU stream restoration specialist who designed the project.
The site featured a 100-foot-long eroding bank, which had receded 10 feet in just the past few years, as well as a channel that split in an area where it should have been a single channel. The site connected two areas that had previously been restored.
The most recent project featured a natural channel design and a rock cross vane to create stable banks, floodplain bench, fishing access, and pool creation and deepening for habitat.
Native trees will be planted on the banks to further enhance the site.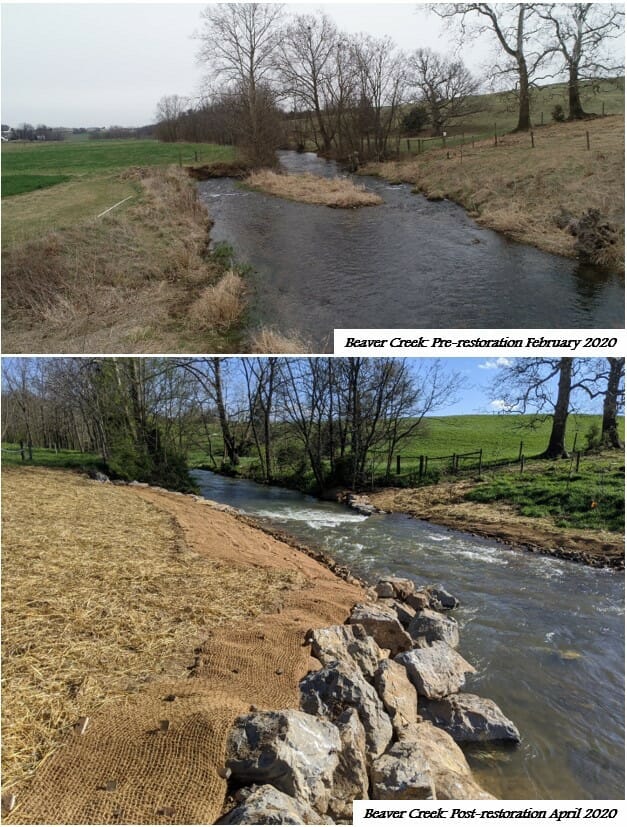 Beaver Creek is in the upper reaches of the Shenandoah River watershed, long of focus of TU's restoration work in Virginia. It is a tributary to the North River, as is Mossy Creek, a nearby creek that is another popular fishing stream where TU has been restoring habitat.
In its upper reaches in the George Washington National Forest, the North River is a native brook trout stream. TU has been working with the Forest Service to restore more than 5 miles of habitat.
The Shenandoah is a major tributary to the Potomac River system, itself a priority focus for TU protection, reconnection and restoration efforts, as highlighted in the TU film "A Nation's River."

Like Mossy Creek, Beaver Creek flows through agricultural land. Both streams have suffered from erosion, siltation and a lack of riparian cover.

Because of a dearth of suitable spawning habitat, the public trout fisheries on both creeks are supported by supplemental stockings.
The Virginia Department of Inland Fisheries stocks Mossy Creek with fingerling brown trout. The Massanutten TU chapter occasionally stocks adult rainbows in Beaver Creek, covering the costs with modest daily rod fees.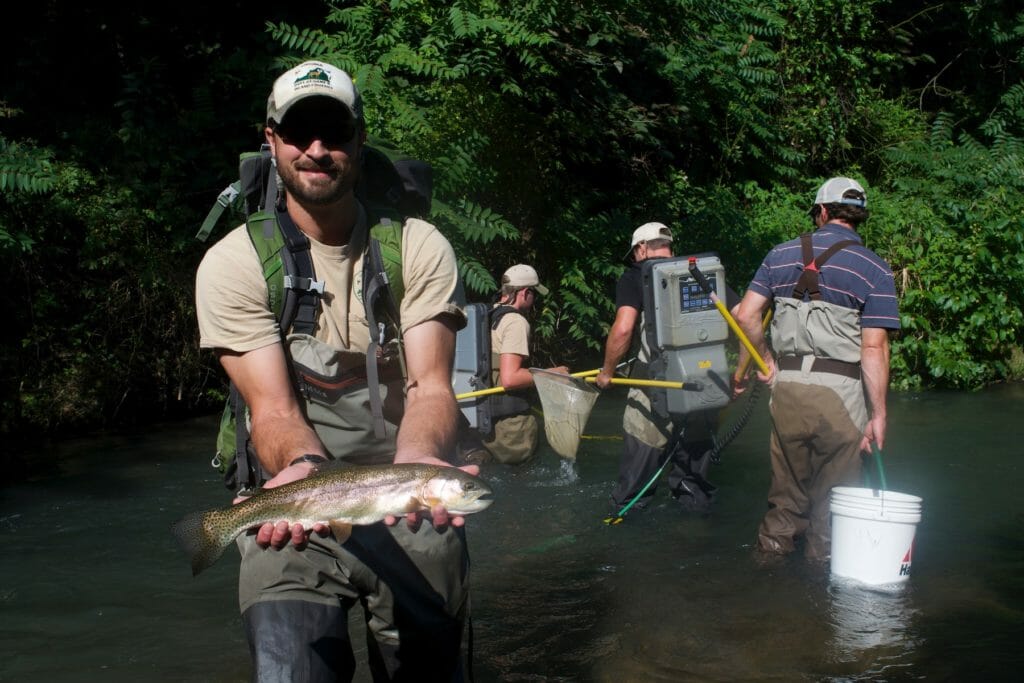 The trout population in Beaver Creek is getting more diverse.
"We have seen native brook trout in Beaver Creek since doing these projects in greater frequency," said Seth Coffman, who oversees TU's program in the upper Shenandoah headers. "Our goal is to get that native brook trout designation back, which will require documentation of natural reproduction.
The project spanned six weeks — one month for site visits, survey, design, and permitting, and two weeks to complete construction.
Individuals working on the project followed social and physical distancing protocols to comply with Virginia's COVID-19 guidelines.
The public fishing section of Beaver Creek is 2 miles long. Only four permits per day are granted. The permits are available on a first-come, first-served basis for a $10 donation (to Trout Unlimited) at 257 Grocery Store, 6939 Briery Branch Road, Dayton, Va. There is no public fishing on Sunday.
Mossy Creek's free permits are available from the Virginia Department of Game and Inland Fisheries.