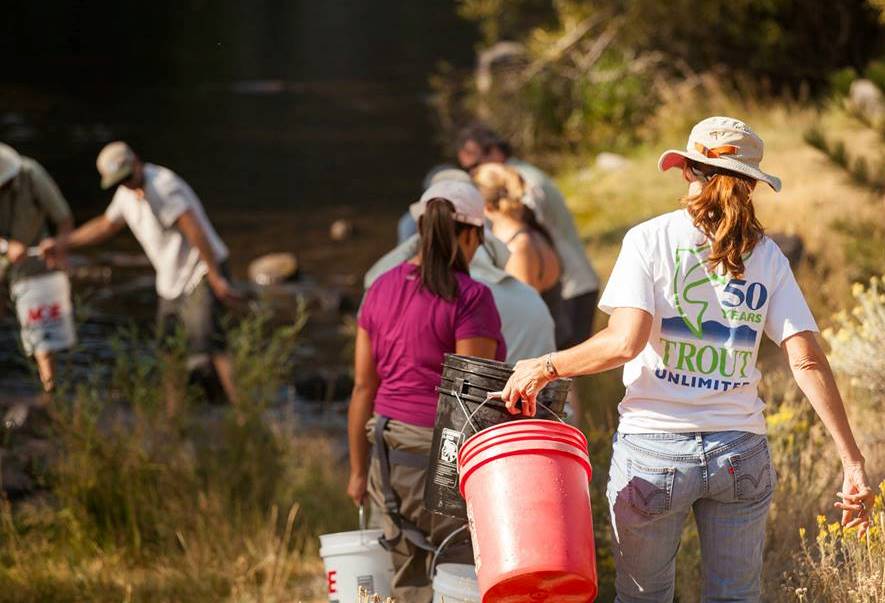 Embrace A Stream (EAS) is a matching grant program administered by TU that awards funds to TU chapters and councils for coldwater fisheries conservation. Since its inception in 1975, EAS has funded more than 1,150 individual projects with more than $4.9 million in direct cash grants.
For current updates on EAS projects, visit the EAS Facebook page and follow #embraceastream on Instagram and Facebook.
In 2022, a total of $86,000 was awarded to 13 chapters and councils, helping restore stream habitat, improving fish passage, and protecting water quality in states from coast to coast.
Grant Applications
Please note the following 2023 EAS funding cycle draft deadlines:
May 15 – Deadline to notify regional EAS representative of your intent to apply
July 1 – First draft applications sent to regional EAS representative (optional)
August 1 – Final application deadline
September 30 – Grants awarded at CX3 Spokane Embrace A Stream Banquet
View the Grant Guidelines & Instructions (PDF)
For your EAS application, you will need the following documents:
Once you have reviewed and worked on your draft application with your EAS Regional Representative (list below) you will apply by July 1 using the following online application:
Embrace A Stream 2023 Final Application (online)
Be sure you have everything you need before beginning the online application.
Embrace A Stream Grant Review Committee
The Embrace A Stream Committee is comprised of TU volunteers and scientific advisers. The committee evaluates all proposed projects and makes final funding decisions in the fall of each year. EAS Committee members are a valuable resource for potential grant seekers and should be a chapter or council's first point of contact when considering an EAS application. Chapters and councils that receive money are often in contact with their EAS committee representative early and often. The members of the committee include:
Region Name/Email Phone
Chair Ron Rhodes (413) 768-4994
New England Ellen Smith (413) 624-3483
(ME, MA, NH, VT, CT, RI)
Northeast Peter Ten Eyck (412) 576-5221
(NY, NJ, PA, DE)
Mid-Atlantic Brian Bernstein (410) 262-4188
(MD, VA, WV, DC, OH, KY)
Great Lakes Mike Kuhr (414) 588-4281
(MI, MN, WI, IA)
Midwest States Mike Kruse (573) 819-5426
(IL, IN, MO, AR, KS)
Northern Rockies Andy Brunelle (208) 343-1510
(ID, WY, MT, ND, SD, NE)
Southern Rockies Marshall Pendergrass (970) 596-8602
(UT, AZ, NM, CO, OK, TX)
Pacific Northwest Bridget Moran (360) 348-0583
(WA, OR, AK)
Southwest Eddie Burke (775) 747-2785
(NV, CA, HI)
Southeast Tom McInnis (864) 654-4003
(TN, NC, SC, GA, AL, MS, FL)
Embrace A Stream Final Reports
One of the requirements for receipt of an EAS grant is a final report. Your team has two years to complete your project and file a final report. Reports are important as they communicate your efforts to allow the EAS committee to tell compelling stories for program sustainability. In your final report, highlight your proposed goals and objectives and how those were met. If there are goals and objectives that were not attained, please provide additional details to explain. Any surplus EAS funds must be returned.
Note that TU chapters who fail to file a final report for projects that received EAS funding will not be eligible to receive future EAS grants.