From the editor: A few weeks ago, we introduced you to a radical drift boat design from Justin Gallen over at Raindog Boatworks. Since then there have been a few updates. Today, we have another from Justin on how the boat is progressing.
---
By Justin Gallen
Hey all you raindogs! We left off just having flipped the "Gunnimoon" over and laying in the deck framing. I said the speed of progress was going to slow a bit, and it has. Decking, as many of you know, is a battle of little victories.
On top of that, I'm attending a small business incubator hosted by Western Colorado University's ICELab to help give Raindog Boatworks a boost during these early phases of starting my business. I'm working alongside some folks that have some great ideas that you'll be seeing in the future.
Alright, back to the build.
I decided not to cut too much off the sheer. Cutting the sheer means you better have a fair line, so it's a fairly nerve-wracking cut. I felt the boat was fairly close to the model anyway. It just needed to be shaved down in a few spots.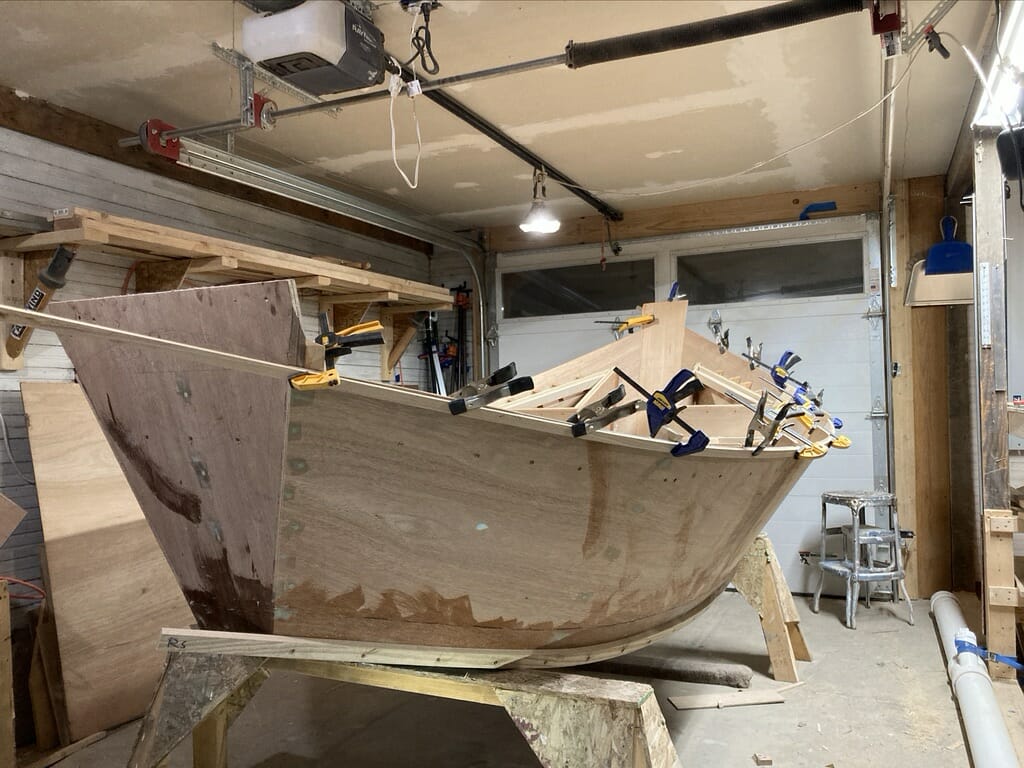 After cutting the sheer, it was time for one last round of steam bending for the gunwales. If you can get the scarf joint lined up near where the oar locks will go, you can hide the scarf since it can end up less than perfect. So far, this round of steam bending has been my smoothest.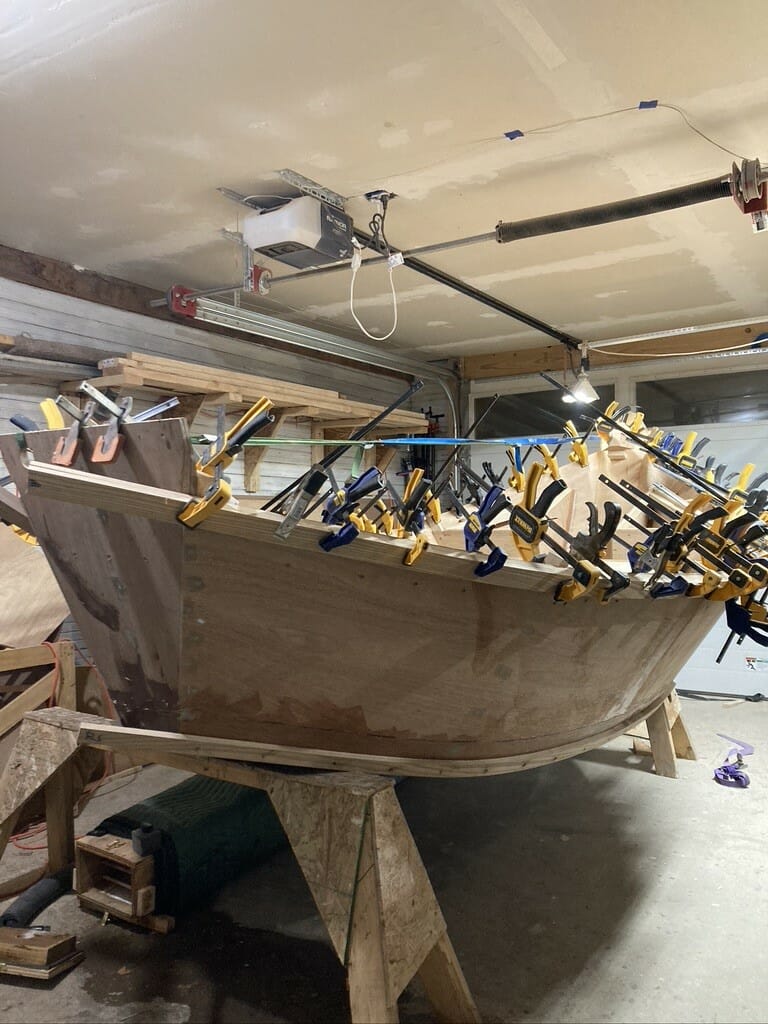 Designing the footwell for the oarsman came with some considerations.
I decided to go with a lower floor for added legroom because the horizontal length of the footwell had to be crushed to accommodate the front cross hatch and passenger's seat. The space between the true floor and the footwell floor is a great place to stash drink cans. With the current layup, you can fit 36 cans under there. If you brought the footwell up a few inches, you could fit 54 standard drink cans. You would sacrifice some legroom, but that's up to you and where your priorities are.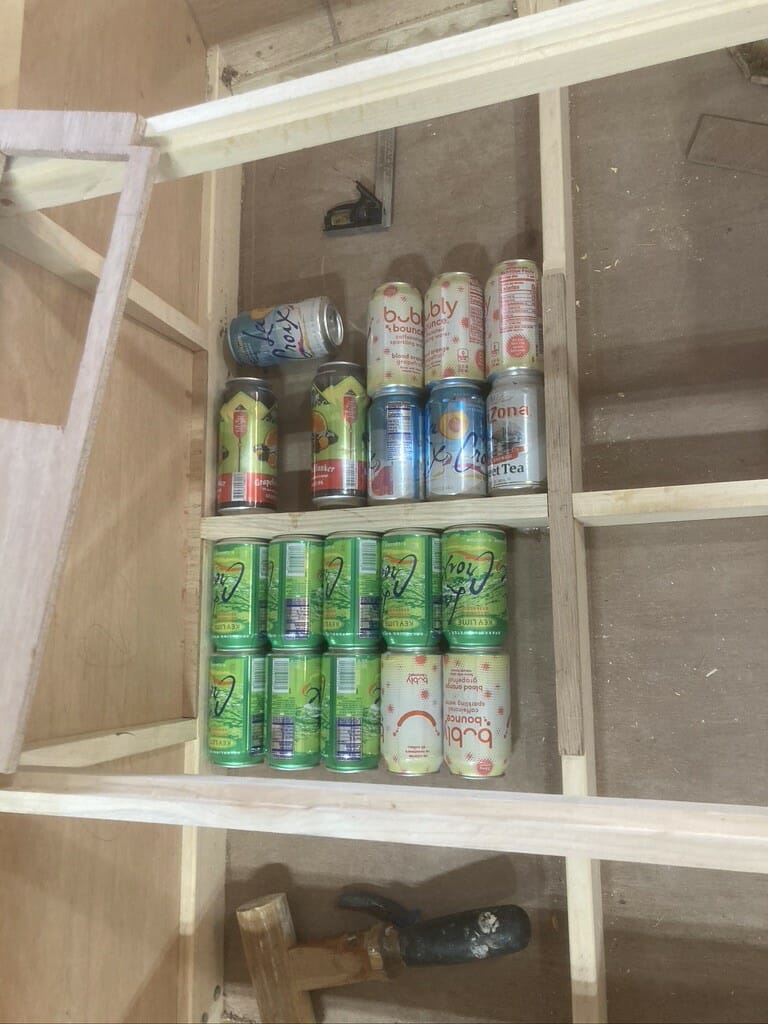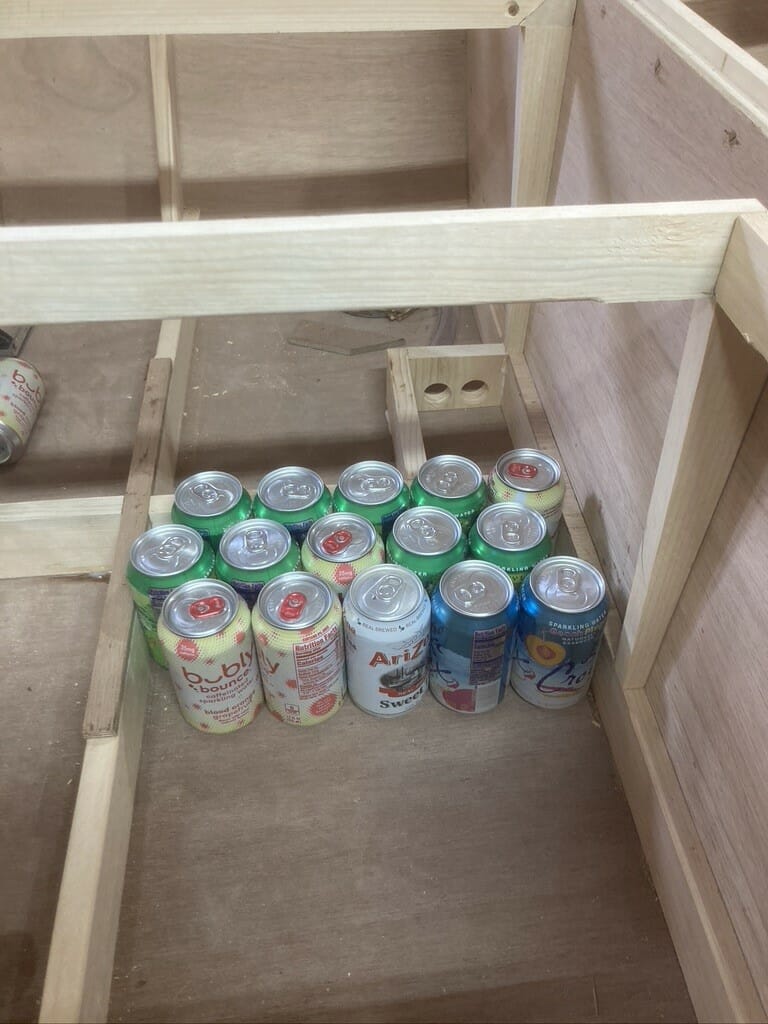 A few friends and family members came by to see my progress. I was able to convince them to pose for some photos and see how life-sized humans fit in a life-sized Gunnimoon.
It really looks to me that two people could have a riot of a time in this boat. On the wildest of forward strokes, the oars will still be able to clear the passenger without hitting them in the back. The passenger's footwell provides enough room to sit comfortably facing forward, while bracing your knees for added stability.
The real exciting part for me though is the reversible seat. Fold out the seat, fill in the footwell, and lean against the bowpost. It's going to be wild sitting on that throne watching the walls of Grand Canyon glide on by.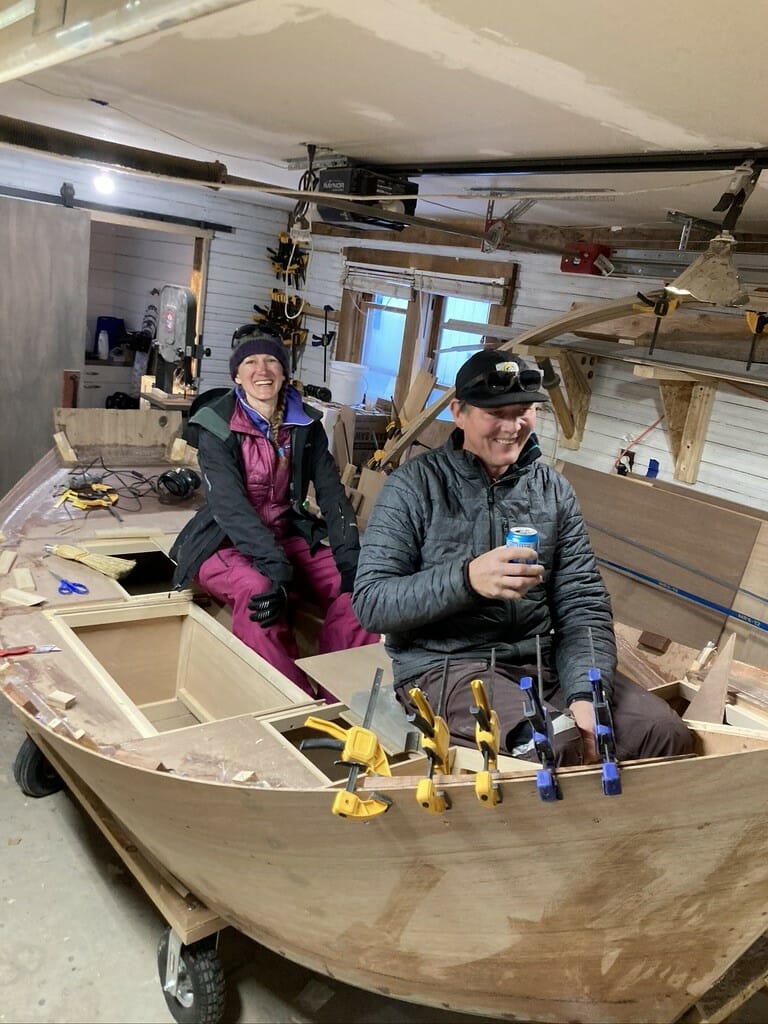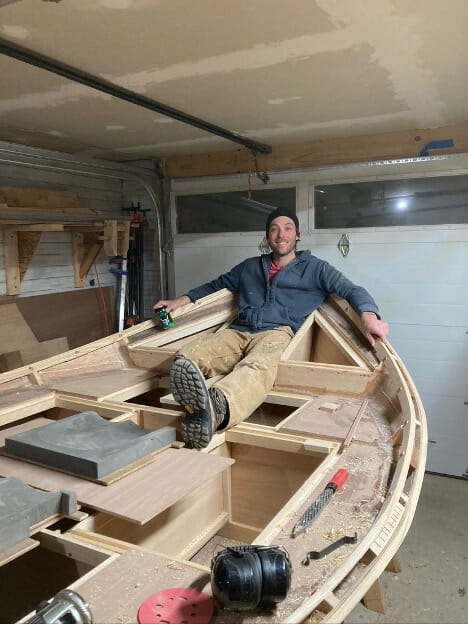 Installing the gunwales was the next task. It's a lot of work for dropping in four pieces of wood. It's important that you do it well, though, for they're the first thing that catches the viewer's eye. When I was an apprentice at Fretwater Boatworks I learned to use black walnut for the gunwale blocks that space the gunwales from the boat. It's just the most beautiful wood in my opinion, but you could use whatever looks best to you.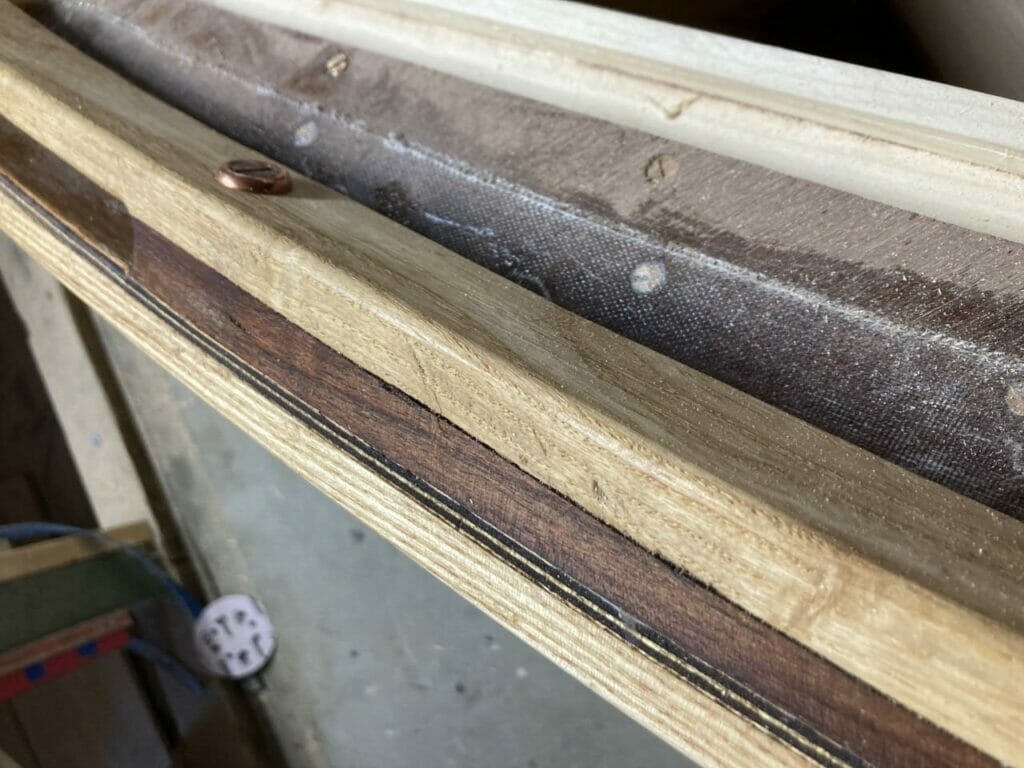 Finally came the hatch lids. It's a long process, but once you get them fitted just right, you can get a good seal for a watertight hatch. A friend of mine flipped one of my dories on the Lochsa in Idaho last May, and after about five minutes of being upside down, we flipped it back over and popped open the lids to see how watertight they were. They were bone dry! Here's a link to the footage of that flip.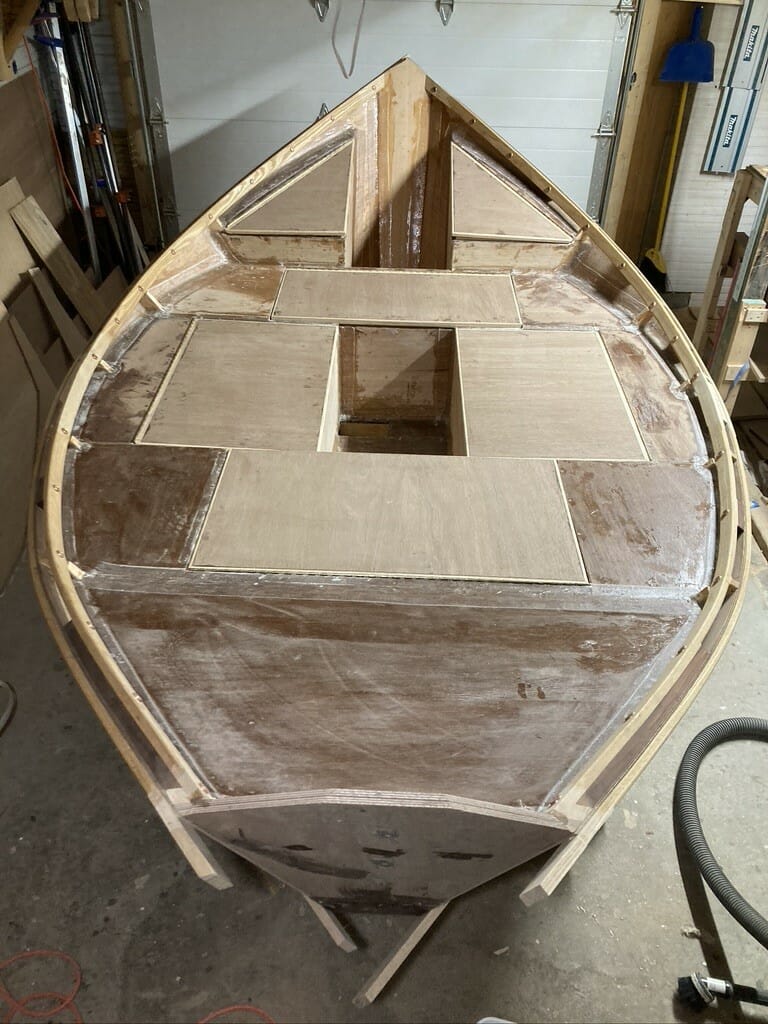 By the time the next update is posted, there's a good chance that the Gunnimoon will be done. All that's left is some plumbing, bronze casting, painting, oar locks, trim, and lettering.
See you in two weeks, hopefully with the completed Raindog Boatworks "Gunnimoon."