Mark looks different, but the same. Twin swatches of grey hair above his ears. Still fit, his full mane of hair—something he, his Dad, and older brother, David, share—maybe thinning just a tad. His eyes are red.
Mark was maybe my best friend in college. He was a tight-end. I was a wide receiver. We threw thousands of passes at one another from 10 yards away, daring the other to drop one. 
For years, mostly when we were single, he and I would decamp for a week or so to the Brewster Flats in Cape Cod, and fish for striped bass and blue-fish at his dad's house in Brewster, Mass. Mark's dad, Mr. Lahive, would often join us. I would use a fly rod, they spinning rods. We caught a lot of fish. We drank a lot of cheap beer. And, at the end of the day our wind and sun-burned faces would hurt from laughter.
Mr. Lahive's wake was this evening. He died from a massive stroke. I hadn't seen Mark in too many years; his Dad in more. The story is familiar. We both got married. Had kids. Got busy with our careers. When I got married, Mark's dad gave me an open invitation to fish the Cape with him—with or without Mark, who had relocated to California—but, you know how it is. Life gets in the way.
I never went.
I arrived at the funeral home in Cohasset, Mass., at 3:50 p.m. for a wake that began at 4 p.m. Earlier, in the dark of the morning, with tears in my eyes, I dug through a box full of old photos, none of which included my children; some included Betsy, the woman who would later become my spouse; others included old friends.
Mark and his dad appeared in more photos than anyone. Mugging at the helm of their Boston Whaler. His dad carrying a beautiful striper about to be filleted. Mark with a perplexed look as he held a bluefish as long as your leg. Mark and his dad together with an impossible sunset in the background.
The Brewster Flats is a nearly 10-mile expanse of beach between Brewster and North Eastham, Mass.—the largest tidal flats in all of North America. The stripers and blues will often follow the baitfish into the flats at low tide, and the fishing can be epic.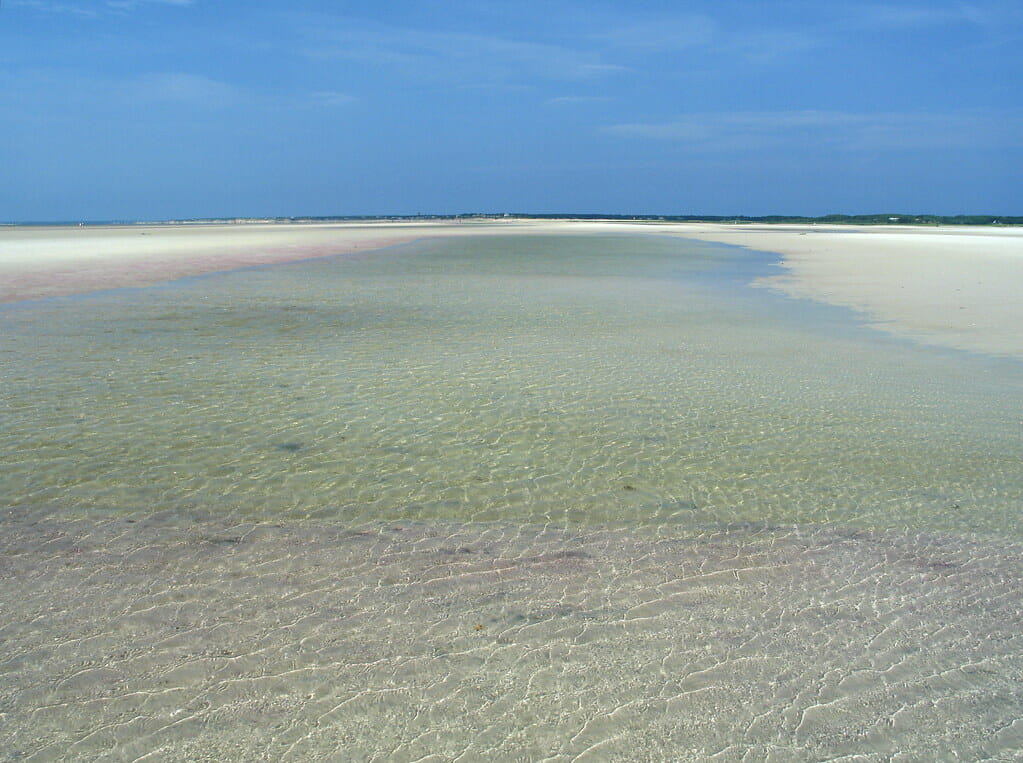 Years ago, Mark and I were fishing, and consistently hooking up with large fish. Mark looked worriedly to the horizon, and then the shore.
"Woody, we should move. The tide is going out."
"One more cast," I said. Repeatedly. 
I have a photo of Mark in the ocean tugging the boat with the anchor rope—motor fully raised, back out to the deeper water—which, by the way, was a long way away.
Another time, Mark raced the motor, trying to beat the outgoing tide as we stayed in the shallows too long sight-casting to big fish. I turned around to figure out what was rattling behind me. The banging of the boat in the surf had ripped the battery free. The loose battery smashed my fly-rod to smithereens.
One time, Mark's dad came to us at the breakfast table holding the propeller for the boat in his hand. "What is this, guys?"
Mark replied, "the prop?"
"That's right," hid dad said. "You haven't been running it over the sand, have you?"
We shook our heads.
"It must be magic," he said. "All of the strafing on the edge of the blades!"
We nodded slowly, and were a lot more diligent to the tides the rest of that week.
Mark's dad was a tough guy. He was a teacher and a high-school football coach with a soft heart. Mr. Lahive was one of those people that others call "old school" and who "lived his life by a code." Stern at times, humorous more often. One day on the boat, I asked, "Has anyone seen my koozie?" Mark's dad who always drove the boat, slowed it to a stop, turned to me and said, "Woody, you must keep track of your koozie. A man who cannot keep track of his koozie is out of control."
At the funeral home, I awkwardly pulled Mark out of the receiving line. People were stacked 10 deep. "Hey, I have something for you."
"Now?" Mark asked, looking at the people waiting to pass on their condolences.
I walked Mark to my backpack where I gave him a framed picture of he and his dad on the boat from 15 years before. Both of their eyes lit, smiles wide, sun falling. Another day on the water. Another great day to follow.
Mark took the framed photo from me, and, walking back to the greeting line, said over his shoulder, "He freaking loved those trips." Mark placed the photo with several other photos of his dad on a shelf.
That night on my way home, I sent Mark my condolences, saying how much I regretted being absent over the past decade or more. Mark's response was "Forget it. Pop would love to be responsible for re-connecting old friends."
I hope Mark and I fish the Brewster Flats again this spring to honor the legacy of a great, and like the rest of us, occasionally flawed, man, who loved his family deeply, welcomed others into it, and fished hard.
Chris Wood is the president and CEO of Trout Unlimited.