San Juan cutthroat trout. Photo courtesy of Colorado Parks and Wildlife.
On the San Juan National Forest in southwest Colorado, advances are afoot for a special trout and its habitat thanks to the many people working to protect them.
The San Juan cutthroat trout, once widespread throughout the region, only inhabits a small portion of its historic range. Luckily for these recently rediscovered trout, Trout Unlimited and partners are making strides towards increasing their habitat and securing enough water to ensure their survival.
Starting in 2019, members from Five Rivers TU chapter in Durango, Colo., national TU staff, Forest Service personnel and Colorado Parks and Wildlife collaborated to work with the Colorado Water Conservation Board to realize critical habitat protection for this trout once thought to be extinct.  
Working within the confines of Colorado state law, this team's integrated efforts secured instream water flows on Himes Creek to protect habitat on U.S. Forest Service lands, an accomplishment recognized by the Governor of Colorado and the Forest Service.
This collaborative group recently won the National Rise to the Future Awards for Fisheries, Hydrology, Air, Soil Science, and Wildlife from the Forest Service. For its shared work on the Himes Creek Instream Flow Project, this group won the award in the category of Collaborative/Integrated Aquatic Stewardship. This award recognizes significant endeavors in aquatic resource management or monitoring that will result in meaningful changes to a national forest system aquatic resource condition.
With the instream flow right secured, two miles of plunge pool habitat will be protected from human impact, creating a refuge with cold, clean water.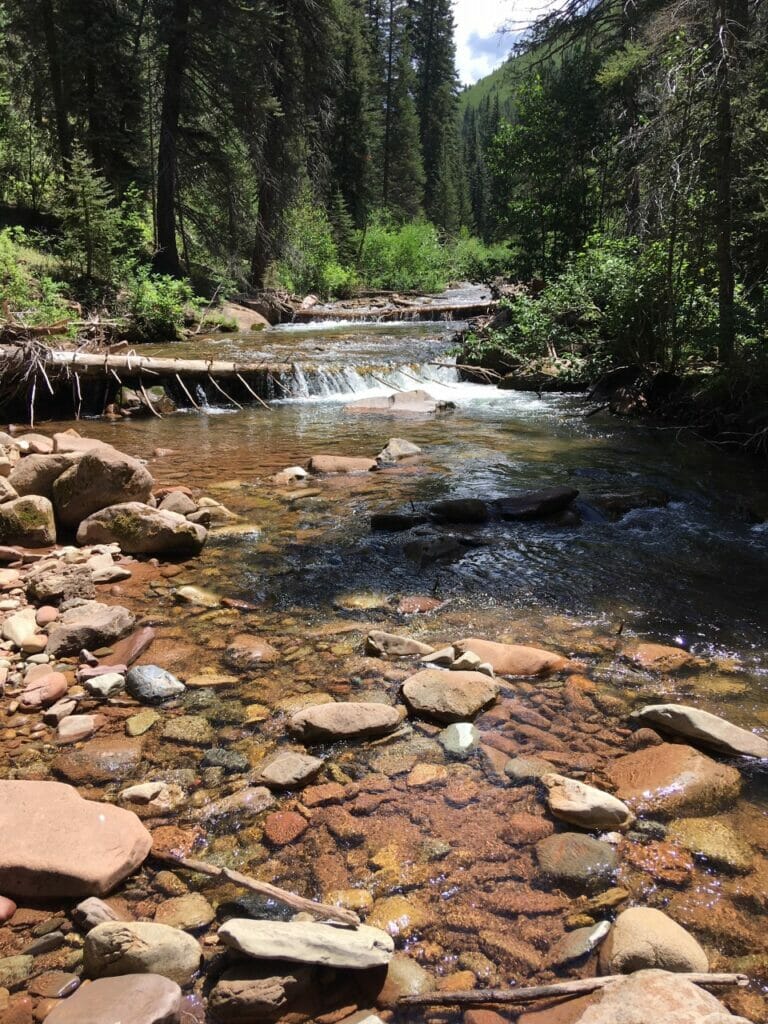 Colorado's rediscovered trout
For more than 30 years, fisheries biologists surveyed streams throughout southwest Colorado with the belief that isolated populations still existed, and in 1989, likely candidates were moved to remote headwaters with the hopes that future DNA testing might reveal their true identity. In 2018, researchers from the University of Colorado and CPW used advanced DNA testing to confirm that these trout were, indeed, San Juan cutthroats.
Populations currently exist in isolated habitats in streams of the San Juan River Basin, within the San Juan National Forest and on private property. In 2018, fish were salvaged from these populations to preserve their unique genetic stocks and are now being reared in CPW's Durango Fish Hatchery with the intention of re-establishing self-sustaining populations in additional streams.
Historically, populations were significantly impacted by human actions like logging, mining and water infrastructure construction, as well as other stressors such as competition from non-native trout, aquatic invasive species and habitat fragmentation. With the knowledge that these trout exist, humans working to restore their habitat can right some of the wrongs that once threatened their chances of survival.
The combined efforts of the local TU chapter, national TU staff and the agency partners show what can be done when the One TU philosophy is implemented. As habitat restoration projects take place and more water is secured for aquatic health, as in the case of Himes Creek, the San Juan cutthroat trout could one day be the target of anglers' dreams in southwest Colorado.