A fat Wyoming rainbow that fell for a single skated caddis pattern. Kirk Deeter photo.
I usually like to fish two flies at once. In fact, I'd say if you bumped into me on the river, there'd be about an 85-percent chance I'll be fishing two flies.
Why not, after all? You double your odds, right? Fish a dry and a dropper at the same time and you offer trout both the soup and the salad bar. Fishing a double streamer rig with a big white Zonker trailed by a smallish black Woolly Bugger is as spicy a combination as salt and pepper. And sometimes, when you fish two dries at once, if you give yourself a "spotter" that you can see, you're really upping the odds of hooking a trout that takes a more subtle morsel like my friend Charlie Craven's deliciously dirty "Mole" fly (more on the Mole at another time, but that is the hands-down nastiest trick you can ever pull on selectively sipping trout, anywhere in the world).
Having said all that, I often remind myself (rather, the trout usually remind me) that there are specific fishing situations when tandem rigs can be an impediment and not a benefit.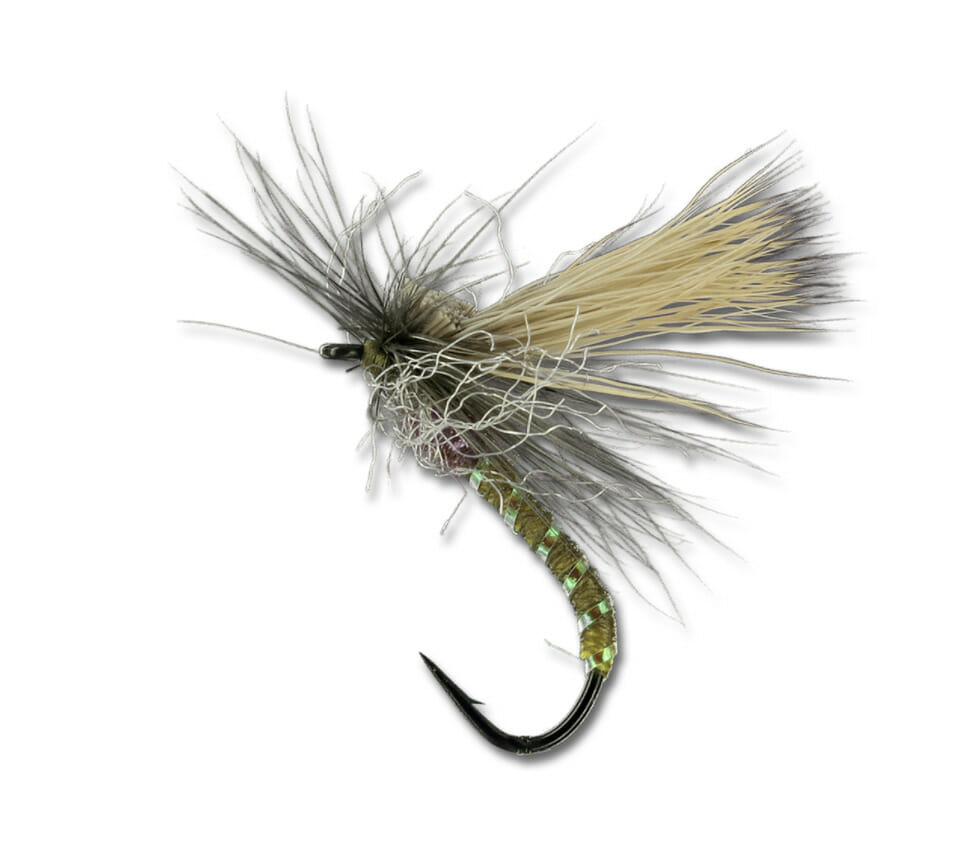 Obviously, in mixing currents where the flies tangle more than they tango, you need to chop one off. If trout are rock-solid locked on eating surface bugs, your dropper is an anchor. And in some situations, the presentation aspect of fly fishing begs a simple one-bug offering.
Case in point: the other day I was fishing the Encampment River Wyoming, and the Green Drakes weren't really happening. We had bright skies and clear water, but there were some sporadic caddis popping the surface and the trout would make a splashy rise here and there to tip me off that that was what they were eating.
So I started throwing a double caddis rig, with a simple elk-hair caddis (spotter) trailed by another deliciously dirty, do anything, anywhere bug—Mike Mercer's Missing Link caddis. I was moving from downstream-up, classic dry-fly style, with pitifully little effect.
Which made me slap my forehead (duh) and realize caddis like to face upstream, so of any dry flies you fish, caddisflies make the most sense to show trout in an upstream-down casting fashion.
Having figured that out and turned around, I threw that tandem rig and started skating them around a bit, as caddis flies are wont to do, and got a few splashy follows, but no true commitments.
Hmmm, I wondered. Why is that?
Then I realized my second brain cramp…
If I'm trying to look as natural as possible on the presentation, how in the heck does it make sense that one caddis fly would skate around and follow another caddis fly, in exactly the same direction, at exactly the same pace, like a dog on a leash? Yes, fish have tiny brains, but even they can figure that one out.
I cut off the flies and retied, fishing only the Missing Link. Once I started skating a single caddis with downstream casts, I caught five gorgeous rainbows in about 30 minutes. Then I called it quits and thanked the fishing gods for a lesson hard-learned.
I'm not saying you can't skate two flies at once, ever, as a rule of thumb. But I am saying that sometimes less is more (which seems to be counter-intuitive to almost everything related to fly fishing these days, but it shouldn't be).
In tricky presentation scenarios, one might be the loneliest number… but it's often the right number.