After some much-needed good news on the cancer front, I grabbed my cowboy hat and 1-weight and headed out the door. It was time to celebrate and I intended on doing just that by mountain biking and fishing (sometimes combined) on my gorgeous public lands.
I pulled into the spot where I hiked out last week and trekked to see what this next section of river had in store. It took a bit to dial in everything and to remember to pay attention to my backcast in this tight stream, but once I did, I was rewarded with a surprisingly large brook trout. I trudged upstream through the fast, cold water and dapped my fly at every pocket of holding water. Most of the time, I missed the small brookies that could barely fit my fly in their mouths, but occasionally, I landed a few.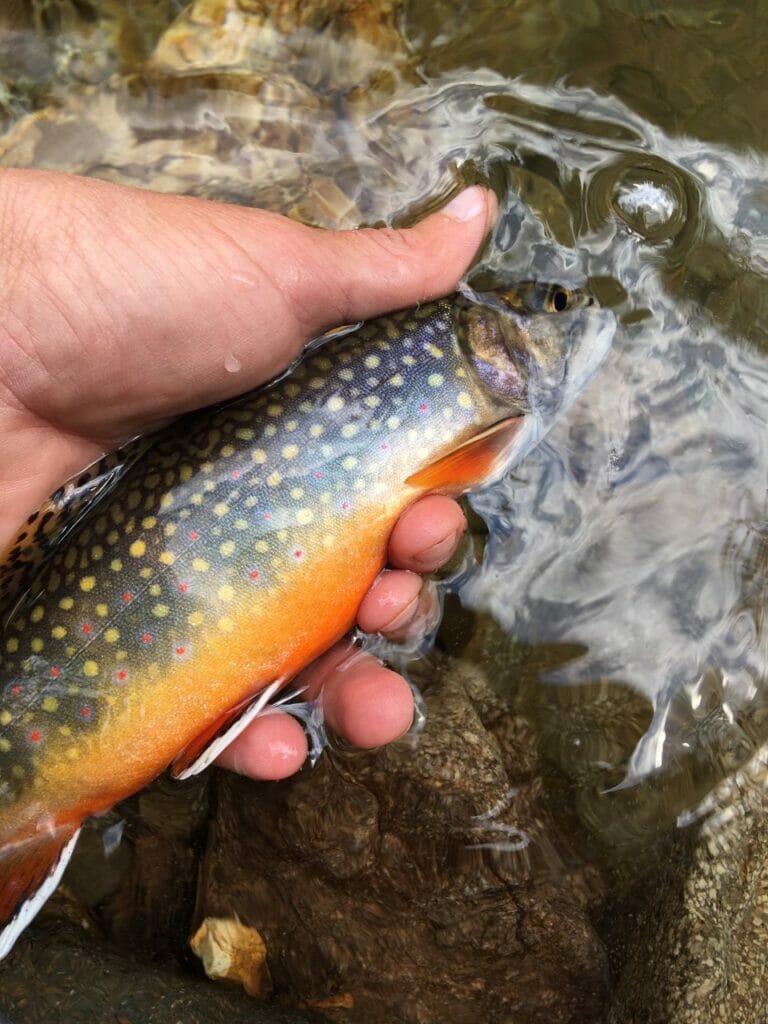 That afternoon was delightful to say the least, so I convinced my husband to go with me again a few days later. With smoke from a nearby forest fire billowing high into the air and filling the valley floors, it was an ominous feeling to be standing in cold, clear water with orange light tinting everything, but our minds were soon busy going through the motions of fly fishing.
This next section of river was overgrown and hard to maneuver to wade, let alone cast, but we did our best. Peering around bushes and through trees, we peeked at the water to see what would hold a fish and be accessible, and one such spot presented itself just as it was my turn. I snuck in just downstream from where we saw a fish actively feeding and threw my fly to this small slip of water. Did he miss, or did I? I cast again thinking how these fish don't often offer second chances, but much to my surprise, this fish was willing, and this time I didn't blow it. A handsome cutthroat put my 1-weight through the punches by navigating itself under some tree roots, but with the help of my husband, we fished him out and snapped a quick picture for proof. Hooray for healthy, native fish.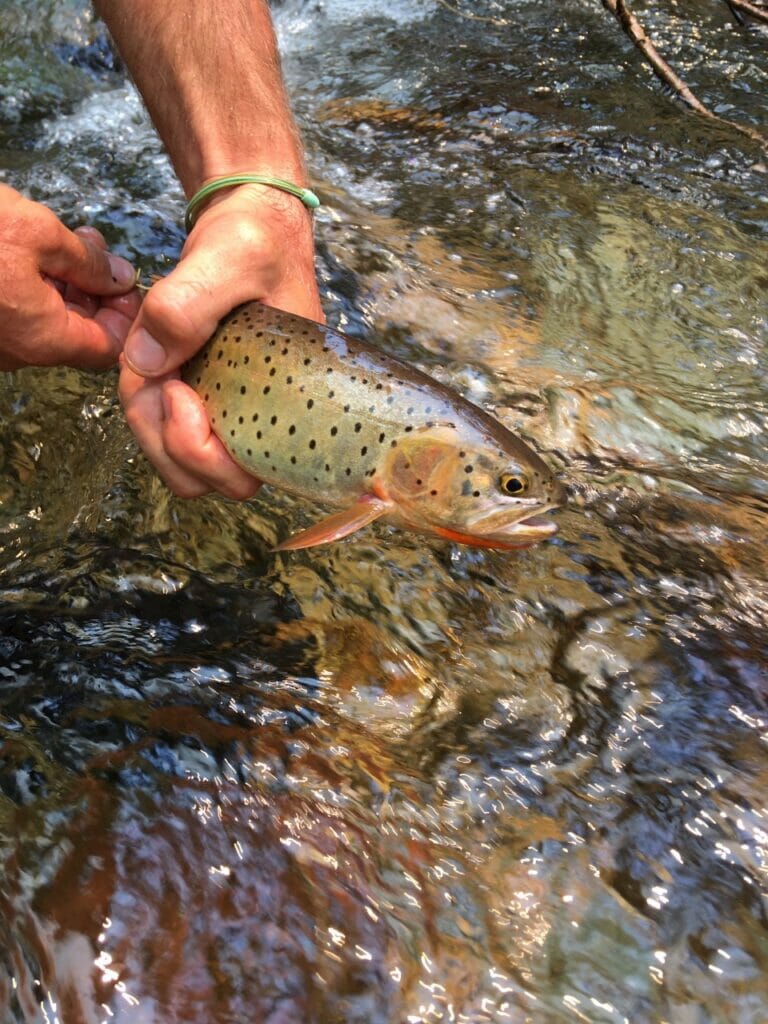 High-mountain stream fishing is by far my favorite way to spend an afternoon. When combined with a bike ride, I can think of nothing better, except maybe a 2-foot powder day in the backcountry. I hardly ever see anyone on these streams, and the fish are willing if you're willing to put in the work to get there. So, we packed up the bikes, the rods and lunch and headed to a stream that I'd biked by numerous times (and miraculously didn't fall off my bike staring at the incredible water). We swapped out our bike shoes for wading boots and went to it.  
The deep plunge pools were intimidating and sounded like a helicopter hovering overhead. The house-sized boulders created massive log jams from the 2018 fire and big runoff in 2019, so jumping from one pool to the next was a feat. After not seeing nor spooking a fish for quite a while, I was beginning to wonder if the fire did more damage to this fishery than I thought. Just then, a large rainbow rolled just under my fly, so I cast again and whammo. My stimulator disappeared and this rainbow took me for a ride. I couldn't believe its size and girth, but I guess it needed every bit of that to survive in its habitat.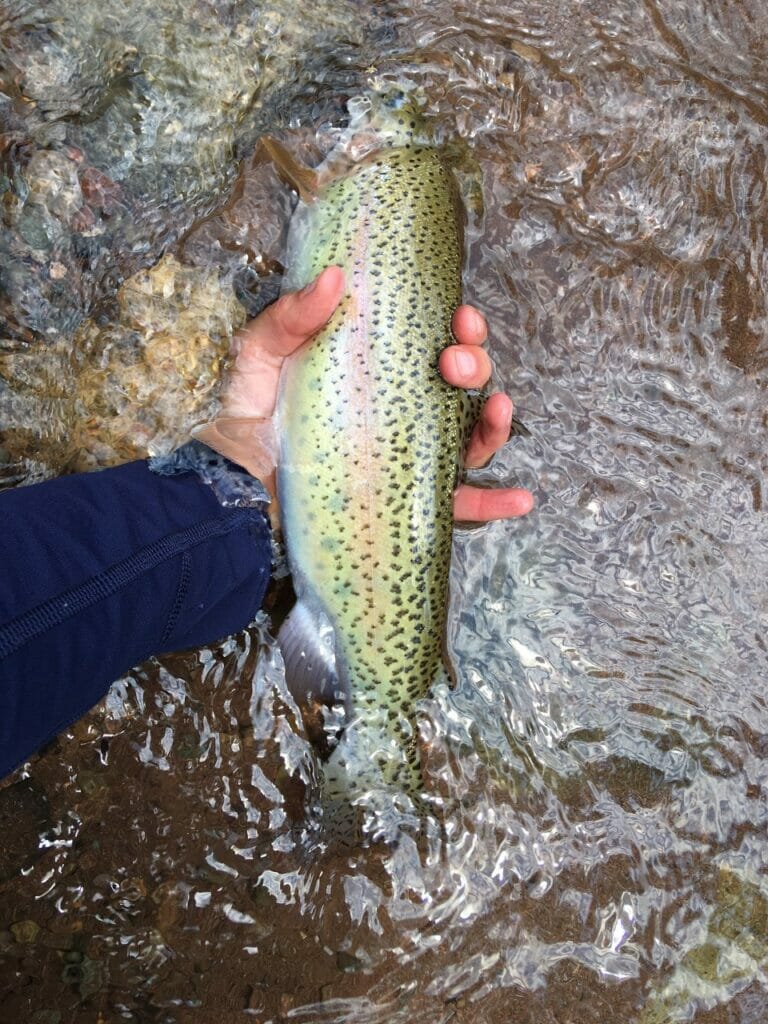 After hopscotching upstream with rainbows and one cuttbow jumping and testing our small rods, we climbed back on our bikes to head out for the day. With the recent good news, tired bodies and endless smiles, I was feeling refreshed and exhilarated to continue moving forward through this journey we call life. It's amazing what a few days doing what you love can do to refill the soul.  
Kara Armano is TU's southwest region communications director. She lives and works in Durango, Colo.