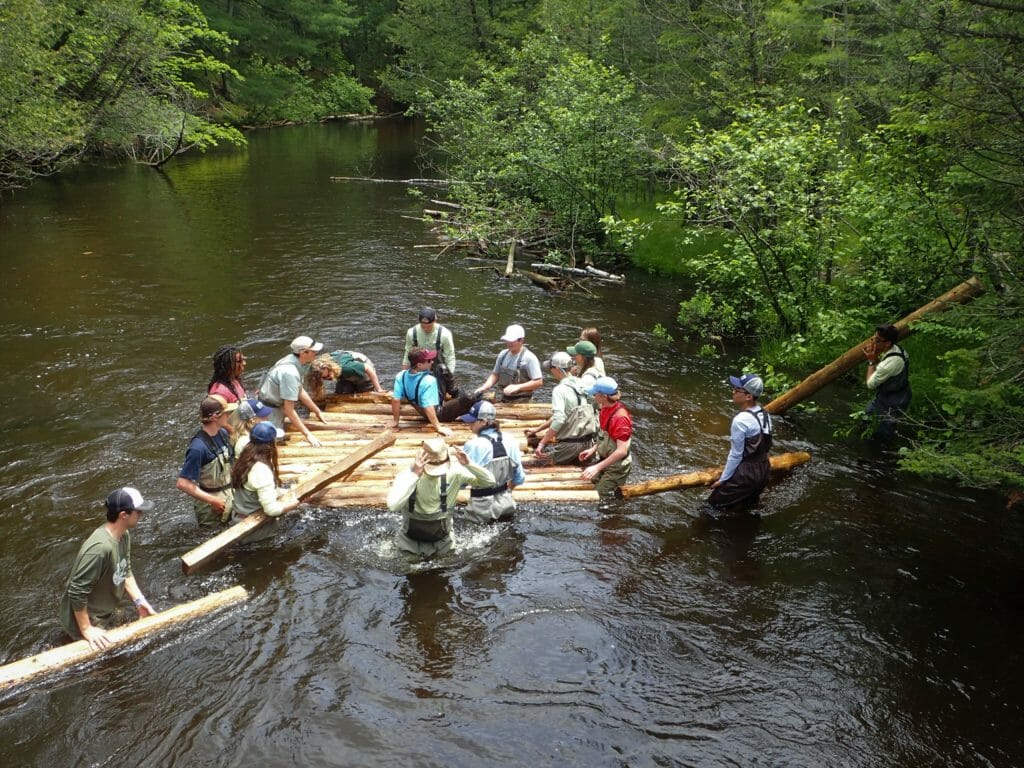 Due to the COVID-19 situation some camps are postponed. Others will operate under different models with safety as a top priority. See below for details.
See below for a full listing of camps and contact information for enrollment. Don't see a camp in your state or have a conflict with the dates? All of Trout Unlimited's youth camps accept applications from out of state.
Trout Unlimited chapters and councils currently sponsor and operate 25 camps and academies — ranging from two-day casting or fly tying clinics to overnight summer camps. This variety of venues means young fly fishers can experience many kinds of rivers and streams, angling techniques and trout species.
Pennsylvania's Cumberland Valley chapter started the Rivers Conservation and Fly Fishing Youth Camp in 1995 under the guidance of the late Dr. John R. "Jack" Beck and the late Enoch S. "Inky" Moore. The award-winning camp has served as a model for the growing number of camps being held around the country by other Trout Unlimited chapters.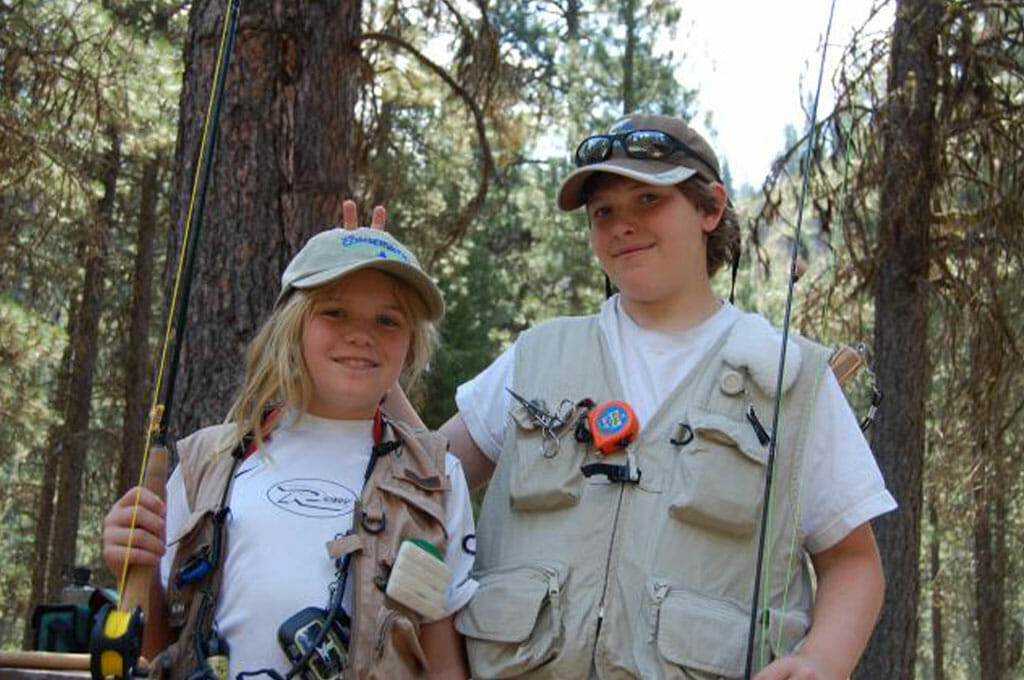 The camps include a comprehensive curriculum and draw upon the expertise and commitment of professional resource managers, scientists, fly tiers, fishing guides, and experienced Trout Unlimited volunteers. Many include hands-on experience with a habitat restoration project and the opportunity to fish a variety of local waters. During the camp young anglers learn much more than fishing skills — they gain an appreciation for the need to protect our coldwater fisheries and other natural resources.
All levels of experience are welcome at our camps. The goal is to have fun, learn a lot, and make friends with other young fly fishers.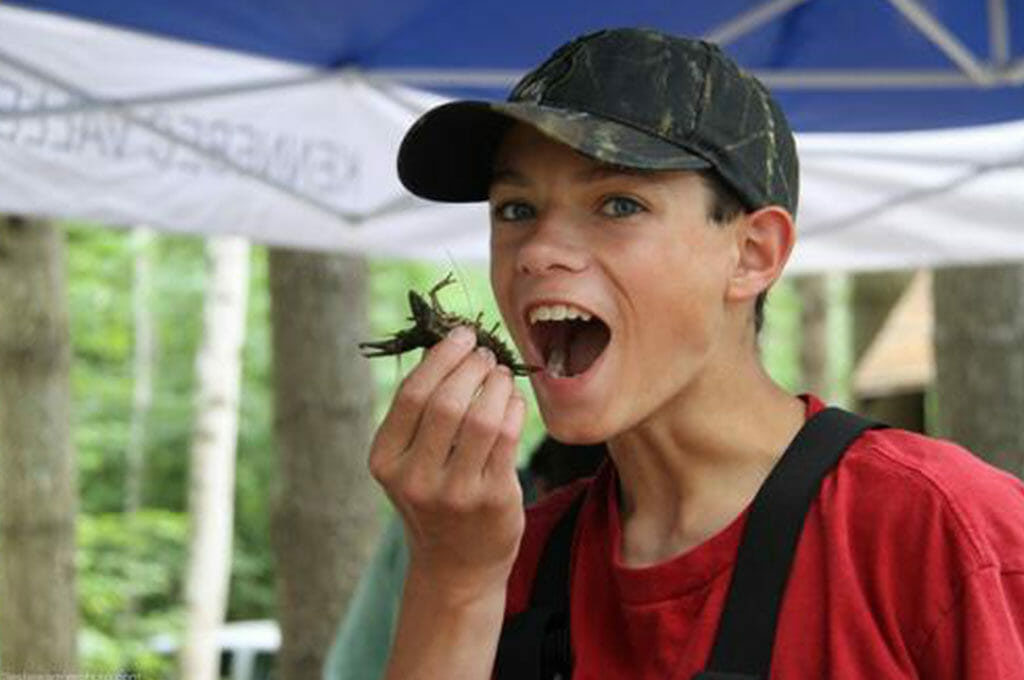 ---
The First Step in Becoming a Teen Leader in TU
Attending one of our summer fly fishing camps is a step to becoming a teen leader within Trout Unlimited. Camp graduates are encouraged to apply for TU's Teen Summit, a national leadership development retreat held annually.
---
---
TU Summer Camps and Academies
Know a young person interested in fishing and conservation? Tell them about TU's summer camps and academies!
Camper age range, daily schedules, and cost of camps varies so get in touch with the directors to find out more.
Alaska Howie Van Ness Memorial Kids' Fly Fishing Camp
Dates: TBD
Contact: David Vick
Location: Lost Lake Scout camp, Fairbanks Alaska
https://www.facebook.com/TUAlaska/
Arizona Council TU Fish Camp
Dates: May 30 – June 19, 2021
Contact: Alan Davis, 925-785-5583; Doyle Gaines, (480) 708-8982
Ages: 13-18
Location: R-C Scout Ranch, Payson, Arizona
AZTU Fish Camp Webpage
Arkansas Youth Fly Fishing Camp
Dates: TBD
Contact: Daryl Greenwood
Location: Dry Run Creek, Mountain Home, Arkansas
Arkansas White River Camp
California Sierra Trout Camp
Dates: TBD
Contact: Sam Sedillo
Location: Sagehen Creek Field Station, Truckee, California
www.facebook.com/TruckeeTU
Colorado River Conservation & Fly Fishing Youth Camp
Dates: June 13 – 19, 2021 (Camp is full for 2021)
Contact: Geoff Elliot or Barbara Luneau
Location: AEI Outfitter, Almont, Colorado
Coloradotu.org/YouthCamp
Northern Colorado Youth Conservation & Fly Fishing Day Camp
Dates: Day Camp 2021 – July 26-31 (applications open March 21)
Ages: 14-17
Contact: William Gedge
Location: Fort Collins, Colorado
www.rockymtnflycasters.org
*Preference given to North Central Colorado Youth.
Georgia Trout Camp
Dates: Day Camp in 2021 – Applications open until April 15
Ages: 13 – 15
Contact: Charlie & Kathy Breithaupt, (706) 782-6954
Location: Tallulah Falls School, Tallulah Falls, GA
Georgia TU Webpage
Idaho Trout Camp
Dates: July 12-13, 2021 (camp is full)
Ages: 10-13 for campers. Leaders in Training ages 13+.
Contact: Rachel Suchan
Location: Ketchum, Idaho
www.tedtruebloodtu.org/troutcamp/
Illinois Youth Conservation & Fly Fishing Camp
Dates: Postponed to 2022
Ages: 13 -18
Contacts: Dan LaFave
Location: Ralph A MacMullan Conference Center, Roscommon, Michigan
www.obtu.org | 2018 Camp Flyer
Maine Trout Camp
Dates: Postponed to 2022
Ages: 13-17
Contact:
Location: Evergreens Campground, Solon, Maine
http://www.troutcamp.org/
Michigan Youth Conservation & Trout Camp
Dates: Postponed until 2022
Ages: 14-16
Contacts: Alan Brooks, (269) 370-3269; Paul Meyer
Location: Ralph A. MacMullan Conference Center Roscommon, Michigan
www.kvctu.org
Montana Fly Fishing & Conservation Camp
Dates: Postponed to 2022
Contact: Bill Pfeiffer
Location: Camp Watanopa, Georgetown Lake, Montana
www.montanatu.org
National TU Teen Summit
Dates: Postponed to 2022
Contacts: Tara Granke, Franklin Tate
Location: Higgins Lake, Michigan
www.tu.org/teensummit
New Hampshire Trout Camp
Dates: Tier 1: August 7-11, 2021 Tier 2: June 23-27, 2021
Contacts: Phil Donovan, (603) 225-2511
Locations: Berlin and Pittsburg, New Hampshire
https://www.nhtucouncil.org/nh-tu-youth-trout-camp
New York Trout Waters Youth Camp
Dates: Postponed to 2022
Ages: 13-17
Contacts: Bob Mead or Mike Walchko
Location: Land of the Vikings on the Delaware River, Hancock, NY
North Carolina Rivercourse
Dates: June 24 & July 15 – Day Camp 2021
Contact: Chris Marok, (828) 494-4633
Location: Lake Logan Center, Canton, North Carolina
https://nccouncil.tu.org/

Oregon Youth Fly Fishing Camp
Dates: Postponed to 2022
Ages: 10-14
Contact: Dave Tenney; (503) 408-4898
Location: Mt. Hood National Forest, Oregon
www.clackamasrivertu.org
Pennsylvania Rivers Conservation & Fly Fishing Camp
Dates: June 19-24, 2022 (early acceptance application period open until12/31/2021)
Ages: 14-17
Contacts: Clark Hall, (717) 697-4549
Location: Messiah University, Grantham, Pennsylvania
www.riverscamp.com
Pennsylvania Keystone College/TU Teens Conservation Camp
Dates: Day Camp 2021
Contact: Charlie Charlesworth, (570) 954-5042
Location: Keystone College, LaPlume, PA
Tennessee Trout Adventure Camp
Dates: June 21-26, 2021
Ages: 12-15 (camp is full)
Contacts: Steve Young, (832) 256-3228; Sean Fagan
Location: Great Smoky Mountains Institute at Tremont, Townsend, TN
www.tntroutadventure.org
Texas Youth Trout Camp
Dates: Postponed to 2022
Ages: 12-17
Contact: Dakus Geeslin, (512) 934-0000
Location: Rio Guadalupe River Resort, Guadalupe River, Sattler, Texas
https://rioguadaluperesort.com/
Utah Teen Fly Fishing & Stream Ecology Camp
Fly Fishing and Stream Ecology Camp
Dates: Day Camp 2021
Ages: 12-18
Contact: David Leta, (801) 257-1928
Location: Sportsman's Paradise, Paradise, UT
Utah Fly Fishing Camp
Dates: TBD
Contact: Paul Holden, (435) 757-1647
Location: Stokes Nature Center, Cache Valley, UT
logannature.org
Vermont Trout Camp
Dates: postponed until 2022
Ages: 13-16
Contact: Kurt Budliger
Location: Jackson's Lodge, Canaan, VT on Lake Wallace
www.vermonttroutcamp.com
Tri-State Conservation & Fishing Camp (VA, WV, MD, and DC)
Dates: Postponed to 2022
Ages: 13-17
Contacts: Galen Westman, (571) 606-0307; George Gaines, (202) 904-3547
Location: Graves Mountain Lodge, Syria, Virginia
www.tucamp.org
NW (Washington) Youth Conservation & Fly Fishing Academy
Dates: Postponed until 2022
Contacts: Mike Clancy, (360) 753-1259; Jim Brosio, (360) 943-9947
Location: Gwinwood Conference Center, Lacey, Washington
www.nwycffa.com
Wisconsin Youth Fishing Camp
Dates: August 19-22, 2021 (camp is full)
Ages: 12-16
Contacts: Linn Beck; Wayne Parmley
Location: Pine Lake Bible Camp, Waupaca, Wisconsin
---
FOR MORE INFORMATION
Franklin Tate
Director of the Headwaters Youth Program
394 Merrimon Avenue
Asheville, NC 28801
(828) 545-0747
Contact Franklin Tate