Editor's Note: In the spirit of conservation and community, Bonefish & Tarpon Trust, Pheasants Forever, Quail Forever, and Trout Unlimited are joining together during these tough times to share youth-related resources and materials. We hope that many young anglers and hunters and their families are all still finding time and space to get outdoors and enjoy everything our wilder places have to offer. To support their interest and activities, we are centralizing resources so that on-line magazines, curricula, activities, and more can be found with a few clicks on each conservation partner listed below. Enjoy and be sure to keep following us on social media for more updates and opportunities.
With schools across the country closed and families quarantined at home to prevent the spread of COVID-19, parents and teachers may be looking for a little inspiration to get kids outside (or at least thinking about the outdoors). It's tough to get kids away from screens on a regular school day and now, many children are completing their school year virtually.
To inspire some outdoor play (or outdoor-inspired online content if you don't have the option to get outside) we've compiled a list of Trout Unlimited-approved activities you can do to get moving and thinking about the wonders of water and the great outdoors.
If you choose to share on social media, tag #TUFamilyFieldTrips or tag @troutunlimted. Our priority is your safety. If you aren't able to do these activities now, save them for a later date when it is safe.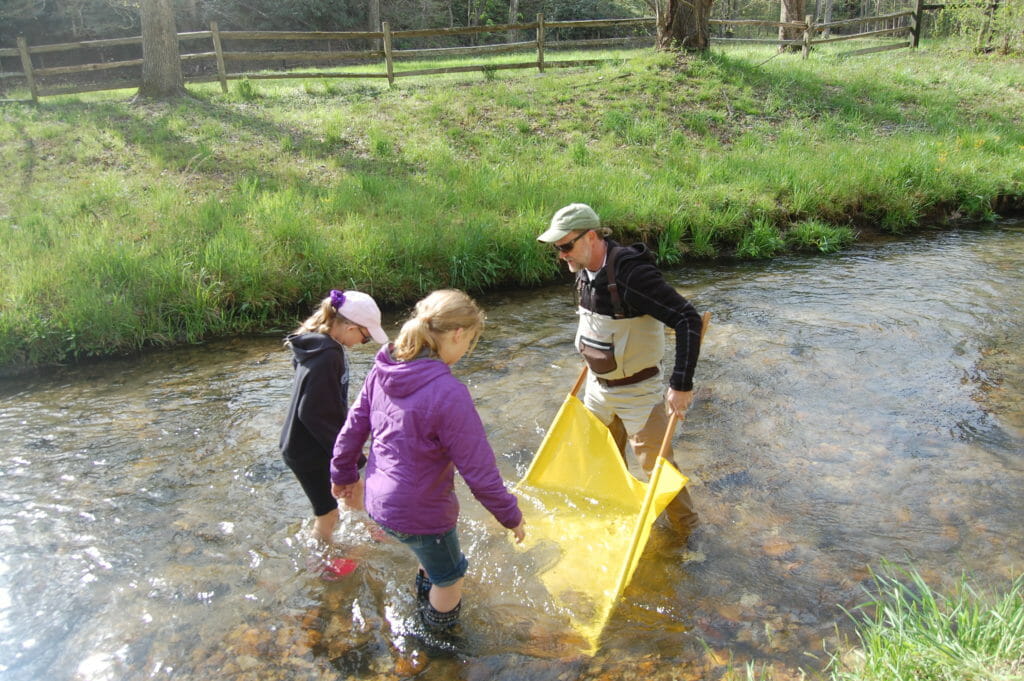 TU family field trips
Streamside Scavenger Hunt – Slow down and look closely at the world around you. What will you find? This activity is fun for the whole family. If you don't have a river or stream nearby, feel free to change some of the questions to make it fit for your backyard. (Ages 3+)
Perform a Macroinvertebrate Survey (video) – build your biologist skills and have a little fun! People of all ages are amazed by the hidden life you can find along banks, under rocks, and in leaf packs (clusters of fallen leaves in the stream). Sort insects by their morphology (their form and how they look) into an ice cube tray and use the River Key to identify different types. See, we've already learned some new terminology.
The STREAM Keepers Field Notebook is a series of watershed explorations available in a handy print-at-home pdf. Many of the activities are aimed at older elementary through early high school level students. This handbook forms the basis of TU's popular STREAM Girls program: (www.tu.org/streamgirls)
Read macro sampling here and then visit this resource page, then click on the "Macroinvertebrate Sampling" link under "Field Day Ideas" for everything you need. (Ages 5+)
Pollution Pickup with #cleanmywater – Take your kids on a quest to become "Pollution Preventers" and head to a local river or stream to pick up trash from in or along the water.
Become a RIVERS Ranger – the new RIVERS app from Trout Unlimited is a mobile application that puts the power of a professional stream assessment tool in the palm of your hand and is the perfect way to get kids outside and doing "real" science.
Riparian Buffer Restoration – Planting a native tree or shrub along a river is one of the best things you can do for its health. It is also a great activity to do with your kids, as not only is there an immediate and tangible benefit to the activity, but you can also return to visit "your tree" year-after-year to watch it grow.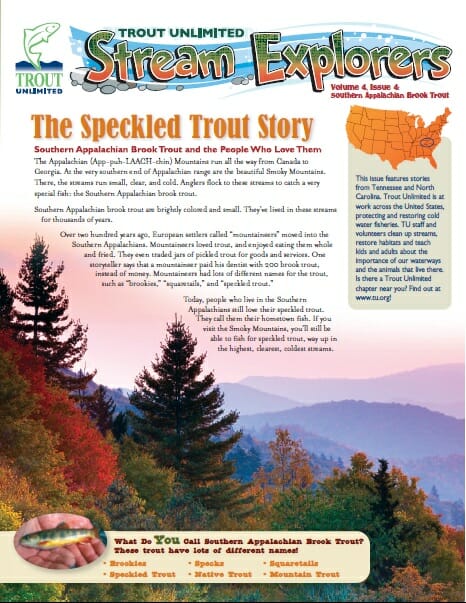 E-Readers from TU
Stream Explorer Magazines – Articles and activities in these 4-page 'zines for kids 12 and under. Topics include watersheds, human impact, native trout species and regional issues. All for free from Trout Unlimited.
Digital Issues of Trout Magazine – Ages 12+ will enjoy our quarterly publication featuring informative conservation essays and articles around water and trout. Spring 2020, Fall 2019, Summer 2019, Spring 2019
Art lesson plans
Trout Guts Collage – learn and label external and internal anatomy then make a piece of art using craft materials you have around the house. (Ages 5-18)
Trout Markings – drawing the external features of a trout. What kind of trout will you draw? Why do you think they look the way the do? (All ages)
Mock Fly tying – use chenille stems (aka pipe cleaners) as the hook and art supplies you have at home to mimic macroinvertebrates (aka trout food) found in the stream. (Ages elementary to high school)
Trout Coloring Book – featuring pages about brook and rainbow trout, human impact, and catch and release. (All ages)
Make a rainstorm – this is a performing arts activity. You'll make a rainstorm using five sounds you can make using just yourself as the instrument! (Ages pre-K to elementary)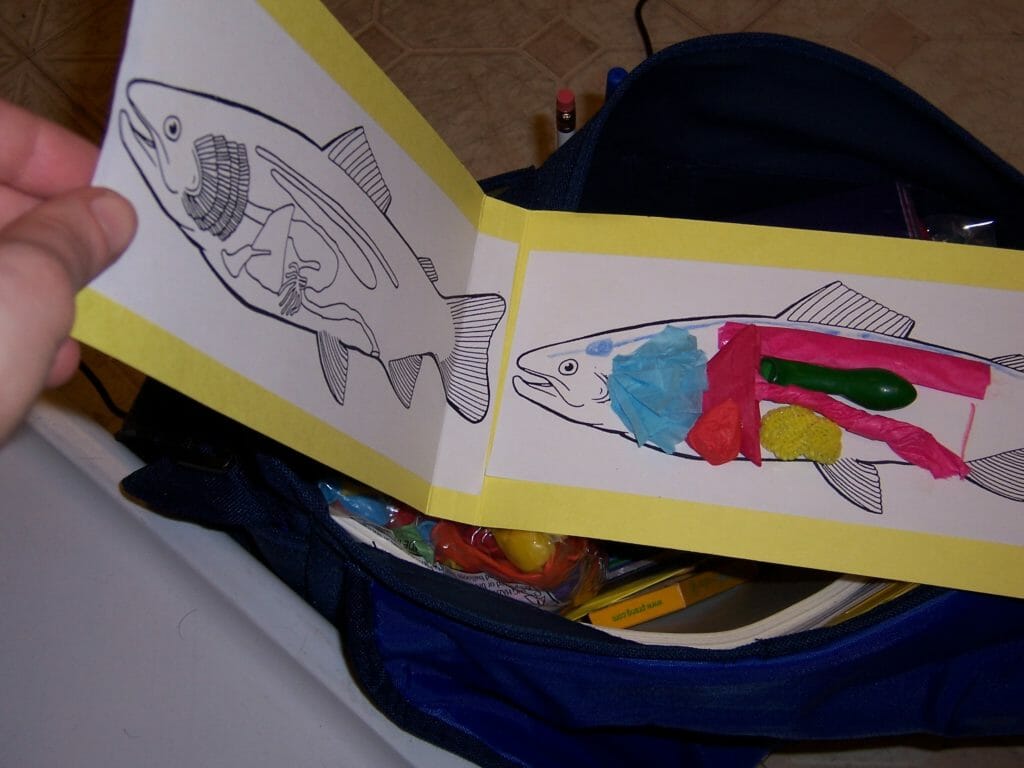 TU-approved online opportunities
Yellowstone Cutthroat Trout Story Map – A native fish of Montana. Learn about native trout of the west, history, and what these special fish need to survive. (Written for 10th grade level).The Way of the Trout – classic 1969 TU film on trout behavior, fly fishing and conservation. What did you learn? Did you notice anything was missing from the film? (All ages)
Ways of Watersheds by UNC-TV PBS – These are very robust, highly-interactive lessons, complete with opportunities for note-taking, multiple choice online quizzes and a final project, that a student can do with a parent/teacher or on their own. (Written for 4th and 5th grades)
Conservation partner resources
If you have an idea or resource to share, feel free to reach out to me at tgranke@tu.org. I hope everyone stays safe and gets the chance to enjoy some sunshine, liquid or otherwise, and hopefully get your feet wet.