Editor's note: The biggest sporting event of spring, the NCAA basketball tournament, is simply not happening this year thanks to the coronavirus pandemic. Anglers, though, can still effectively "social distance" and go fishing in areas where it's safe and legal to leave the house, using their favorite flies. In that spirit, TU and our friends at Loon Outdoors are teaming up to offer the Spring Fly Showdown—a vote-to-win tournament featuring some of the best-known fly patterns out there. Over the course of the next two weeks, we'll pit great flies against each other in a "March Madness"-style bracket. You pick the winners of each "game," and any who vote will be entered in a contest to win great Loon fly-tying equipment.
Our fourth matchup of the first round of the Spring Fly Showdown features a classic wet fly and maybe the most popular nymph pattern ever tied. The March Brown wet fly is a stunning swinger that can be surprisingly effective during dry-fly hatches, and the Bead-head Hare's Ear is a fly-box staple for anyone who chases trout with nymphs.
The venerable attractor nymph is an excellent searching pattern for trout, particularly in pre-hatch conditions. The bead helps the fly get deep, and anglers go to this pattern, or variations of it, to chase trout that might be on the lookout from both caddis and mayfly nymphs in the days leading up to hatches. 
The pattern earned great fame in the early 1990s after being featured in a number of books, which celebrated is use as a fly for any condition or situation. Some anglers use the Hare's Ear as a scud or sowbug imitation in tailwaters below dams, but its uses are many and varied. If it's not in your fly box, it should be.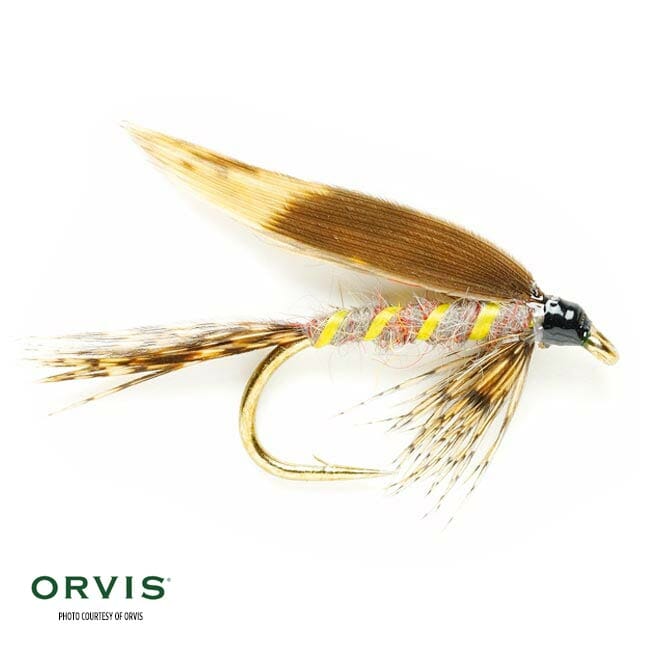 The March Brown wet fly is an angling classic that has been used the world over to fool trout that are looking for emerging mayflies. Several years ago, during a prolific March Brown hatch on Montana's Rock Creek, I used a March Brown wet fly, fishing through riffles on the swing to catch so many native cutthroats that I lost count.
This is a beautiful fly pattern that can be tied with varied materials ranging from partridge hackle to wood duck. Fished on the swing just below the surface, this fly can be seemingly irresistible.
Previous matchups
In the first round of the tournament, which concluded at midnight Wednesday, Hornberg, a classic wet-fly pattern pulled the upset and defeated the Circus Peanut by just three votes. The Prince Nymph edged out the Stimulator by only two votes.