Editor's Note: The Strawbridge family from Lakeland, Fla., is hiking the length of the Continental Divide Trail – all 3,100 miles of it – from Canada to Mexico. Henry Strawbridge, 14, will be providing updates of their journey to Trout Unlimited as they pass through the historic range of seven native trout species. You can track the family and see reports submitted by Henry on this map.
By Henry Strawbridge
My Aunt Luchrysta met us in Lima, Mont., to pick up my cousin Ethan and take him back home to Florida. She also spent some time on the trail with us.
After three good meals before 2 p.m., we all got a ride back to the trail from the hotel manager.
When we started walking, we were surprised it started raining — no, pouring. We took shelter beneath an underpass, packed our bags for rain, took a picture, and settled in for a rainy walk. A great start for Aunt Luchrysta.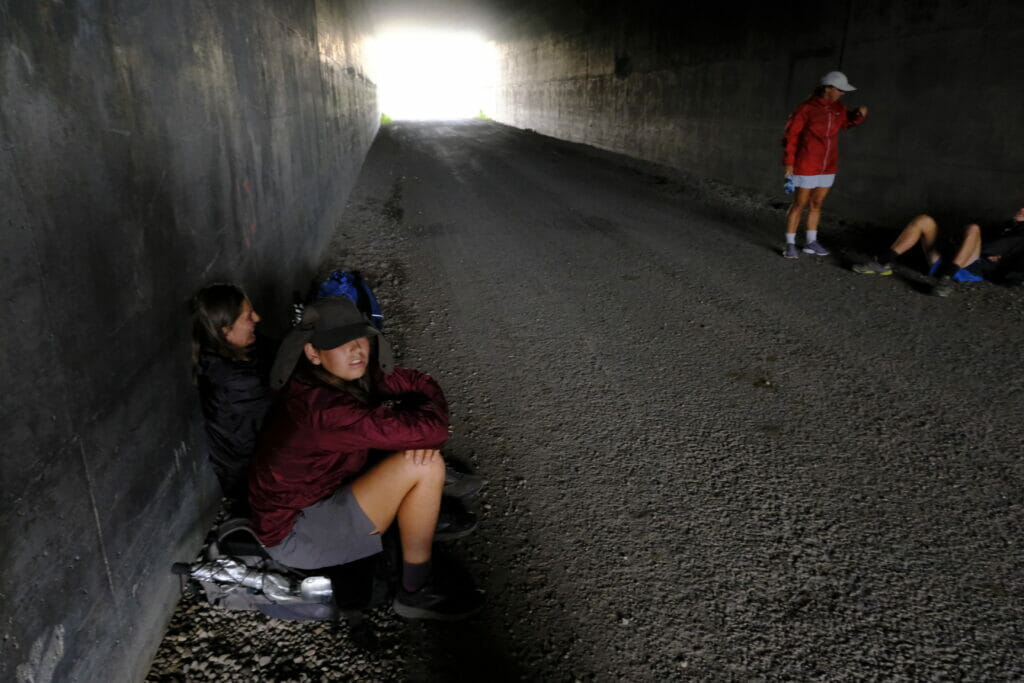 "Baaahhh!"
"Baaahhh!"
The sign was right when it said we were entering sheep pasture. The whole section, in fact, was summer grazing land for the wooly animals. They left their mark. In big fields, the grass was obviously a little shorter than normal, and they left feces and trails of trampled grass everywhere.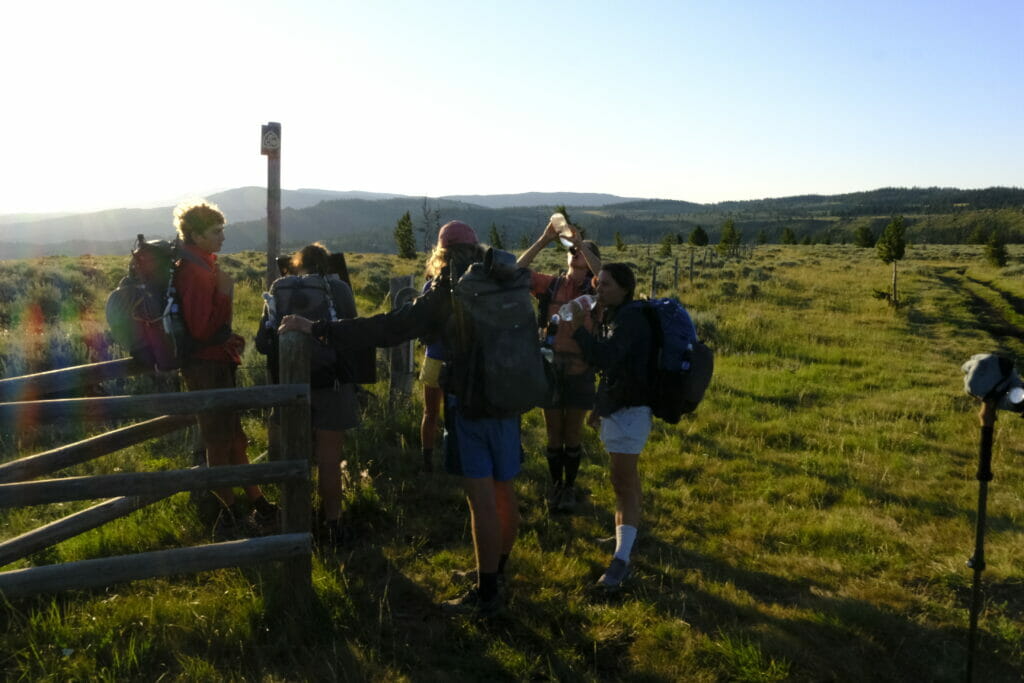 The next day, Aunt Luchrysta asked everyone how they were feeling on a scale of 1 to 10. One, being the weakest and most sick you had ever felt, and 10 being the most cheerful, exited, and physically fit you could be. Ethan, feeling sick from the food in town, was a two. June was a four because of the cold. Georgie was a five. Mom, a four. Aunt Luchrysta was a six, and I was a seven because I run on the adrenaline of getting the day over with. Dad, always the optimist, was a 10, even though he had an upset stomach and diarrhea. 
Throughout the day some numbers climbed and some fell. We walked pretty much uphill all morning. Aunt Luchrysta's watch, which does practically everything a smart phone does, told us we went up the equivalent of 130 flights of stairs. 
In the afternoon, Ethan rose to a five, and dad rose to a semi-believable 10. Yeah, right! We finished our 24-mile day by Ching Creek, cramming our tents together. We ate dinner, laughing and cheerful, though a few of us had aching feet.
The next morning, we got out of camp at the normal time of 6:30 a.m.
"Where are we? This place is amazing!!"
"Looks like high desert."
"What are those mountains?"
"I think those are the Tetons."
"Really? How are we going to get to the other side of those in three days?"
"I don't know!"
"That's cool to see that we're moving so fast!"
"Yep."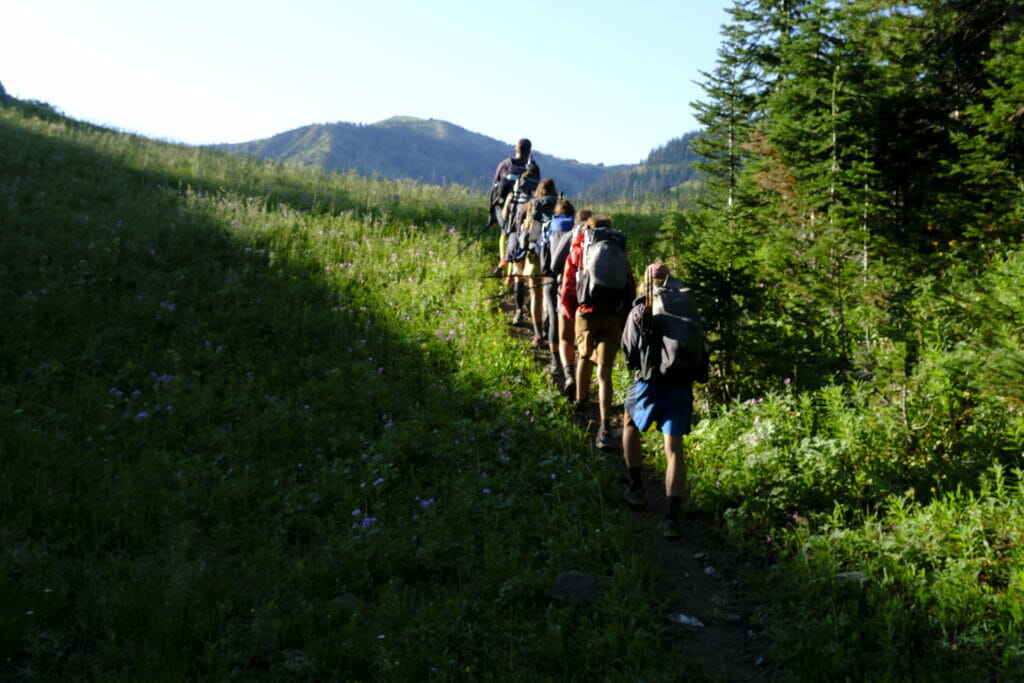 Up and down. Up and down. Everyday I'm reminded this trail is the CDT, the Continental Divide Trail, and not the Valley Trail. The trail does not follow the easiest path south, it follows the mountains that separate the waters of this country. Instead of walking across that valley towards the Tetons, the trail climbs the mountainous hills up to Yellowstone. Though there were animal sightings and incredible views, I still would have preferred to take an easier route.
We walked the hills for two relatively similar days: 130 flights of stairs and 103 flights of stairs. On the final day of the section, we took the Mack's Inn alternate to get to our re-supply. This alternate starts off down a wide, defined for about a mile. But the trail soon disappears and leaves you to bushwhack your way all the way to the headwaters of Hell Roaring Creek. But once you have accomplished this steep task, the trail becomes visible and smooth again. From there we went to a road that we marched down for about five miles.
"The Brickhouses, they made it! Hello!"
We still had to go six more miles, but we felt a little bit lighter inside just to have our friends there to meet us.
"Guess what guys? Our box didn't show up. Yep, we need to resupply at a gas station. Grab enough food for three days. Snickers, bananas, chips, tortillas, candy corn, cheese, whatever! Go ahead!"
Three miles later we climbed into rental cars and drove off to West Yellowstone. But, while we were waiting for the Brickhouses to show up, we stopped to rest by a spot on the river called the Henry's Fork, clearly my namesake.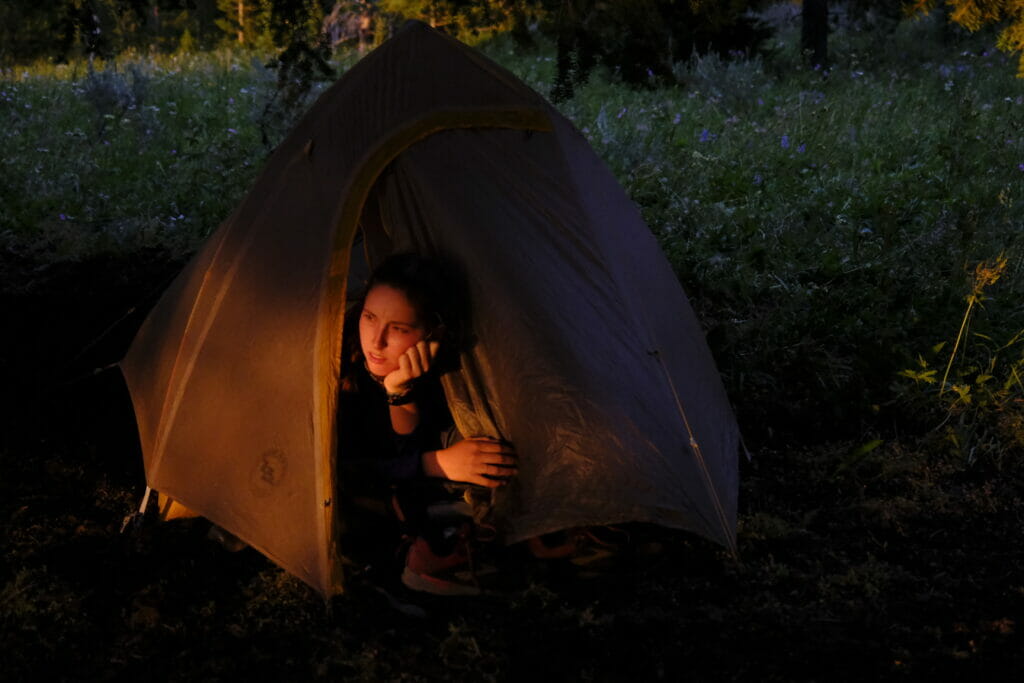 "What is that, down there, in the middle of the river."
A bull moose had walked straight through the river, not bothered by the fact that tons of people in canoes and kayaks were paddling around it.
"Hey guys the cars are here."
"Wait a minute, why does the car say low air pressure. Oh no. The tire is flat! Oh no, the repair shop's closed! Oh no, the spare is looking shaky! Phew, we made it. What? A hotel? Oh, yeah!"
"What do you guys want to eat? Pizza?"
"Of course! And keep it coming!" 
A pizza eating competition took place, which I won. Well, tied for the win with my sister Aiden, but the most important thing is that my stomach was full.
We could now enjoy a few days of easygoing walking, headed into one of the most famous places in the world, Yellowstone National Park.
Until next time,
Henry
COVID-19 note: The Strawbridge family anxiously watched as the coronavirus issue threatened their plans to do the CDT this year. After careful consideration the family made the decision to drive to Montana to start the trip to avoid any possible exposure on airplanes. None of the family members are exhibiting symptoms. They will continue with limited contact with the outside world throughout the duration of the trip.