Editor's Note: The Strawbridge family from Lakeland, Fla., is hiking the length of the Continental Divide Trail – all 3,100 miles of it – from Canada to Mexico. Henry Strawbridge, 14, will be providing updates of their journey to Trout Unlimited as they pass through the historic range of seven native trout species. You can track the family and see reports submitted by Henry on this map.
By Henry Strawbridge
We enjoyed a restful NERO in Rawlins. If you are not familiar with the term, a NERO is a day of very little walking. Usually under 15 miles.

While we were in Rawlins we ate at an amazing Thai restaurant, and then at a place called Buck's Diner. By the time we left town we were stuffed. We walked out at the same time as two other hikers whose trail names are Crash and The Kiltsman. We walked about 12 miles out of town and camped together by a reservoir. Kiltsman played his guitar and we all cowboy camped under the stars.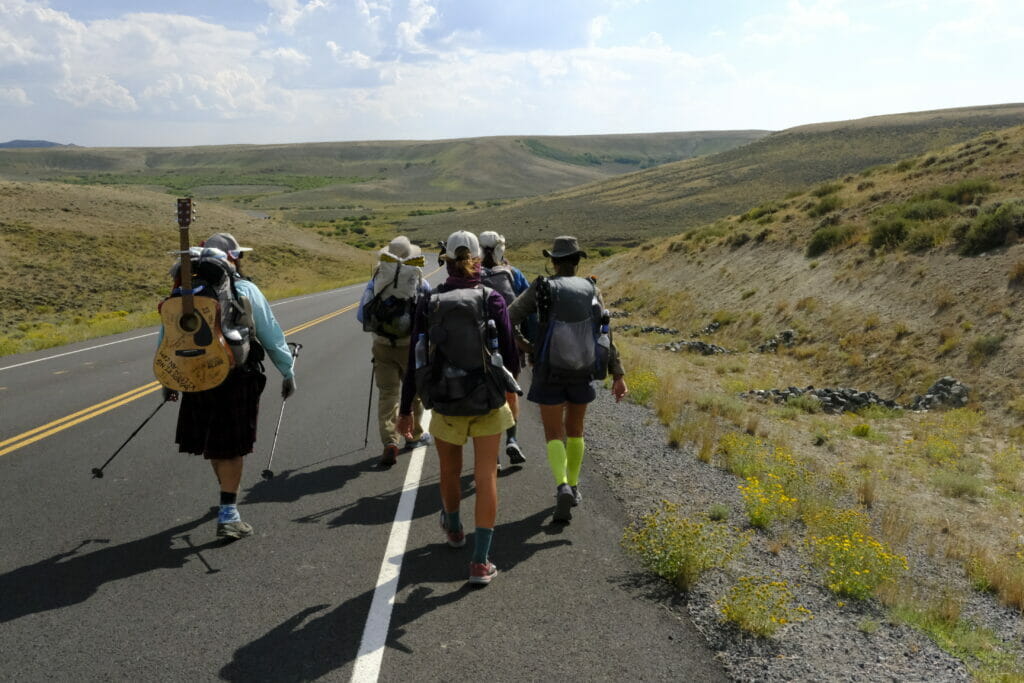 This section was supposed to take us 3½ days of walking, but when you hike in the desert you can't always take your time between water stretches, so it can be worthwhile to push longer days. One of the days we ended up walking over 32 miles.

Crash and Kiltsman stayed with us for the first day out of town. The year before they had done the Appalachian Trail and they kept telling us it was harder than this trail. Not so much in terms of length but in terms of elevation gain and loss. Kiltsman got his name for the Scottish kilt he wears, no matter the weather.
Crash has quite a story behind his name. The year before Crash hiked the AT, he had biked across America. Well, almost across America, because just before he finished, he got hit by a truck and his leg was almost ruined. When he got to the hospital he was told they would have to amputate. In fact, he expected to wake up from the operation without his leg. When he awoke he had his leg, so that was the good news. Soon after, though, he developed an infection, and he spent a year recovering at a nursing home. Slowly, he began to build the strength in his leg again.
One day he just thought to himself, "I know what I could do for rehab." He picked the third longest trail in the United States. It wasn't easy, but he made it. Now his goal is to complete all three of the big trails. He says on his last few miles of the PCT he is going to walk into the office of his doctors in Bend, Oregon, and thank them in person for saving his leg.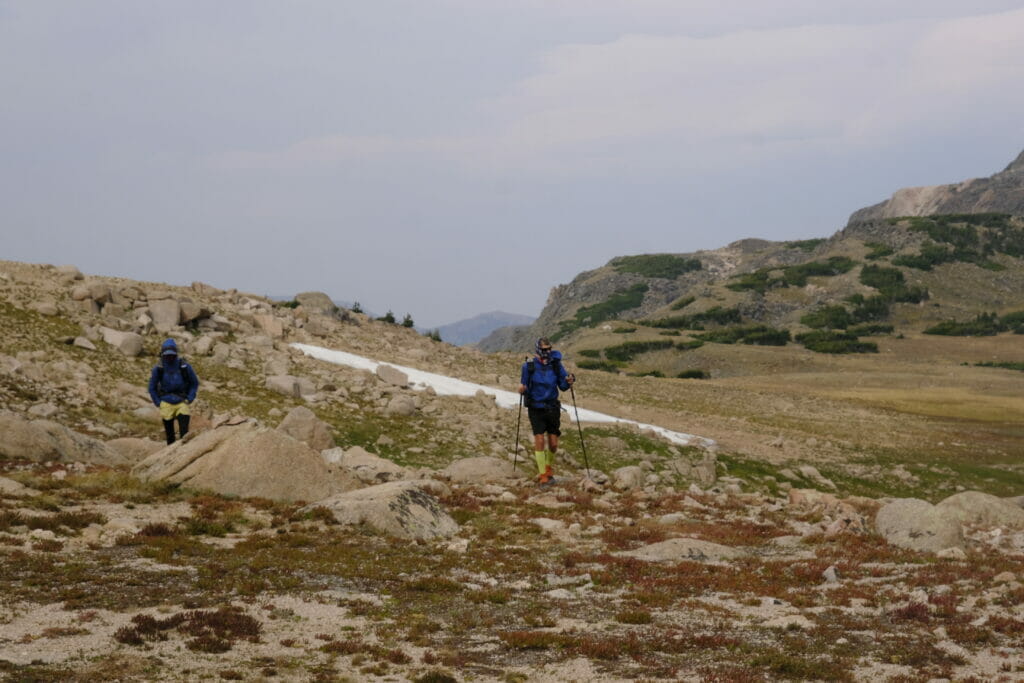 Between Rawlins and Steamboat we stopped briefly in a small town called Encampment. We hitched down to town for our boxes at the end of the day. We waited a long time for a ride, and nearly gave up, before a couple had pity on us and stopped. It turned out that they were the first people to adopt wild mustangs through the Bureau of Land Management adoption program.

I was glad we stopped there, because Encampment is a place actually mentioned in an old western history book I've been reading/listening to. All the trappers, Native Americans and settlers would gather at the river once a year to trade. Many of them would immediately waste it all on gambling or some other game going on there. These meetings were called Rendezvous. Encampment used to be one of these places.

We spent the night in a RV Park, ate a burger, washed clothes and headed out the next morning. The man who gave us a ride up to the trail worked for the RV park, and he apparently was shuttling boxes to the pass for Crash and Kiltsman at the same time he took us up. We met them at the trailhead and again walked with them for the day. As we were about to start walking another hiker, named Puzzler walked up. He had started at 3 a.m. that morning. We hadn't seen him since a very miserable day in Montana. This trail brings people back together in some peculiar ways.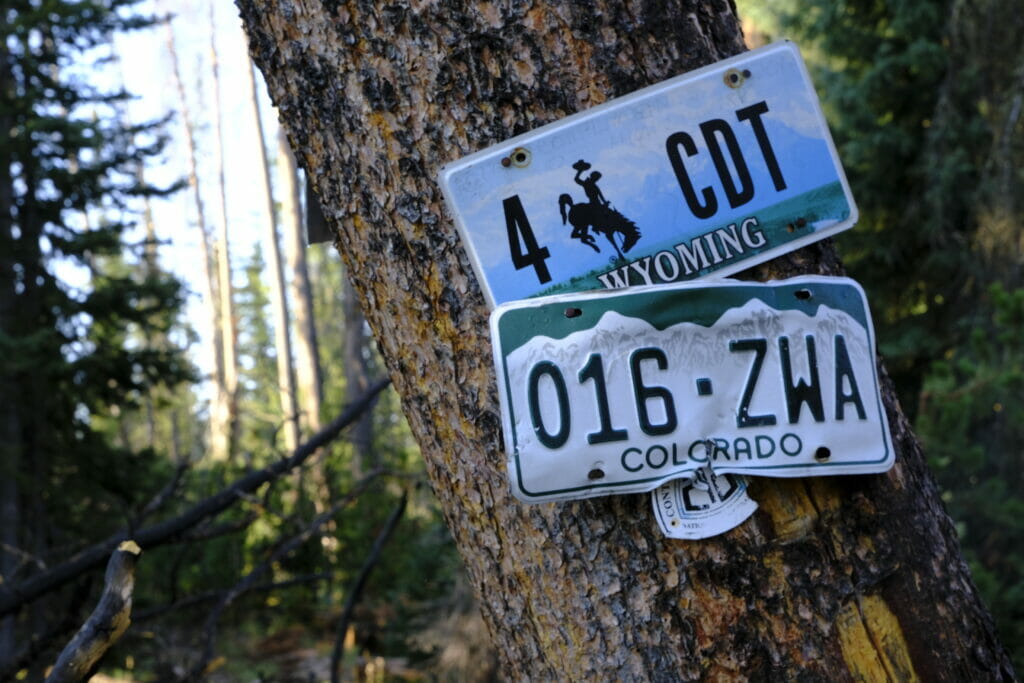 The desert was beginning to fade and the mountains and trees were appearing. We were leaving Wyoming to begin our "climb" into Colorado, and what we expected to be the most beautiful and challenging part of our trip.
Until next time,
Henry
COVID-19 note: The Strawbridge family anxiously watched as the coronavirus issue threatened their plans to do the CDT this year. After careful consideration the family made the decision to drive to Montana to start the trip to avoid any possible exposure on airplanes. None of the family members are exhibiting symptoms. They will continue with limited contact with the outside world throughout the duration of the trip.