A Q&A with TU's western energy director Tasha Sorensen on the continued need to update oil and gas rulemaking procedures
With a new balance of power in D.C. taking hold and a new Congress settling into their duties, a familiar problem remains for anglers and conservationists across the West: speculative oil and gas leasing on our public lands.
Trout Unlimited, along with our conservation partners, have long called for the Bureau of Land Management (BLM) to reform its outdated oil and gas leasing and permitting policies. With goals to better represent the conservation and recreational values of our public lands and ensure that fish and wildlife habitat have equal consideration as part of the agency's multiple use mandate, it is past time to update these policies.
Last year showed promising signs of improvement with passage of the Inflation Reduction Act, landmark climate legislation that included reforms TU has been pushing for years. But more is needed at the agency level to provide permanence for these changes.
Sign this petition urging BLM to bring balance to public lands management and guard against impacts to fish and wildlife.
We speak with Tasha Sorensen, who has led TU's efforts to improve the oil and gas leasing process, to walk us through the timeline of these important milestones and explain what actions TU members can take to ensure the recent progress we've made for our public lands will benefit anglers and hunters for generations to come.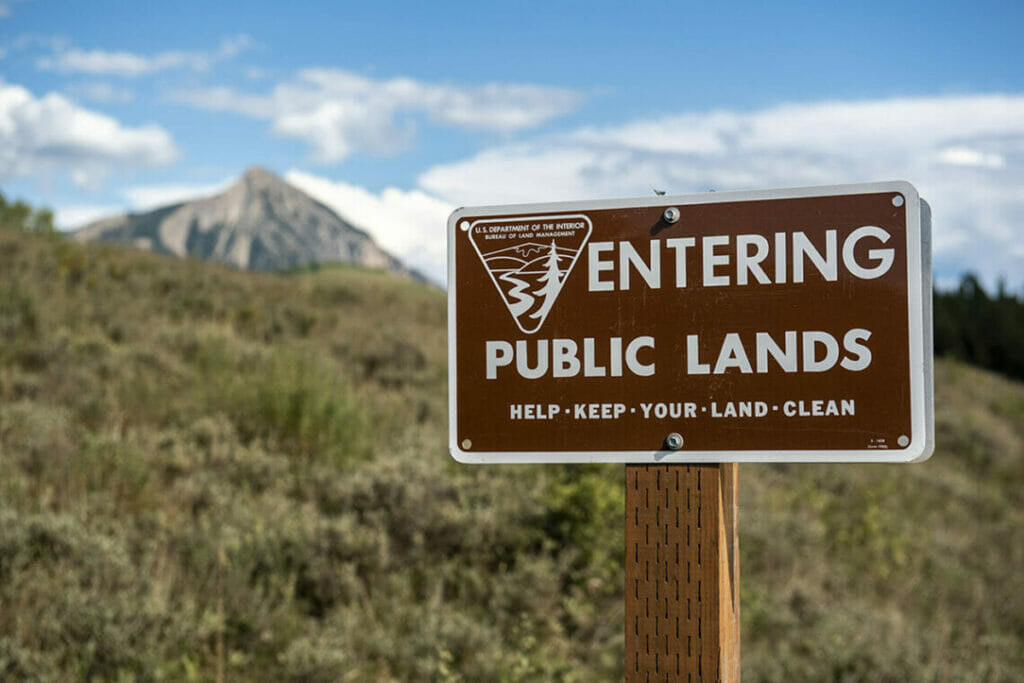 TU: What is this landmark climate legislation, and does it do anything for trout?
TS: The Inflation Reduction Act of 2022 contained provisions for reforming the federal oil and gas program. In fact, it was the first time in decades that Congress modernized the outdated oil and gas leasing program on our public lands. The reforms established new fees to ward off speculators, increased royalty rates and eliminated non-competitive leasing. All these much-needed provisions were recommendations TU and our conservation partners had been advocating for for years to help bring balance back to public lands management and guard against impacts to fish and wildlife habitat. Responsible energy development and fish and wildlife conservation need not be mutually exclusive, but it depends on smart, balanced polices.
TU: Why are these changes to the BLM's oil and gas leasing processes important?
TS: Native trout have been extirpated from much of their historic range so it's important that remaining aquatic habitat be protected, especially where native trout are found. Surface development within sensitive watersheds and close to or on top of riparian areas, wetlands, and streams compromises aquatic habitat and will make these aquatic systems less resilient, particularly as the climate changes and becomes more extreme. Focusing oil and gas leasing, exploration and development on areas with the least potential to impact fish and wildlife and the greatest potential to actually produce energy is responsible, balanced land management.
Unfortunately, this hasn't always been the approach the BLM has taken. For example, from 2012 to 2020, the BLM leased five million acres—roughly twice the size of Yellowstone and Grand Teton National Parks combined—that had little potential for energy development but overlapped valuable fish and wildlife habitat.
These long overdue reforms will help usher in a new era of responsible energy development, reducing impacts to fish and wildlife, protecting water resources and reaffirming our country's commitment to balanced multiple use public lands management. But there's a catch. The Inflation Reduction Act also requires the BLM to offer substantial numbers of new oil and gas leases in order to approve renewable energy development proposals. This could put substantial pressure on the public land agencies to ramp up fossil fuel leasing, so it's crucial for the BLM to draft new rules that avoid leasing in sensitive areas—like adjacent to national wildlife refuges and wild trout habitat—that are critical to the health of vitally important waterways—like the Upper Rio Grande in Colorado and Green River in Wyoming.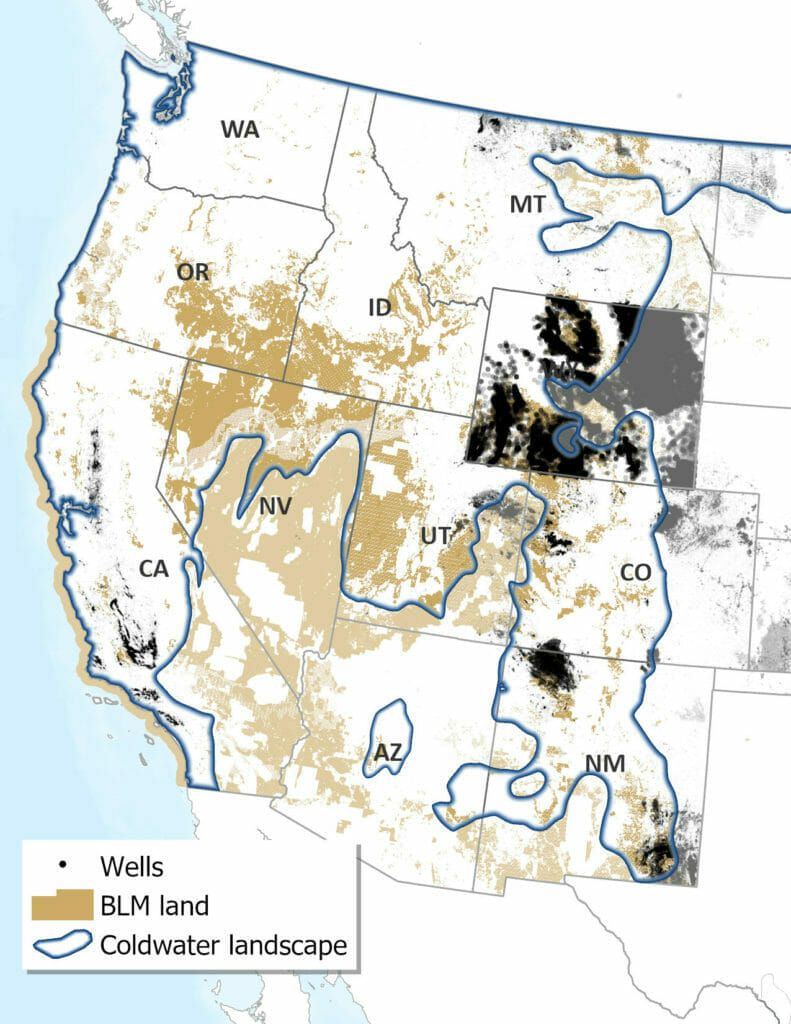 TU: Is there anything else that the BLM has done recently to balance fish and wildlife conservation with leasing public lands for oil and gas development?
TS: We are seeing progress on the ground with the BLM issuing several Instruction Memoranda (IM). For example, new guidance directs BLM offices to evaluate parcels using screening criteria before parcels are offered up at competitive auction. The lease screens need to be applied consistently across BLM Field Offices and take into account fish and wildlife corridors, cultural resources and recreation interests.
We also applaud the BLM's recent issuance on Habitat Connectivity on Public Lands as an important step in maintaining and restoring fish passage across the landscape. We are asking the agency to apply the policies and direction contained in that memorandum to its analysis and consideration of whether to lease parcels in intact watersheds containing native fish reintroduction habitat and to consider the importance of warmer, mainstem, downstream habitats fish need for refuge, growth and reproduction.
TU: What are those additional common-sense reforms needed you mentioned above?
TS: While the landmark climate legislation helps discourage speculative leasing through the elimination of non-competitive leasing, we need the BLM to address all the remaining core problems identified in the 2021 Report on the Federal Oil and Gas Leasing Program by codifying the following items into its internal rulemaking processes:
Improve bonding and reclamation requirements by requiring oil and gas companies to fully pay for potential clean-up costs instead of taxpayers.
Avoiding impacts to fish and wildlife resources by focusing leasing in areas with the least potential for conflicts and greatest opportunity for responsible energy development.
Ensuring lease suspensions and unit agreements are available for public review and comment and only approved when they are in the public interest.
Creating and ensuring a more transparent, science-based leasing process that provides meaningful opportunities for public engagement and Tribal consultation.
TU: What are the next steps if any?
TS: We were pleased to see several leasing reforms we have advocated for over the past decade recently passed through the Inflation Reduction Act and addressed in the seven IMs. While the new legislation enacted these provisions, the Department of the Interior is now charged with the strategic implementation and interpretation of these provisions through regulation and rulemaking. We encourage the BLM to initiate rulemakings to address shortcomings in the IMs and to prioritize taking lands off the table for leasing in areas with low potential for economic oil and gas recovery and high fish and wildlife values.
TU: How can TU members engage in this effort?
TS: Earlier this week, we joined more than 30 other organizations in sending a letter to Secretary of the Interior Deb Haaland calling for additional oil and gas leasing reforms to complement the progress made under the Inflation Reduction Act. We also launched a petition directed at BLM Director Tracy Stone-Manning calling for the agency to update the regulations governing how, when and where oil and gas leasing and drilling occurs on our public lands.   
Sign this petition urging BLM to bring balance to public lands management and guard against impacts to fish and wildlife.