By Jake Lemon
Michigan's Pere Marquette River offers anglers unique year-round opportunities to fish for a diverse array of salmonid species, including brook trout, brown trout, steelhead, and coho and chinook salmon.
Despite healthy overall conditions on the river — a federally designated Wild and Scenic River and a state-designated Natural River and Blue Ribbon Trout Stream — there are opportunities to improve its ecological condition through restoration efforts, such as road culvert upgrades and habitat enhancements.
TU and our conservation partners require monitoring of the river's water quality and habitat condition to help us understand baseline conditions, evaluate project effectiveness and prioritize future restoration and protection activities.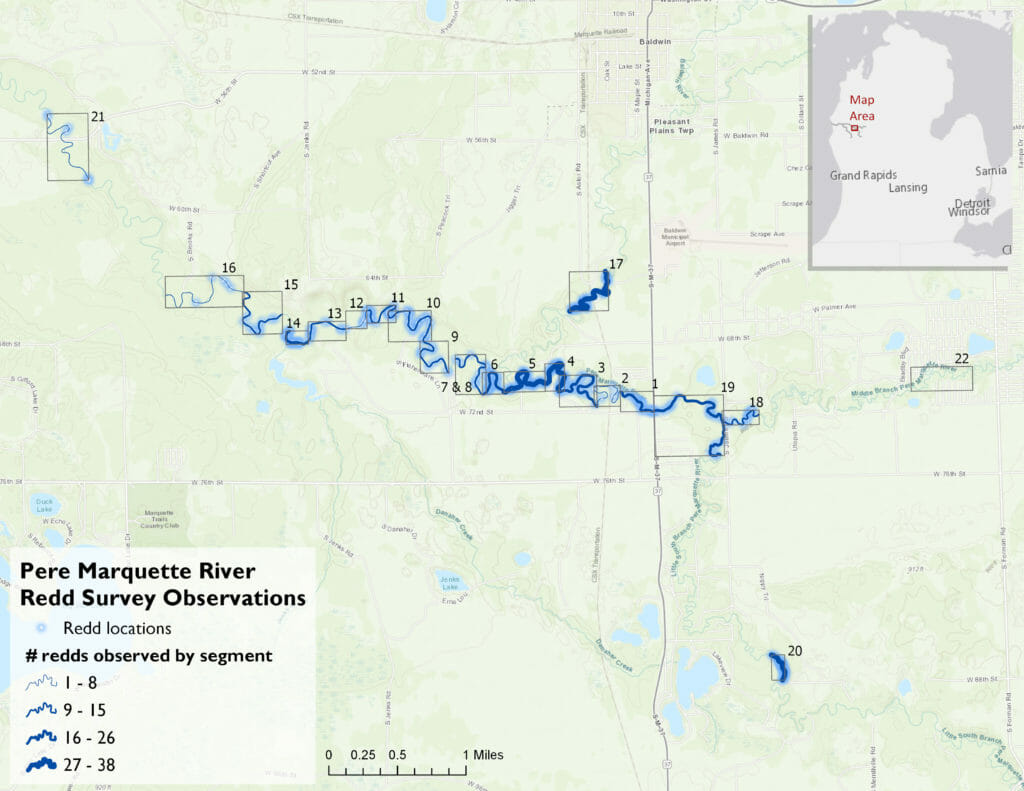 An ongoing initiative to count redds of spawning trout is helping answer questions about trout populations and spawning habitat. With this data we can prioritize protection efforts on areas of important spawning habitat and identify opportunities to implement project improving access to quality spawning habitat.
The availability of quality spawning habitat is an important factor influencing the health of fish populations.
Salmonids are gravel nest spawners, with female trout and salmon excavating a nest, called a redd, where they deposit eggs. These eggs are externally fertilized by one or more male trout or salmon, then covered by gravel.
In partnership with the Pere Marquette Chapter of TU, and with support from the Elliott Donnelley. Chapter of TU and the Chicago Anglers Club, redd counts were organized on the Pere Marquette in 2018 and 2019.  
TU staff trained volunteers, including PMTU volunteers and local fishing guides, in protocols for data collection and redd identification.
Since 2018, volunteers have conducted more than 100 surveys in the headwaters and flies-only sections of the Pere Marquette, mapping redd locations focusing on brown trout.
Initial analysis has highlighted the importance of headwater streams in providing spawning habitat in the system.
Redd surveys are relatively easy to conduct, provide useful data and offer a fun angler science opportunity for local volunteers.
To encourage and support chapter and staff-led redd survey projects, TU recently released a handbook designed to guide groups in getting a redd survey effort off the ground. Check out the handbook, which was developed with funding from the US Forest Service.
TU plans to complete another redd survey in the Pere Marquette in 2020.
Jake Lemon is Trout Unlimited's eastern angler science coordinator. He is based in Michigan and can be reached at jacob.lemon@tu.org.