Editor's Note: The Strawbridge family from Lakeland, Fla., is hiking the length of the Continental Divide Trail – all 3,100 miles of it – from Canada to Mexico. Henry Strawbridge, 14, will be providing updates of their journey to Trout Unlimited as they pass through the historic range of seven native trout species. You can track the family and see reports submitted by Henry on this map.
By Henry Strawbridge
I have a love/hate relationship with road walking. It's a whole lot easier to get big miles. It's kind of nice to be near civilization and food. But on the other hand, the roads are dangerous. Everything hurts after a while because of the hard surface of the asphalt. For me, though, the most excruciating of all, is the mile marker signs. They seem to come so slowly.
East Glacier National Park is one of the most beautiful sections on the trail but, sadly, this year the park is going to stay closed to Continental Trail Divide access. So instead of walking through the acclaimed mountains, we walked Highway 2 to Camus Road and the Outer North Fork road all the way to Canada. We started the highway at Marias Pass going west towards the town of West Glacier.
After two grueling 25- and 26-mile days (on a not very safe road) we arrived in West Glacier and ate lunch down by the middle fork of the Flathead River.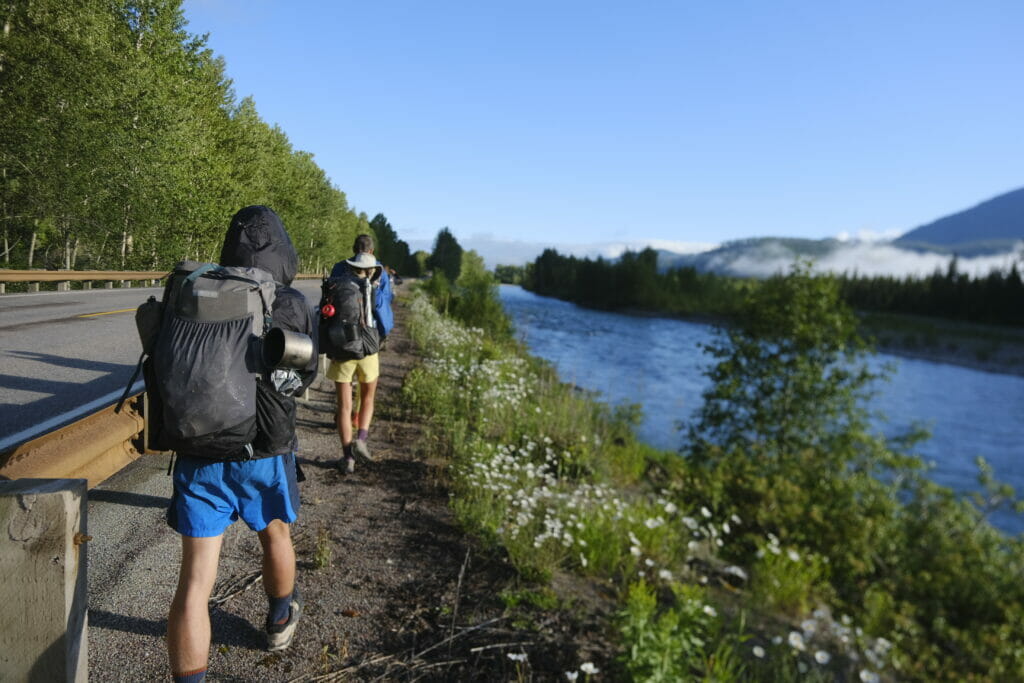 From there we walked into Glacier Park, (walking through a car toll booth) taking a bike trail up toward Camus Road. After taking an accidental detour down to Lake McDonald, we started the 15-mile road walk out of Glacier. But just as soon as we got started, Grampa and his friend Ted showed up with two boxes of delicious pizza.
After that delightful break, we began our afternoon that ended up holding three grizzly bear sightings and a makeshift camp just outside the park.
The next day the roads improved, (for us at least) Outer North Fork road proved to be a dirt road.
It was definitely not as busy as the highway. About halfway through the morning Grandpa texted and that "he had lunch," so with a little encouragement we walked 13 miles before lunch, to a dirt cut-off where we found a delicious feast of fried chicken, croissants, cinnamon rolls and bananas.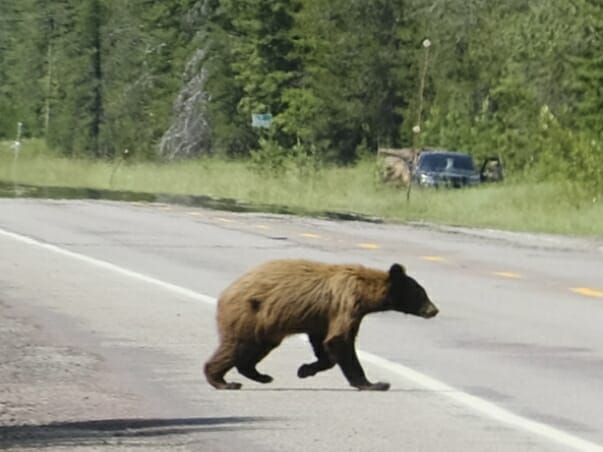 Our best grizzly sighting happened on the last day just 8 miles from the border. We were excited and walking fast. My cousin Ethan was walking ahead and staring at his phone. He apparently did not notice the bear walking up the road. After we caught his attention, his first thought, he later told us, was "Oh cool, a bear." Followed shortly by, "Oh crap, a bear!" It was huge, and they had a bit of a standoff. We had our hands on our bear spray and were preparing to run toward him, but the bear eventually lost that little game of chicken. It sauntered off the road slowly, and we carried on.
We touched the border took some pictures and hitched our final ride with grandpa down to Anaconda.
So, all in all, the road walk for us was basically living the life of luxury. Thank you Grandpa!
With 500 trail miles done, it doesn't seem to be going so bad.
Until next time,
Henry
COVID-19 note: The Strawbridge family anxiously watched as the coronavirus issue threatened their plans to do the CDT this year. After careful consideration the family made the decision to drive to Montana to start the trip to avoid any possible exposure on airplanes. None of the family members are exhibiting symptoms. They are avoiding contact with local communities and will continue with limited contact with the outside world throughout the duration of the trip.