Every year, our family takes our summer vacation to my wife's family camp in the Adirondack Mountains in New York state.  
For me it's Shangri-La. Days of barefoot cavorting with my girls in the lake blend into incredible fishing for trout, lakers, smallmouth, landlocked salmon. The human powered wooden boat scene there is incomparable, too. If you're into that kind of thing. 
The morning before taking the photo that would become the cover of the most recent TROUT, I rose before dawn, rowed one of the family's old Carleton canoes to a submerged cliff face I was told should be holding fish, and jigged up a half-dozen nice-sized lake trout. I also noticed a few salmon crashing the surface and wished I would have brought my fly rod as well.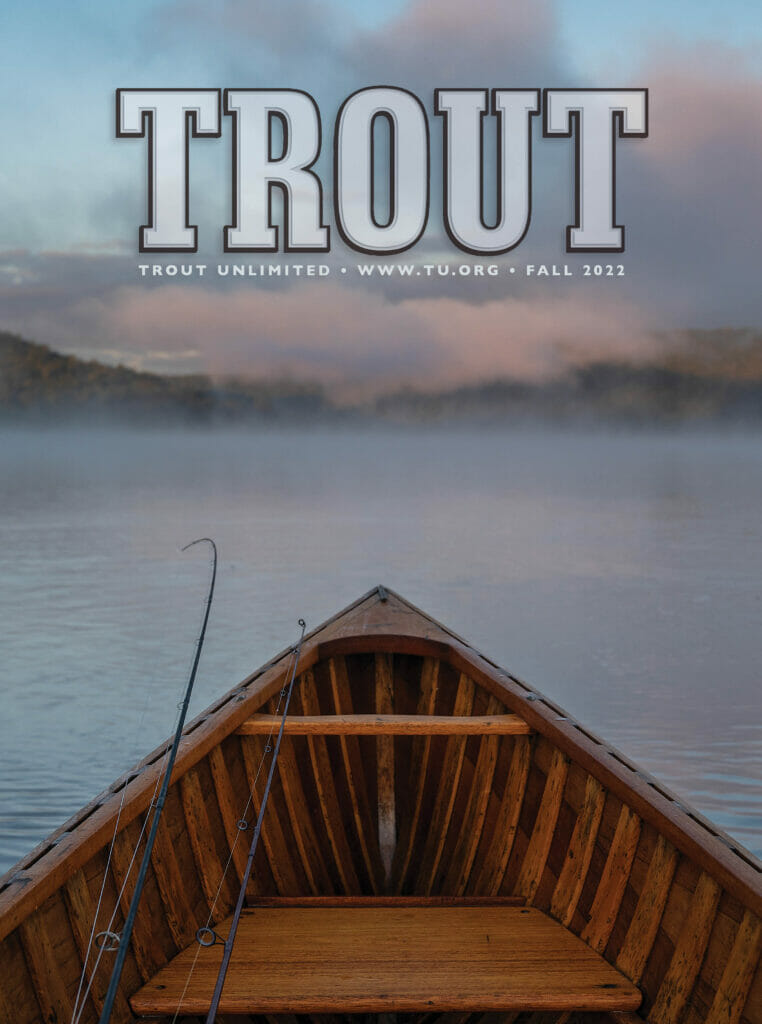 I told myself I'd do it again the next morning no matter how early I had to get up. Which I did.

The problem (for the fishing) was it turned out to be an exceptionally beautiful morning with an ethereal fog bank rolling in and out of the small lake depression, complete with a full moon on one end of the lake and the rising sun on the other. 
I only had a short time two row 20 minutes to the spot, fish, and get back before the family woke up, so we could pack and get rounded up to fly home. It seemed like every 100 yards I had to stop, take more photos, then keep going.
It was one of those mornings that is hard to describe, and the photos don't even come close to doing it justice. In the end, I took hundreds of photos hoping that I would do something with them someday. I had no idea it would end up as a cover image.
In the end, I actually did end up catching a few nice fish, but I will always remember this image—and that morning fog paired with the eerie and beautiful loon calls echoing over the lake—a whole lot more than any of those fish.
Want to get someone special an original Tim Romano print for the holidays? Send an email to tim@anglingtrade.com to order yours today.