TU Women of Progress Book Club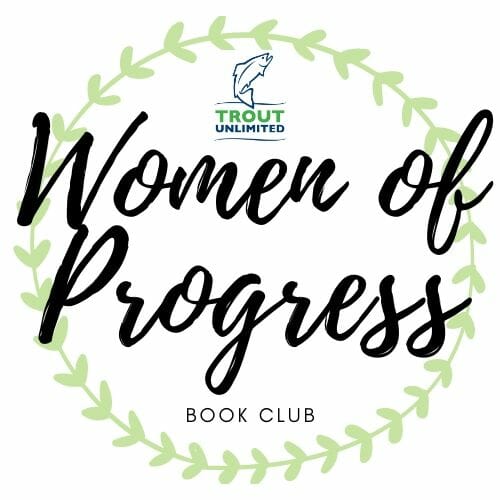 After connecting, talking and writing, we came to the conclusion that there needed to be an opportunity for the Women of Trout Unlimited, conservationists, anglers and activists to connect with each other. Through the shared experience of reading and discussing a variety of books we believe that we will become more aware, broaden our horizons and be better able to deal with the challenges of today.
We believe that our commitment to diversity and justice along with our dedication to honesty and respect for all who choose join the "TU Women of Progress Book Club" will ensure our success. In all that we do we remain committed to learning from and educating each other with empathy so that we may bring about change. We will exchange ideas, even some that may make us a bit uncomfortable, but the opinions of members will be respected.
This is a safe space for people who have been marginalized and not fully represented within conservation. This is intended as a space for women or people who identify as women as an opportunity to explore this space with complex and vulnerable conversation. We offer this as an opportunity to learn from diverse written and lived histories, benefit from shared experience, and participate in an ongoing, learning conversation.
Book Selections
Our reading selections will focus on illuminating the voices and stories of those not fully represented within conservation. We will create a safe space for complex and vulnerable discussion that follows our community standards.
Financial assistance is available for those that would otherwise not be able to participate. Please contact us to continue the conversation if assistance is of interest.
Current selection: So You Want to Talk About Race? by Ijeoma Oluo

"Widespread reporting on aspects of white supremacy–from police brutality to the mass incarceration of Black Americans–has put a media spotlight on racism in our society. Still, it is a difficult subject to talk about…In So You Want to Talk About Race, Ijeoma Oluo guides readers of all races through subjects ranging from intersectionality and affirmative action to "model minorities" in an attempt to make the seemingly impossible possible: honest conversations about race and racism, and how they infect almost every aspect of American life."

Buy the book
Find your library
Purchase the Audiobook
If you have a book recommendation for consideration, please contact us.
Discussion
Next video discussion: Tuesday, August 25th, 8pm EST/5pm PST
Join the discussion by registering here.
TU Women of Progress Book Club Online Forum – This online community is a safe space for members to discuss the book selection(s) with more flexibility and breadth than our scheduled discussions. The forum only allows registered book club members to view and add to content.
Additional Resources

Anti-racism resources
TU equity practice
TU diversity and inclusion leadership roles