A nearly decades-long partnership for watershed restoration in Newaygo County is getting a boost thanks to the passage of the transformational Bipartisan Infrastructure Law combined with steady Great Lakes Restoration Initiative funding.
Since 2015, a partnership has been underway with Trout Unlimited, the U.S. Forest Service – Huron Manistee National Forests, and the Newaygo County Road Commission to identify common goals and tackle projects to achieve mutual objectives, and they've been working together on infrastructure projects ever since in the Bigelow Creek watershed. A coldwater tributary to the Muskegon River, Bigelow Creek provides critical thermal refuge for the marginal-temperature Muskegon River, supports a self-sustaining population of Brook and Brown trout, and boasts runs of anadromous fish, including Coho, Chinook Salmon, and Steelhead.
In August, Trout Unlimited and Huron Manistee National Forests staff had the opportunity to host a tour of some of the infrastructure projects that have been completed or are slated for construction in the coming years. Gabe Butzke, District Representative for Congressman John Moolenaar and Melissa Frugé, Northern Michigan Regional Manager for Senator Debbie Stabenow, joined the tour and got to see the tangible results of federal investments in local communities.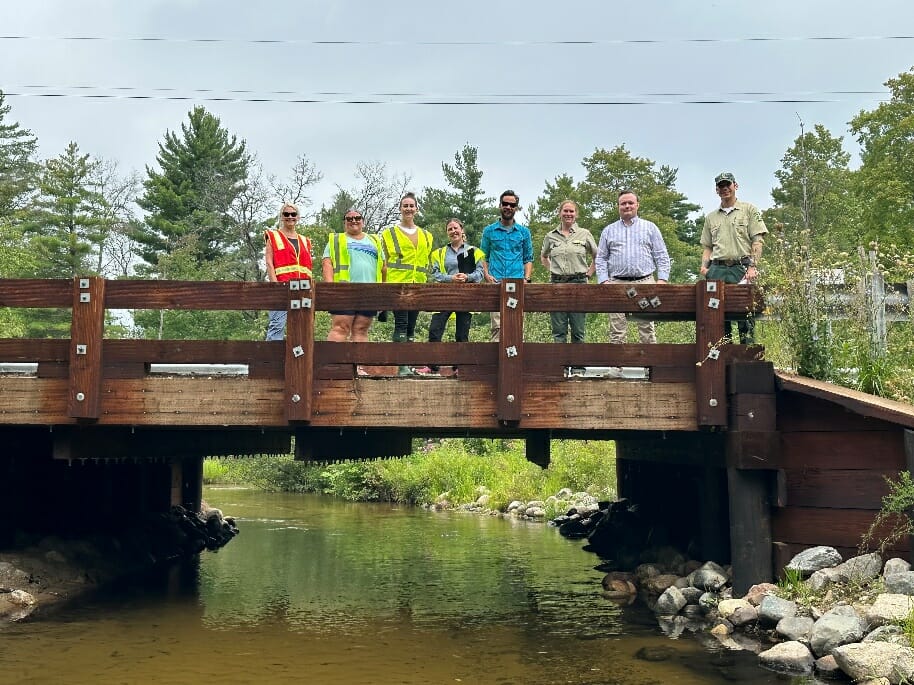 It may not be immediately obvious where trout and coldwater conservation intersect with road safety and infrastructure work, but they are indeed intwined. There are an estimated 265,000 road-stream in the Great Lakes region and it is expected that 65% of them are fish barriers; that is, acting essentially as dams for fish movement because they are too small, placed too high, or have too fast of flows for fish to pass.
Problem road-stream crossings are equally deleterious to community health and safety, being too small to handle major flood events and posing a hazard and a costly fix should the road integrity become compromised – making them a priority for county road commissions and local municipalities as well.
"These collaborative efforts we enjoy with our partners are key to not only ensuring wildlife sees minimal negative impact from our daily activities, it allows for great efficiencies in project budgets which is something we all are proud to be a part of, and hope continues for the foreseeable future," said Derek Wawscyk, the Newaygo County Road Commission Manager.
A watershed-wide inventory of road-stream crossings was completed, followed by prioritizing crossings for replacement. To date, 6 of the 8 priority road-stream crossings on Bigelow Creek have been replaced with bridges or properly sized culverts that simulate the natural stream channel, opening up over 25 miles of coldwater habitat for trout, salmon, and other aquatic organisms, and greatly increasing health and flood resilience for nearby communities.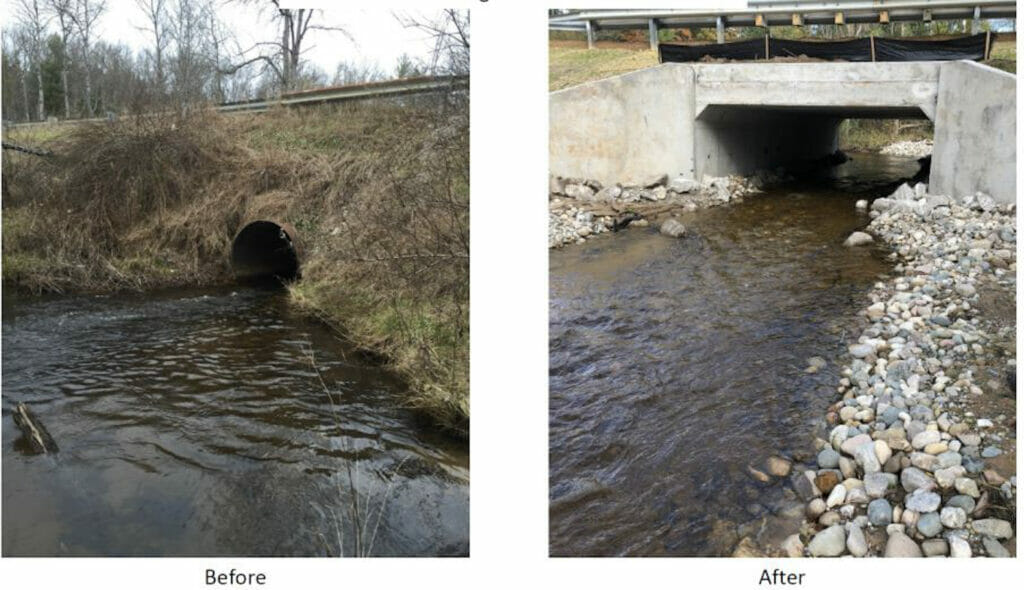 Project partners are planning the removal of the final 2 crossings over the next few years, ultimately achieving complete reconnection of the watershed.
However, these complex projects have big price tags, and funding from the U.S. Fish and Wildlife Service National Fish Passage Program, Great Lakes Restoration Initiative through the National Fish and Wildlife Foundation Sustain Our Great Lakes Program and through the U.S. Forest Service, the Great Lakes Fishery Trust, and the Newaygo County Road Commission has made these projects possible thus far. But there's much more work to be done to address these fish passage and safety hazards across the landscape.
The opportunity that is presented by the influx of federal investments and the momentum that is being built as a result makes it a truly exciting and hopeful time for resource managers, anglers, and all those who appreciate clean water, strong communities, healthy economies, and American jobs.
Because of trusted partnerships already in place with the U.S. Forest Service across the Great Lakes region, Trout Unlimited is well positioned to put these dollars to use on the ground and has already been able to fast-track projects and supercharge efforts to make our waterways, environment, and infrastructure better able to adapt to the future.
Trout Unlimited has identified more priority projects throughout Michigan and Wisconsin and expects to reconnect over 245 miles of coldwater habitat and invest more than $8 million in conservation efforts over the next 5 years. The lessons that Bigelow Creek offers will continue to help guide our approach in other watersheds and serve as a steadfast reminder that the best way forward is through collaboration.
The Bigelow Creek Project Team includes Trout Unlimited, U.S. Forest Service—Huron Manistee National Forests, Newaygo County Road Commission, Michigan Department of Natural Resources, Michigan Department of Environment, Great Lakes and Energy, Muskegon Conservation District, Muskegon River Watershed Assembly, and local communities.