Momentum is building for TU's restoration team in New York
Trout Unlimited's Northeast Coldwater Habitat team has designed and implemented an impressive catalog of strategic improvement projects across the state of New York, while actively gaining new information to prioritize future initiatives.
Within watersheds of all sizes, we continue to find unique challenges that require intentional approaches for climate resilient preservation strategies. From the shores of the Great Lakes to the Atlantic Ocean and high above in the Adirondacks coursing through the tiniest trickles of Catskill Mountains streams, our work to preserve this natural landscape holds promise for the future of wild spaces.
Data collection, stream bank stabilization, and natural habitat improvement projects remain key focal points for Trout Unlimited staff and our trusted partners in New York as we expand our efforts within the Delaware Watershed.
Creating homes for trout
In 2022, multiple projects on tributaries to the West and East Branch were completed, and more restoration work is scheduled for those watersheds this year. Trout Unlimited and our partners at Friends of the Upper Delaware River have committed to the improvement of both Oquaga and Laurel Creek, important tributaries of the West Branch of the Delaware in the Village of Deposit, NY.
"Adding wood to the stream remains a technique that we use to achieve multiple benefits," said Jo-Anne Humphreys, a stream restoration specialist with TU's Northeast Coldwater Habitat Program who oversees the design and implementation of TUs restoration work in New York.
In 2022, TU completed restoration work along almost 1,000 feet of Oquaga Creek, using logs and soil lifts.
"Not only does this treatment help to stabilize eroding banks, but it also adds deep pool habitat and cover for trout to hide," Humpreys said.
Before and After photo of Oquaga Creek –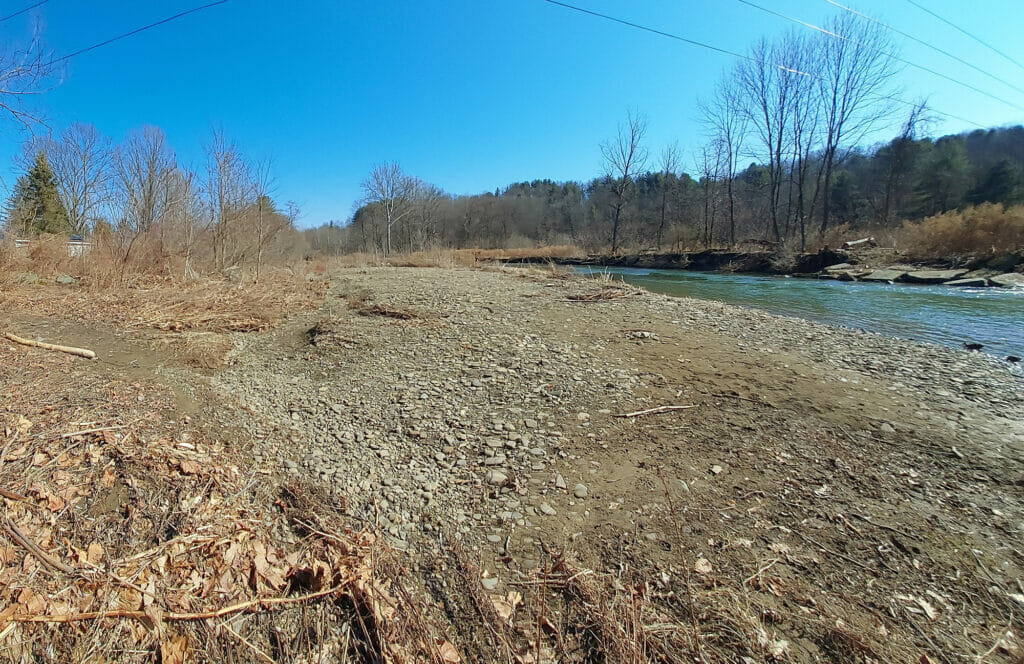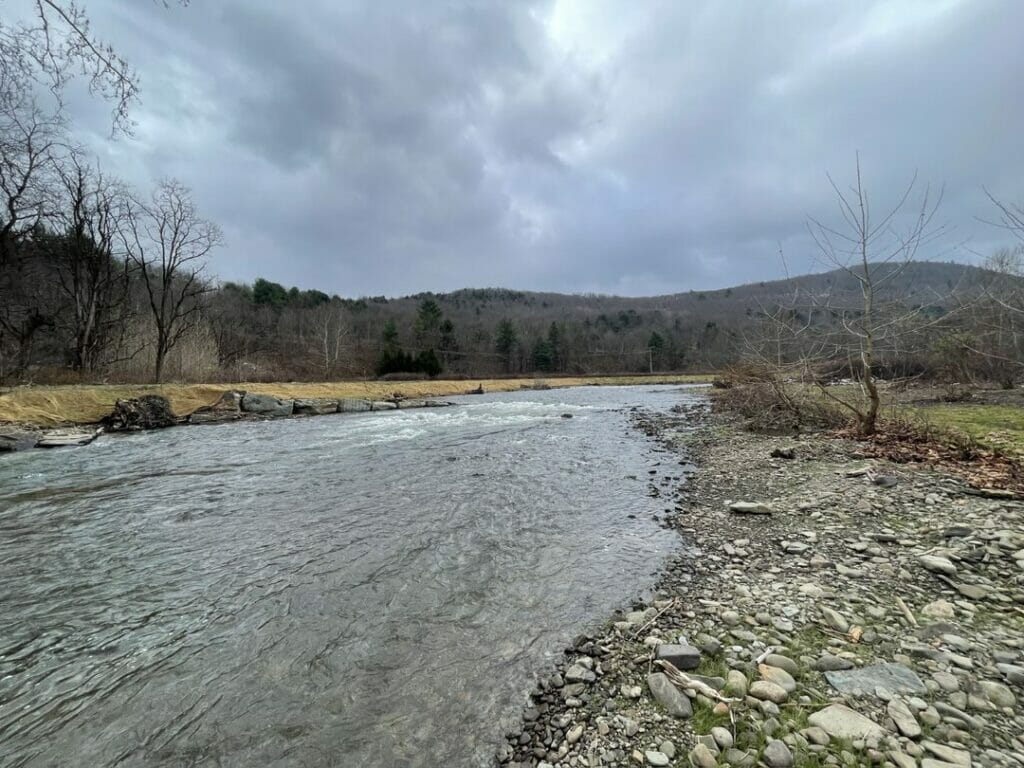 Oquaga Creek is a tributary of the West Branch Delaware River. Funded by the Delaware River Conservation Fund, the work was constructed by JB Excavation. Following the restoration, local volunteers helped to plant native trees and shrubs that will grow to help stabilize and shade the creek.
Working with local landowners to improve habitat for fish is also a goal of Friends of the Upper Delaware River.
"This year we collaborated with several private landowners," said Molly Oliver, policy director at FUDR. "These landowners reach out to us because they are concerned about losing property. We work closely with Trout Unlimited to help secure funding to protect private property while at the same time improving conditions for trout and other aquatic species."
Working on private property is critical because it helps improve the health of full watersheds.
After photo of Laurel Creek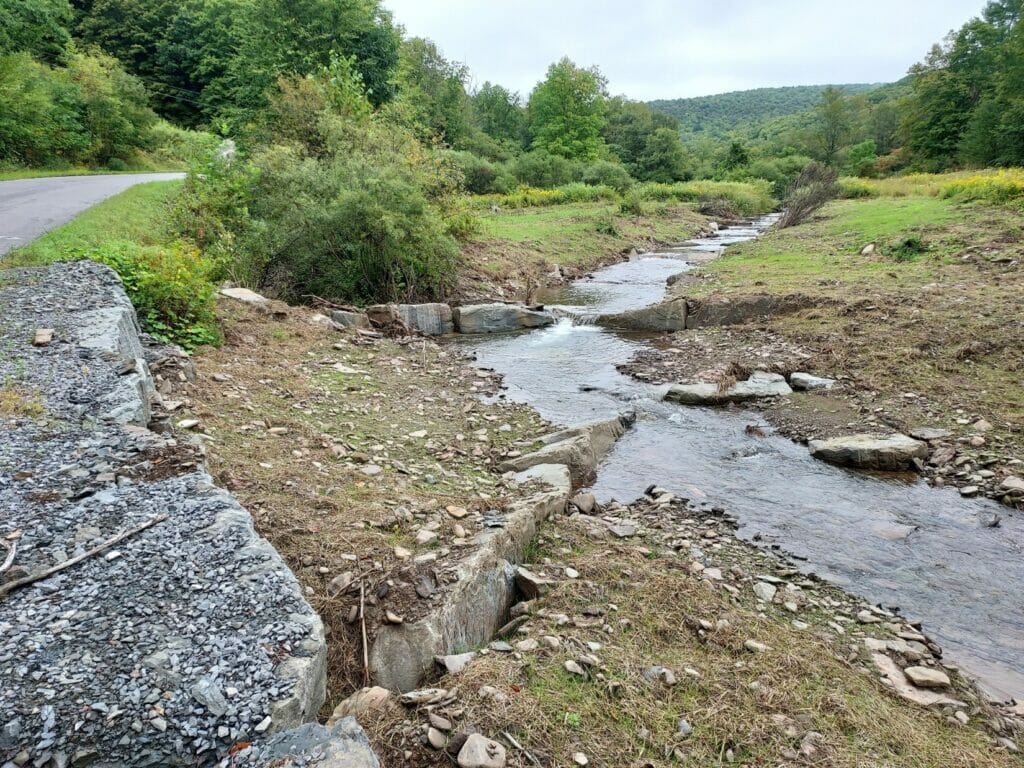 Delaware River Conservation Funds administered by National Fish and Wildlife Service were secured for the project. Additional work in 2023 on Laurel Creek will reconnect another mile of high-quality habitat for trout.
Benefits beyond trout abound
In addition to Trout Unlimited's role as a steward to the many beautiful trout swimming through our cold streams and rivers across New York, TU's design and engineering staff takes great pride in restoring natural landscapes. We aim to create solutions that reduce the local community impacts of flash floods and other high-water events.
Looking north from the Delaware to a territory once occupied by the Oneida and Mohawk, we find Oriskany Creek and its cast of small tributaries.
Big Creek, located in the Village of Waterville, is an example of a tributary that was significantly impacted by a string of recent storms. TU's work on Big Creek is supported and co-designed by Gian Dodici, and made possible by the US Fish & Wildlife Service Partners for Wildlife Program along with the Village of Waterville. The completed design included a dynamic balance of structural alignment and natural wood installations that will deflect powerful flows and large sediment from further degradation along a rapidly eroding streambank.
This project was another example of the team working closely with private landowners to achieve multiple benefits.
"The Big Creek Restoration Project is the beginning of a multi-year plan to restore this stream that was ravaged by past flood events," said Jamie Bechy, Waterville Village highway supervisor. "Together with TU and the Fish and Wildlife Service, the Village of Waterville has been able to secure funding to continue this effort."
TU received a grant through the Mohawk River Watershed Program, and the village secured additional funds through the state and county to complete this important work.
Before and After photo of Big Creek –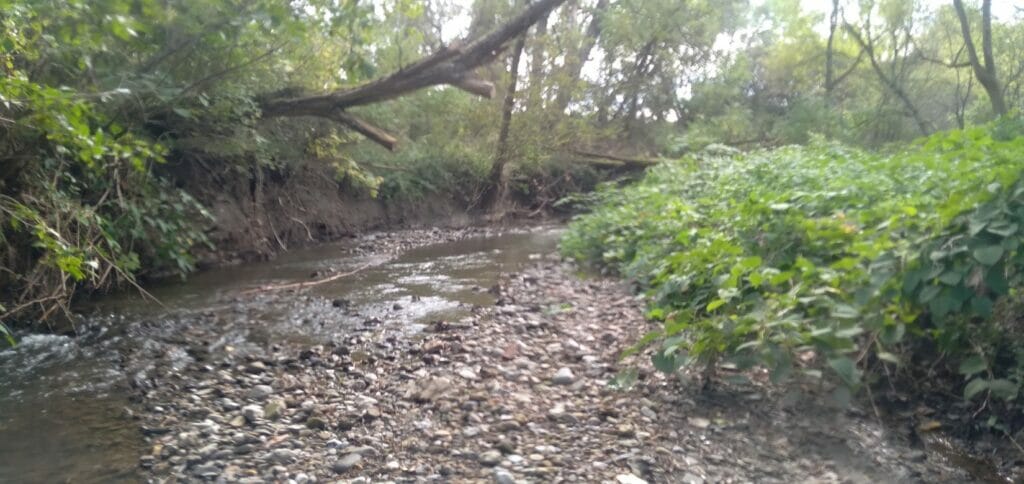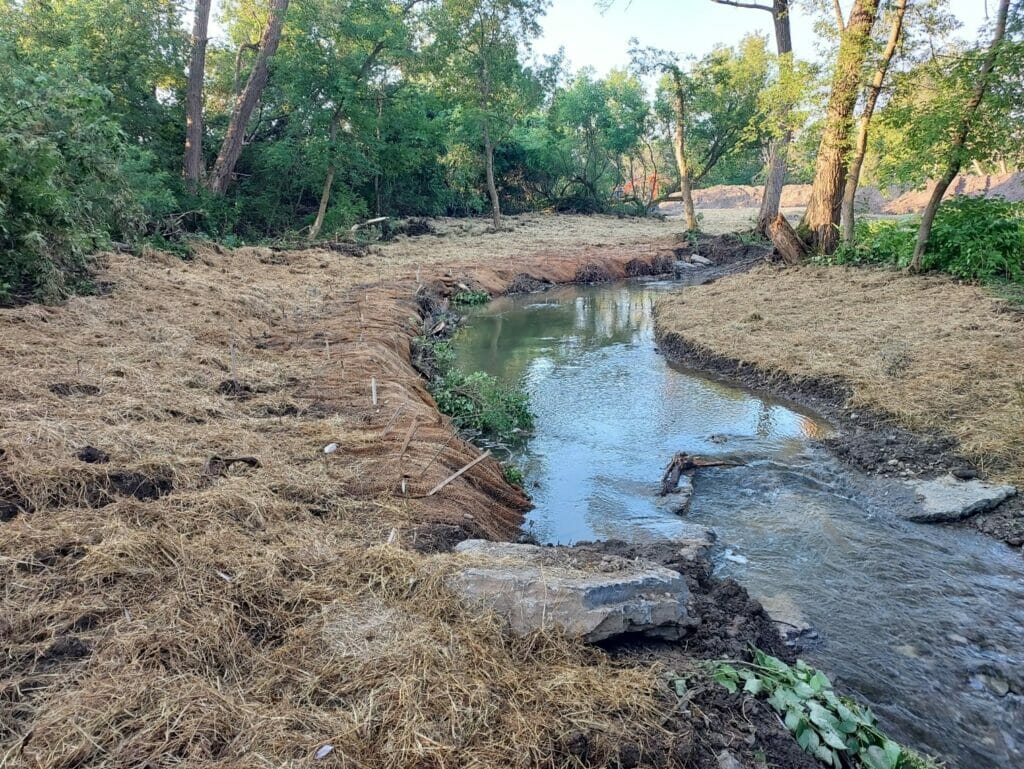 Big Creek is a tributary to Oriskany Creek in Waterville, New York. Restoration was done by Peck Construction, with direction from TU, USFWS, and the Village of Waterville.
Orvis helps TU and wild trout
Since the program's formal launch early in 2020, Trout Unlimited's Battenkill Home Rivers Initiative has modeled a highly efficient program for restoration and habitat improvement work on this iconic trout stream and its tributaries from the headwaters in Dorset, Vt., down through Washington County in New York.
These efforts, led by Jacob Fetterman, have yielded strong results as he and his crew have surveyed a promising number of returning wild trout in key spawning tributaries of the Battenkill. With tremendous support from our good friends at Orvis, we have continued to expand these efforts and welcome the local community to join in on the fun.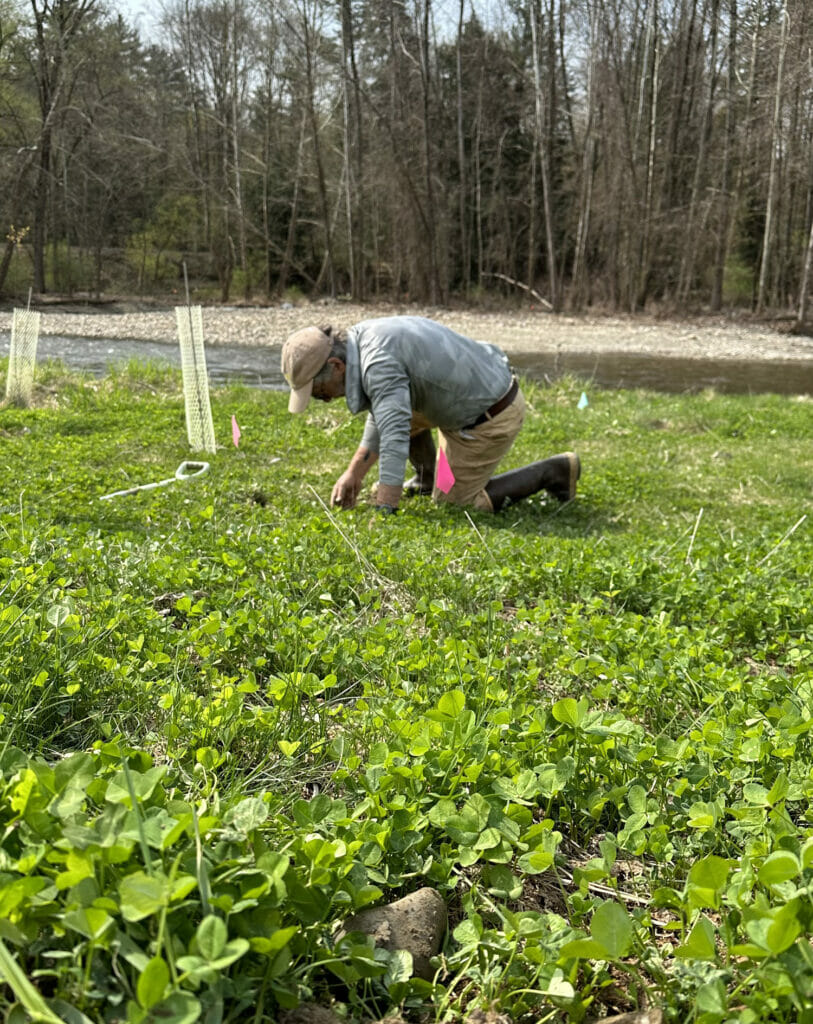 Earlier this Spring, TU volunteers from the Clearwater and Southwestern Vermont Chapters cleaned up streamside trash and planted trees above a recent restoration site in Shushan, N.Y. Orvis' Tom Rosenbauer worked quietly and kindly with volunteers and offered some insight on the migratory patterns of the large number of Grannom Caddis hovering the stream that morning and raising excitement for local fishing later that afternoon. To learn more about the fine progress and exciting future for the Battenkill, head over to the TU blog.

With the 2023 field season in swing, Trout Unlimited is already back at work with the next phase of restoration projects throughout trout country in the Empire State. The work will continue to benefit the trout and other stream residents, local communities and their appreciative residents.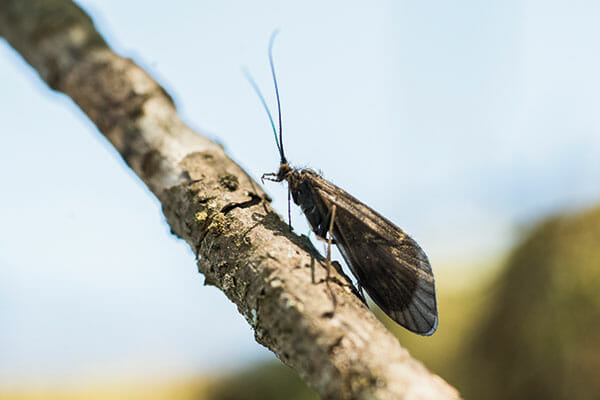 Jesse Vadala is the Northeast Coldwater Habitat Program's engagement coordinator.