June 2 – 4, 2023
Mill River Park, Stamford, Connecticut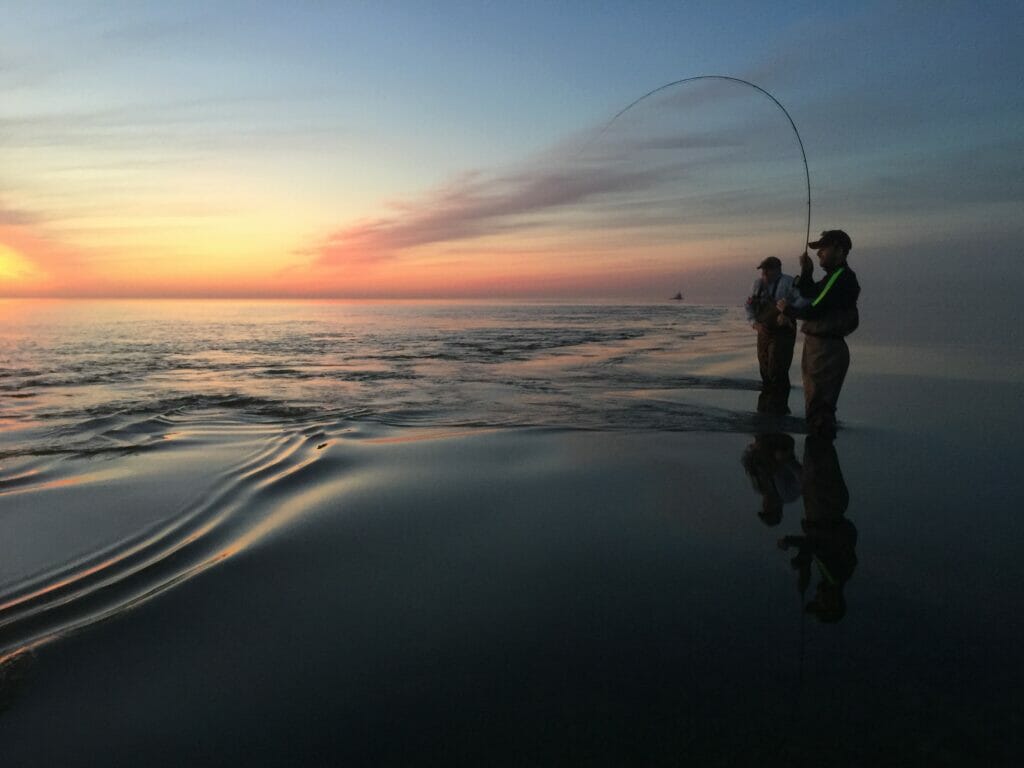 Join fellow TU members, supporters and volunteers from across the Northeast on June 2 – 4, 2023 at the Mill River Park in Stamford, Conn., for some great fishing, enlightening presentations, inspiring dialogue and engaging camaraderie with those who share your dedication to TU and o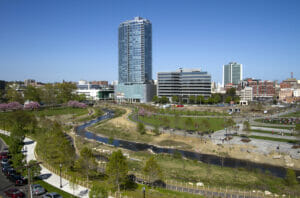 ur mission.
Located in the heart of Stamford where a thriving urban metropolis meets the natural beauty of the Rippowam River and Long Island Sound, this is the perfect location to join us for the weekend – and stay longer or make a family trip or fishing buddies escape around this great event!
Stamford is within striking distance of some amazing trout and striped bass fishing and early June is the peak time for fishing in both!
TU regional rendezvous are occasions to be inspired – by the work of TU staff, lessons from volunteer leaders, and conversations with newfound friends. They are also an excellent opportunity to discuss the unique issues facing the region as well as a chance to network and build relationships with fellow TU volunteer leaders.
Lodging
Accommodations for the Northeast Regional Rendezvous are provided by the two following local hotels. The Hampton Inn is directly across the street from Mill River Park and the Stamford Marriott is an easy walk a few blocks up the road. (Directions to Mill River Park)
Hampton Inn & Suites Stamford
26 Mill River Street Stamford, CT 06902
Room Rate – $139/night
Stamford Marriott Hotel & Spa
243 Tresser Boulevard, Stamford CT, 06901
Room Rate – $179/night
Schedule
A full event agenda will be posted shortly, but below are some of the key activities taking place.
Friday, June 2 – Free Hosted Fishing Day
Free day of hosted fishing and no host dinner with local TU volunteers. Sample some of the finest fly fishing around the region including chasing trout on local waters, or wading the shores for striped bass on Long Island Sound. You can also choose to take a longer trip to fish the famous freestone pools of the Housatonic River or the cold tailwater runs of the Farmington River. The event is times to coincide with peak of mayfly hatches and in-shore baitfish runs! Your local TU hosts will take you to some of their most special waters. Once registered for the fishing day, you will be sent a short questionnaire asking about your fishing preferences.
Following fishing, all attendees can gather for a no-host meal and networking event at a location TBD.
Saturday, June 3 – Workshops and Seminars
Saturday's full-day session will include breakfast and lunch networking, group discussions, concentrated workshops and opportunities for TU members and volunteers to share ideas, celebrate successes, and discuss common challenges.
Saturday Night, June 3 – Streamside Dinner and Networking
Following the day's meetings, join your fellow TU members, volunteers and staff from for a great streamside meal with the sound of conversation mingling to the murmur of the nearby river. You can even wander away to find some quiet water and rising trout! A fun raffle and auction will be offered and opportunities abound to network with one another. Spend time talking shop and trading stories with people who share your passion for conservation and enjoy a fun evening.
Sunday, June 4 – Morning Workshops and Half-Day Conservation Event
Have you ever wondered why a stream needs restoration? Are you curious about the role insects play in these decisions? Join us for a special Sunday afternoon special session at the Northeastern Regional Rendezvous for a hands-on conservation tour to open your eyes and expand your understanding of stream restoration practices you can take home to your chapters and councils.
Registration
Registration details coming soon, options will include
Optional hosted fishing on area streams with local TU members
Participation in all seminars and workshops on Saturday and Sunday
Breakfast and lunch on Saturday and Sunday
A dinner and fundraiser on Saturday night
* You can register for the entire weekend, or register for one day only at a discounted rate
**Attendees may also bring spouses/guests
For questions and additional details, email Jeff Yates at jyates@tu.org.