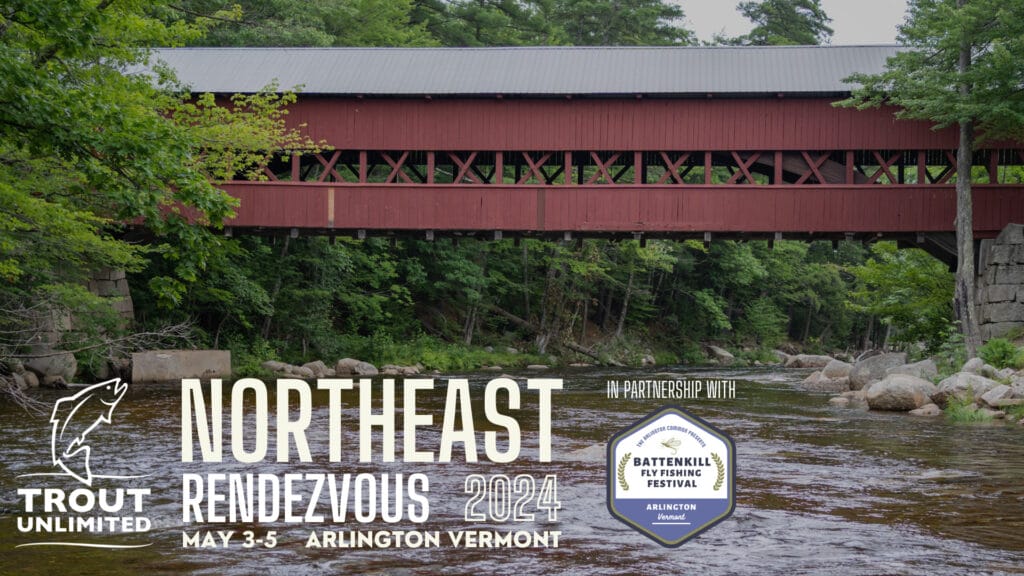 2024 Northeast Rendezvous
May 3rd-5th in Arlington, Vermont
Join fellow TU members, supporters and volunteers from across the Northeast on May 3-5 in Arlington, Vermont for some great fishing, enlightening presentations, inspiring dialogue and engaging camaraderie with those who share your dedication to TU and our mission.
Brought to you in partnership with the Battenkill Fly Fishing Festival, this marriage of fishing-centric celebration of one of TU's top Priority Waters in the East with the kinds of in-depth and hands-on conservation and community engagement conversations and trainings you expect from the Northeast Rendezvous makes for a fun and impactful weekend in the Green Mountains of Vermont!
Located in the foothills of the Green Mountains, where meandering rivers flow through farm fields and pastures that blend seamlessly into the dark canopy of heavily wooded slopes where mountain streams tumble over moss-covered rocks, this is the perfect location for our annual event. It's also a great place and time of year for you to consider staying longer or making a family trip or fishing buddies escape!
TU regional rendezvous are occasions to be inspired – by the work of TU staff, lessons from volunteer leaders, and conversations with newfound friends. They are also an excellent opportunity to discuss the unique issues facing the region as well as a chance to network and build relationships with fellow TU volunteer leaders.
Registration
Registration is available soon and will include a range of inclusive packages and a la carte options:
Hosted fishing on area waters with local TU members
Late night social events and hospitality – and loads of fishing and fun!
Participation in all seminars and workshops on Saturday and Sunday
Breakfast and lunch on Saturday and Sunday
A fun, fundraising dinner on Saturday night for Music City TU
A hands-on conservation event Sunday to help us leave Nashville a little better than we found it
* You can register for the entire weekend, or register for one day only at a discounted rate
**Attendees are welcome to register children and partners and encouraged to bring friends new to fishing and conservation!
For questions and additional details, email Maggie Heumann at maggie.heumann@tu.org.
Lodging
Accommodations for the Northeast Regional Rendezvous are provided at a range of local inns, bed and breakfast lodging, motor inns and hotels in the Arlington, Vermont area. Attendees are encouraged to book early and also consider Air BnB and nearby camping options as well! Additional lodging is readily available in the Manchester area (8 miles away) and the Benning area (17 miles away).
Arlington Area Inns & Bed and Breakfasts
The Arlington Inn & Spa – Arlington (0.1 miles)
The Deming House – Arlington (0.1 miles)
West Mountain Inn – Arlington (0.9 miles)
Ira Allen House – Sunderland (3.3 miles)
Hill Farm Inn – Sunderland (3.9 miles)
Rockwell's Retreat – Arlington (4 miles)
Arlington Area Hotels & Motor Inns
Governor's Rock Motel – Shaftsbury (6.5 miles)
Arcady Mountain Motor Lodge – Sunderland (2.9 miles)
Arlington Area Camping
Camping on the Battenkill – Arlington (0.9 miles)
Howell's Camping Area – Arlington (0.9 miles)
Schedule
Friday, May 3 – Hosted Fishing Day
Explore a wide range of fishing options with friendly volunteer TU hosts, or choose a DIY adventure. There are a wide range of options to choose from including the famous Battenkill, nearby larger streams like the Mettawee or Hoosic and more wild trout waters tumbling down from national forest lands than you can reasonably fish in an entire year – let alone a single weekend! (Friday fishing is optional and comes with an additional $25 cost to cover boxed lunch.)
Friday Night, May 3 – Late Night Social
Following fishing, or for those who have been traveling into town all day, after a no-host dinner, join us for a fun and exciting evening catching up with friends new and old over cold drinks while taking advantage of all that Vermont has to offer!
Saturday, May 4 – Workshops & Seminars
Saturday's full-day session will include breakfast and lunch networking, group discussions, concentrated workshops, featured conservation presenters and opportunities for TU members and volunteers to share ideas, celebrate successes, and discuss common challenges.
Saturday Night, May 4 – Dinner & Festivities
Following the day's meetings, join your fellow TU members, volunteers and staff from for fun-filled evening and a wide range of events and opportunities from the fly fishing festival. Spend time talking shop and trading stories with people who share your passion for conservation and enjoy a fun evening.
Sunday, June 4 – Morning Workshops & Conservation Event
Have you ever wondered why a stream needs restoration? Are you curious about the role insects play in these decisions? Join us for a special Sunday afternoon special session at the Northeastern Regional Rendezvous for a conservation tour to open your eyes and expand your understanding of stream restoration practices you can take home to your chapter.