Western Regional Rendezvous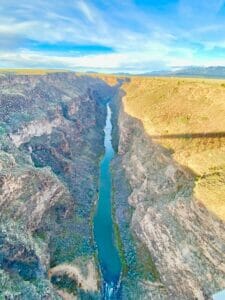 Join fellow TU members, supporters and volunteers from across the West from May 18th-21st, 2023 at the Sagebrush Inn in Taos, NM for some great Spring fishing, networking opportunities, workshopping and presentations ranging from leadership development to regional habitat work.
Located in northern New Mexico at the base of the Sangre de Cristo Mountains, Taos is an incredible melting pot of landscapes, cultures, and fishing opportunities. This is an amazing opportunity to join us for the weekend – and stay longer if you'd like to make this a family trip or fishing buddies escape!
Taos is within striking distance of some amazing trout fishing opportunities, and we hope to score some great Spring weather to make that a reality. Please reach out to local fly shops Doc's High Country Anglers  and Taos Fly Shop for more info on fishing the area!
TU regional rendezvous are occasions to be inspired – by the work of TU staff, lessons from volunteer leaders, and conversations with newfound friends. They are also an excellent opportunity to discuss the unique issues facing the region as well as a chance to network and build relationships with fellow TU volunteer leaders.
Schedule
A full event agenda will be posted shortly, but below are some of the key activities taking place.
Thursday, May 18th – Evening Movie Screening (Taos Center for the Arts- details to come!)
Friday, May 19th – Breakfast, Welcome Luncheon & Workshops, + Dinner
We will kick off the day with a breakfast & land acknowledgement, followed by a morning of seminars. The afternoon will be filled with regional state breakouts followed by a New Mexico TU fundraiser & speaker (TBD).
Saturday, May 20th  – Workshops and Seminars
Saturday's full-day session will include breakfast and lunch networking, group discussions, concentrated workshops and opportunities for TU members and volunteers to share ideas, celebrate successes, and discuss common challenges.
Saturday Night, May 20th – Dinner & Keynote Address
Following the day's meetings, join your fellow TU members, volunteers and staff from for a great New Mexican meal and a fun raffle and auction. The opportunities abound to network with one another- spend time talking shop and trading stories with people who share your passion for conservation and enjoy a fun evening.
Sunday, May 21st – Morning Workshops and Half-Day Conservation Event/ Fishing with Hosts
Have you ever wondered why a stream needs restoration? Are you curious about the role insects play in these decisions? Join us for a special Sunday afternoon special session at the Western Regional Rendezvous for a hands-on conservation tour to open your eyes and expand your understanding of stream restoration practices you can take home to your chapters and councils. Opportunities to fish nearby rivers with local TU hosts will also be available!
Lodging
Accommodations and meeting venues for the Western Regional Rendezvous are provided by:
The Sagebrush Inn
Address: 1508 Paseo Del Pueblo Sur, Taos, NM 87571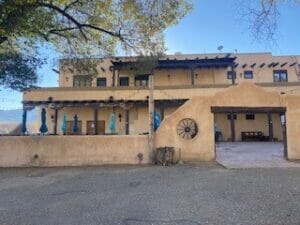 Ask for "Trout Unlimited" when reserving.
Transportation
Located just a one hour drive from Sante Fe, and 2 hours from Albuquerque, getting to Taos, NM is an easy and beautiful drive.  Look for a rental car at the airport or you can book a shuttle with https://taosrides.com/.
Registration
Registration details can be found here
Optional hosted fishing on area streams with local TU members on Sunday
Participation in all seminars and workshops on Friday, Saturday and Sunday
Breakfast, lunch, and dinner on Friday & Saturday and Breakfast on Sunday
A movie screening on Thursday night for early arrivals
Dinner, speakers and a fundraiser on Friday & Saturday night
* You can register for the entire weekend, or register for one day only at a discounted rate
**Attendees may also bring spouses/guests
For questions and additional details, email Maggie Heumann at maggie.heumann@tu.org.