Join Trout Unlimited and Flylords for a week of celebrating our favorite fish and our work to keep their waters healthy.
From Sept. 25 through Oct. 2, we'll bring you dozens of ways to connect — from virtual conversations with important names in conservation and fishing to in-person opportunities to get your hands dirty and your waders wet with local TU members and supporters. Check out the full line-up at www.tu.org/troutweek.
The events launch this weekend — and aptly so as Saturday marks Public Lands Day and on Sunday we celebrate World Rivers Day. Each day, tune in to @TroutUnlimited and @Flylords on Facebook and Instagram and follow #TroutWeek to find the latest articles, interviews, videos and livestreams—you won't want to miss these exclusive events.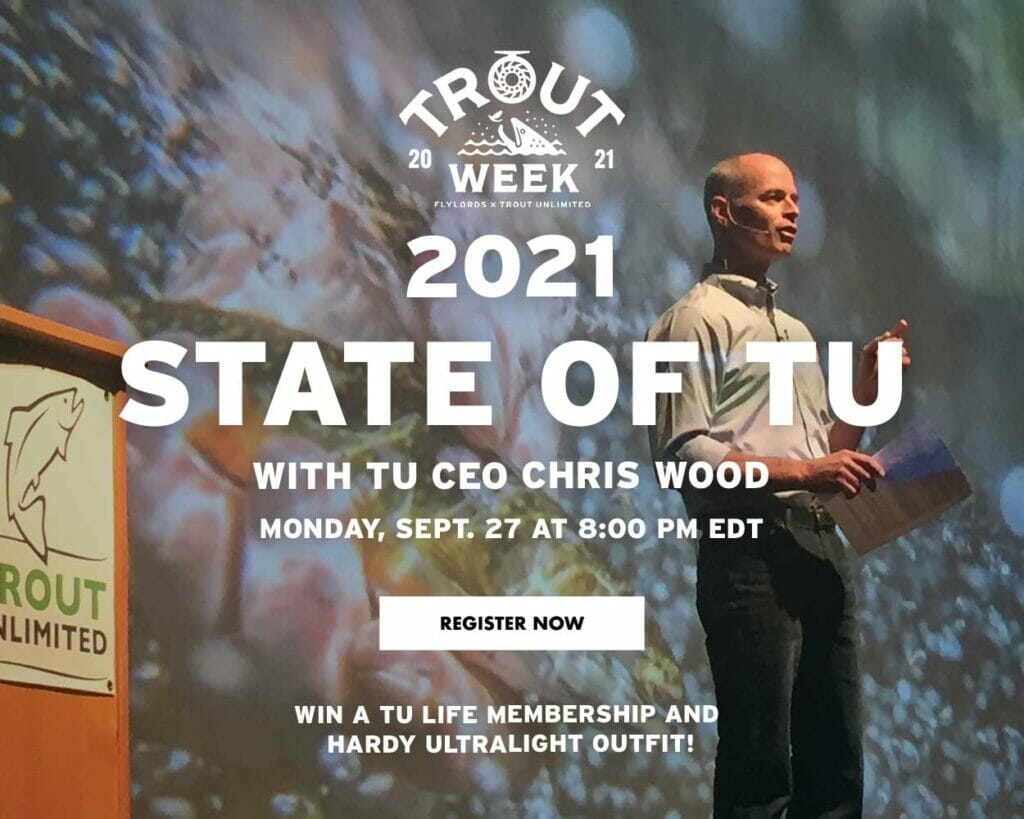 On Monday, you won't want to miss the State of TU from Chris Wood at 8 p.m. Eastern. You'll travel across the country with Chris on a journey full of uplifting, jaw-dropping and heart-wrenching images of rivers restored, incredible fish and devastating events like floods and wildfires which threaten the rivers we love at an increasing pace due to climate change. You'll hear how we're working, day in and day out, through our network or talented staff, passionate volunteers and dedicated partners to care for and recover our cold-water resources. And you'll learn first-hand how you've already made a difference and what more you can do to help turn the tide
Even better, one lucky State of TU attendee will receive a free TU life membership and the Hardy Ultralight rod and reel that go with it (it's a prize worth $1,500). Others will have a chance to win a Sage Spectrum C reel or a pair of Flyweight waders courtesy of our friends at Simms.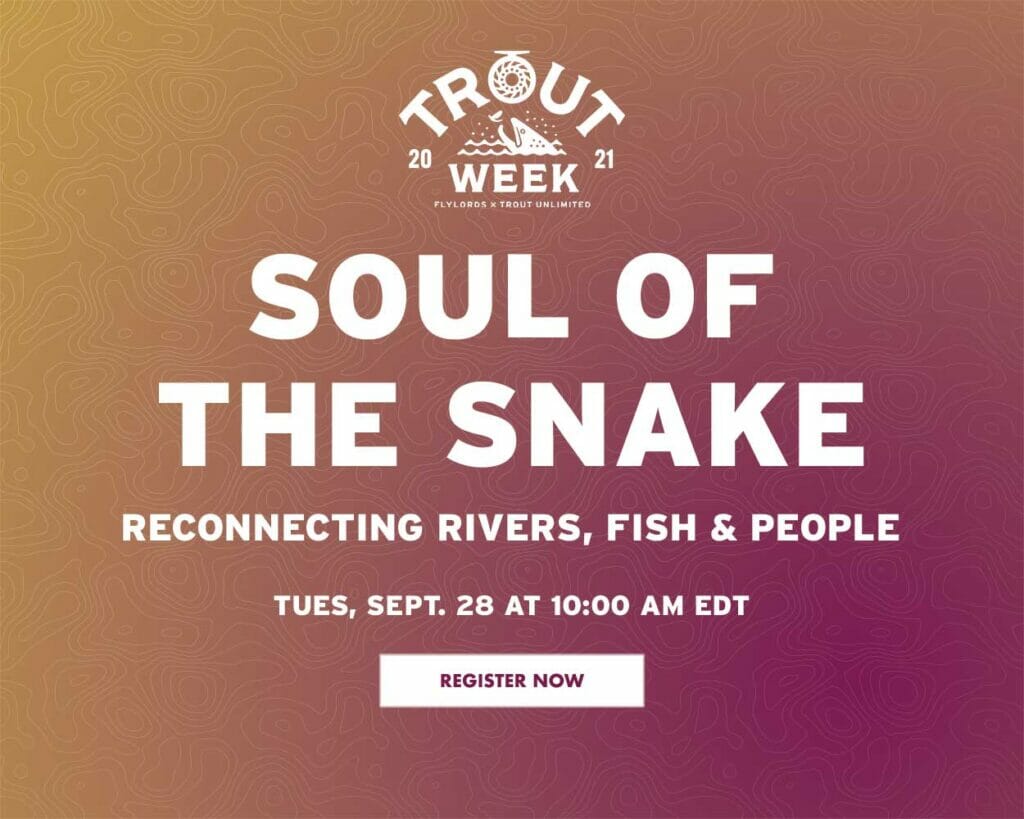 The Snake River and our campaign to remove the lower four dams and save the basin's steelhead and salmon will take center stage during Trout Week, with compelling content and opportunities to listen, learn, discuss and advocate. We'll bring diverse voices together on Tuesday morning with the Soul of the Snake panel talk and on Thursday night sit back together and watch Ocean to Idaho, a compelling 850-mile journey following these imperiled fish. Along the way, you'll be treated to articles, videos and more demonstrating the true wonder of this river system and what's at stake if we don't take action now.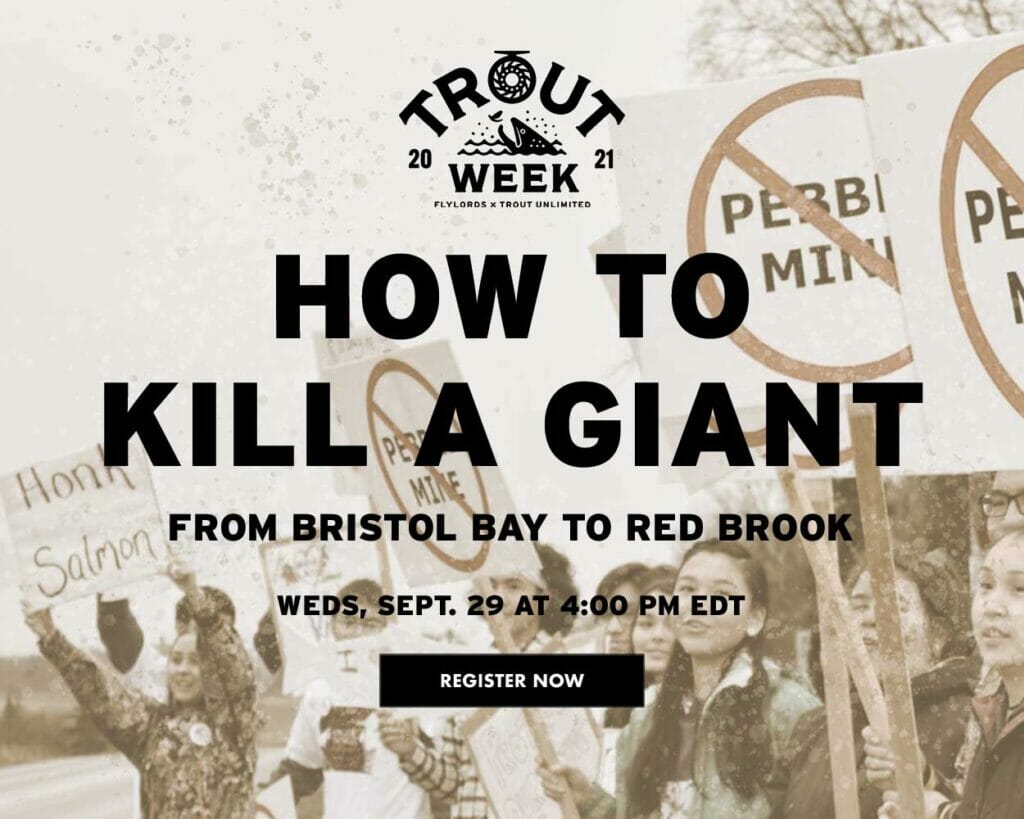 We've all heard about Pebble Mine and the ongoing fight to save Bristol Bay from an ill-advised and potentially devastating gold and copper mine in a system that spawns the largest runs of sockeye salmon anywhere in the world, supports traditional indigenous community connections to the land, waters and fish and fuels a $1.5 billion fishing economy that supports over 20,000 jobs. Now hear how that battle emerged—first as a local, grassroots effort to care for and recover a cherished and sacred land—and how it evolved into an all out war, drawing together partners and stakeholders from all walks of life and all sides of the social, political and geographical spectrum.
We'll also see how the lessons learned in Bristol Bay have helped advise TU's continued grassroots, local efforts across the country, including a successful local advocacy effort that beat back casino developers from Red Brook, one of Massachusetts' best salter brook trout streams.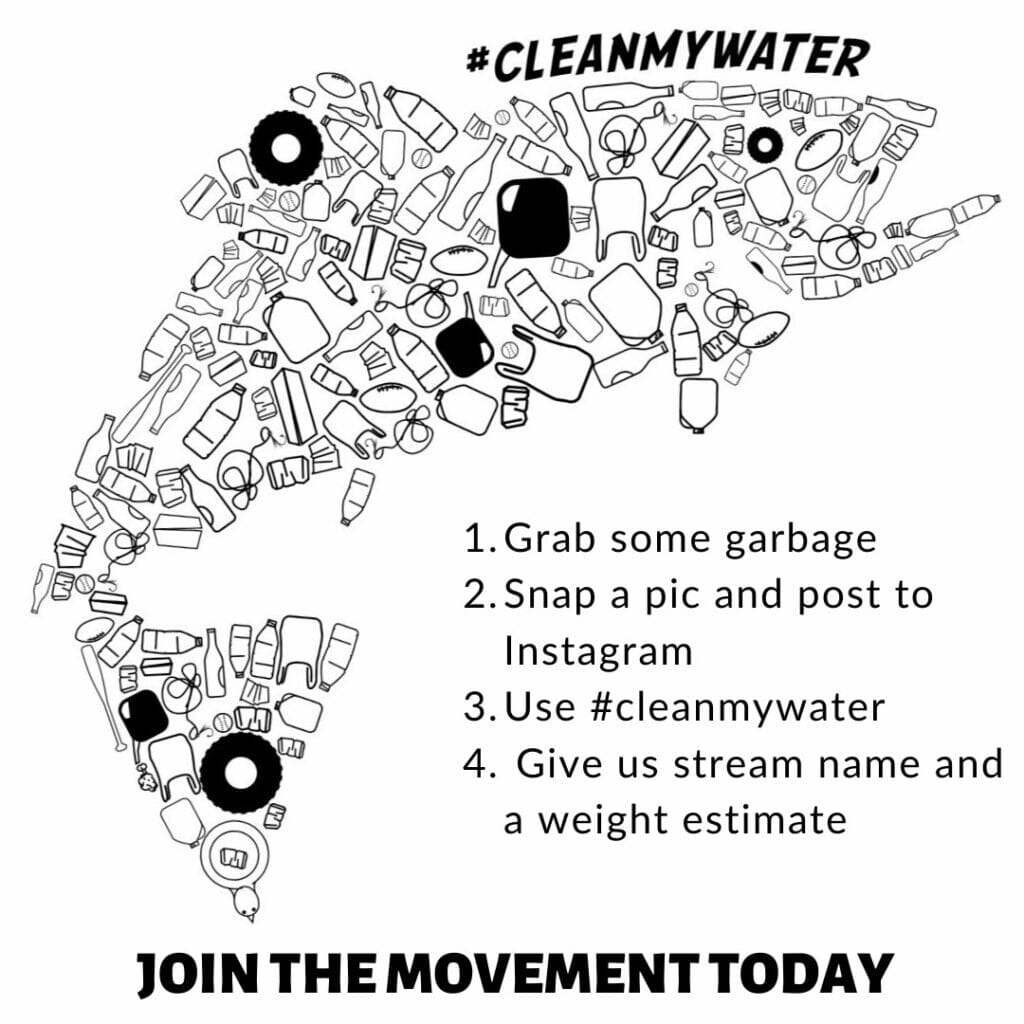 Be part of the solution and help make our rivers cleaner for the next generation and you could win great prizes in the Trout Week #CleanMyWater contest on Instagram. Ask our TU Costa 5 Rivers College Club leaders what it takes to make a difference and they'll tell you — just "pick the dang stuff up!"
Every time you post and tag a photo of trash you've snagged from the river, you're entered in a chance to win gear from Sage, Yeti and Simms. You're also joining a movement to make all of our rivers cleaner and healthier — during Trout Week or every time you go fishing.
Join in on the Flylords Instagram throughout the week as they host some of the most knowledgeable and talented names in fly fishing. Join Garrison Doctor (@garrisondoctor) on Sept. 28 for a live trout sketch, and Eric Svendsen(@svendiesel) on Oct. 1 to tie up some famous fly patterns. Also, on Sept. 29 dive deep into trout and steelhead in the Pacific Northwest with TU's own John McMillan. Following those events, Josh Crumpton (@texasjosh) from Guadalupe River Trout Unlimited, will be talking shop about getting involved in your local chapter to wrap up Trout Week on Oct. 2.
Whether to listen to and speak with anglers, conservationists, influencers and advocates, to sign up for engaging local events, to step forward to lead your own Trout Week activity, or to simply pick up trash on a DIY adventure, be sure to spread the word among your fishy friends and fellow world savers to tune in to Trout Week.
Whether you chase tailwater trout in the South, wily mountain brookies in the Northeast, or sea-run salmon and steelhead in the Pacific Northwest, you are sure to find stories, conversations, and events that grow your passion for these beautiful fish we love to pursue and for working together to care for and recover the rivers where they live.
Stay tuned. More events are being added every day!