During the Beaver Creek Invitational, veterans understand the therapeutic nature of rivers.
"There is always something therapeutic about being on the water. The river is so beautiful, catching fish becomes a bonus. The amount of support and love given to us veterans is truly amazing. I'm grateful for all the time and energy given by the volunteers."
Josh Hampton told me this the other day after I watched him haul in four beautiful trout on a narrow run of Beaver Creek in Ottobine, Virginia. Josh is an Army veteran, and was taking part in the Beaver Creek Invitational, a fishing tournament put on by the Massanutten Chapter of Trout Unlimited.
The annual event brings together veterans and the community to enjoy a day on a stream that has seen a renaissance over the past two decades thanks to the hard work of many conservationists.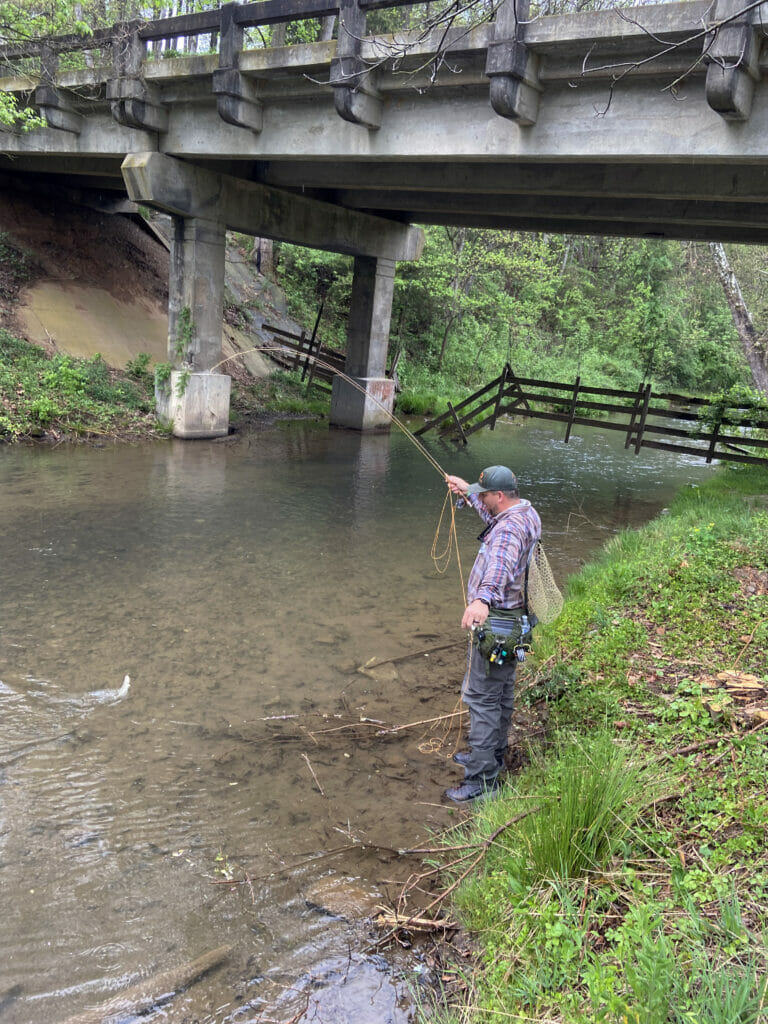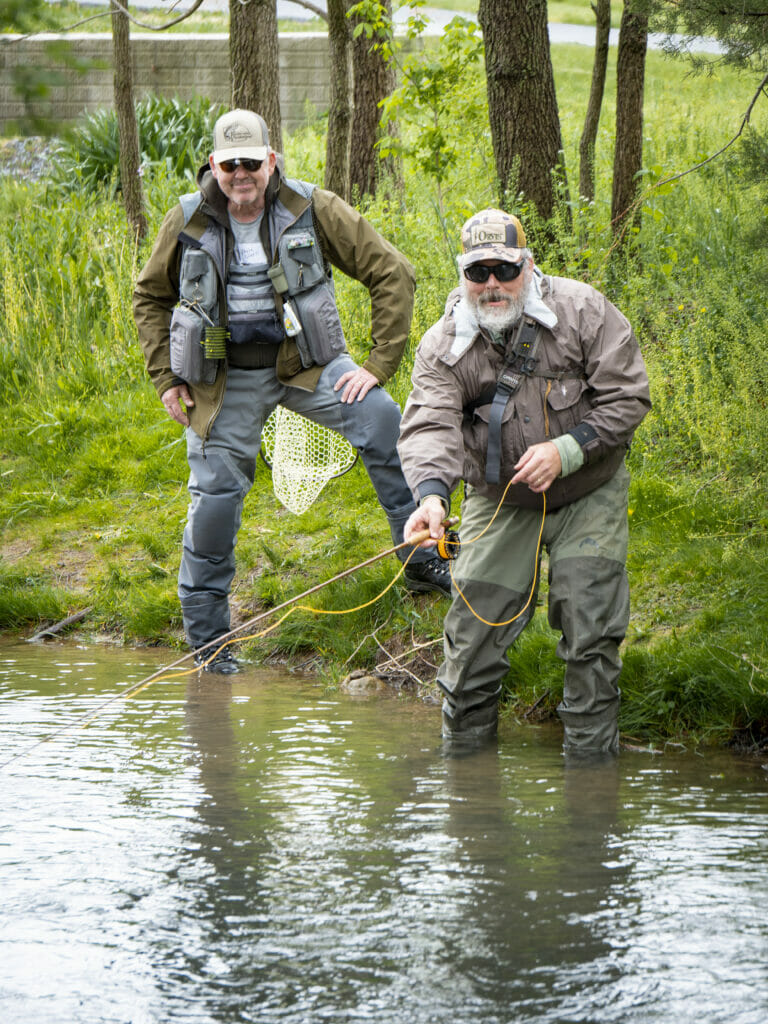 Beaver Creek has benefited mightily from the restoration work of the Shenandoah Home Rivers Initiative led by TU staffer Seth Coffman, who lives in the area. For almost 15 years, Seth, the chapter, and other partners, including the U.S. Forest Service, have done amazing work helping to restore Beaver Creek, Mossy Creek, Dry Run, and other coldwater tributaries of the Shenandoah.
Because of years of cattle grazing and past agricultural degradation, a few decades ago Beaver Creek was a knee-deep, 70-foot-wide creek lacking any quality holding water, nor spawning and rearing habitat for trout. Today, it is a narrow spring creek featuring deep holes and filled with downed trees that create great habitat for trout.
One of the recent collaborations involved our work with students from nearby James Madison University. They worked with TU staff on project assessment, design, cost-estimates, fundraising, and construction. They came back later and even helped to plant a new riparian buffer.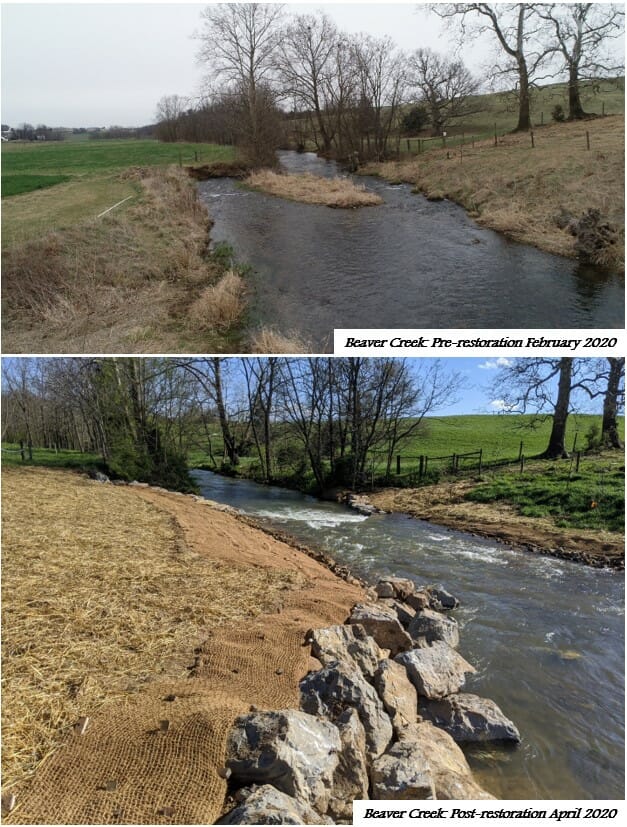 I first learned about Beaver Creek about 10 years ago. Seth and one of the landowners on the river, Jerry Black, came to my home in Washington, D.C., for dinner. It was there that I learned about the novel arrangement created by Jerry and 28 other landowners—many of them Mennonites.
They allow access to several miles of the river for up to four people a day for a minimum donation of $10 to Trout Unlimited. To express their appreciation, Jerry and Richard Faust, the irrepressible president of the Massanutten chapter, host a dinner every January for those families who allow this access. When that became impossible during the pandemic, Rich, Jerry, and other chapter members delivered Christmas hams to the homes of each of the 29 families.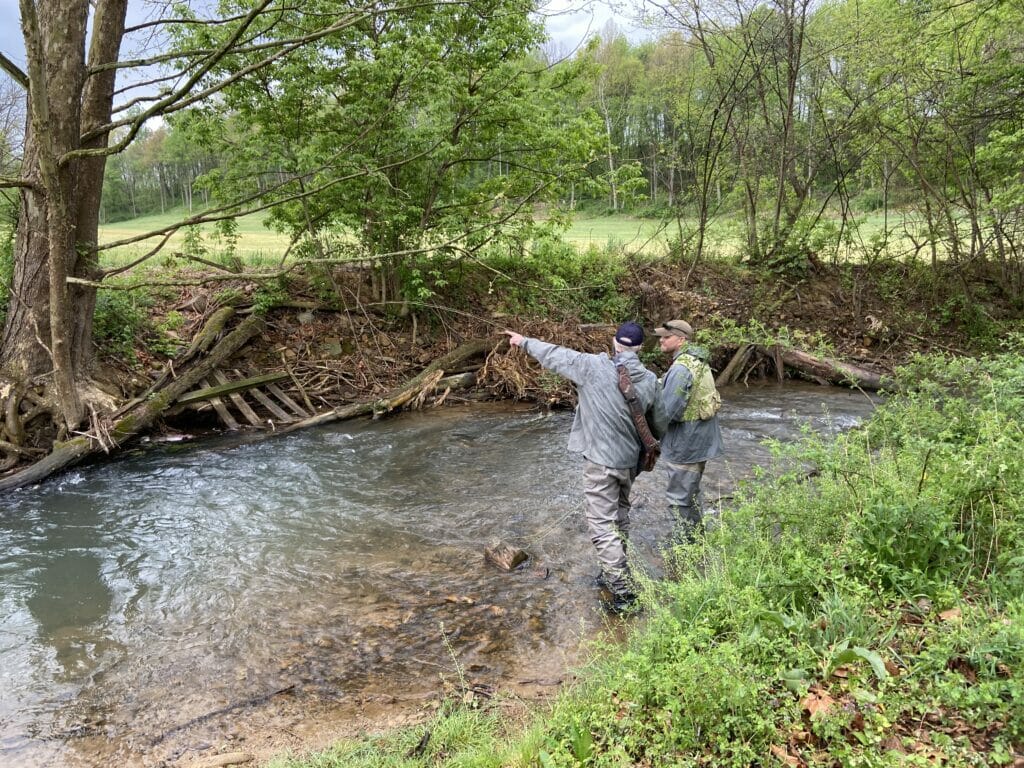 I walked the river talking to veterans and their volunteer guides from the area and came upon one angler making difficult backhand roll casts to avoid a few low hanging branches. When I expressed my admiration for the difficult cast, he said, "I truly do not know what you are talking about. This is the first time I have ever held a fly rod in my hand." Teaching him the basic roll cast, and how to mend was a breeze. Later, I hooted and hollered as I saw him land a large fish with a tough cast.
It was cold and rainy. As Richard and I watched an angler net a trout, he said, "Three years ago, I was guiding a vet from the Iraq war. The air and water were very cold. My guy had lost a leg and had shrapnel in the other. I suggested, 'Maybe we take a break for a bit?' He looked at me and said, 'The cold water is the only thing that makes my leg not hurt.'"
What makes the Beaver Creek Invitational so special is the community support and engagement. Jerry Black received $40 from a neighbor who doesn't fish but loves the work of the chapter. Rich told me about another neighbor in her mid-80s who has "likely never held a fishing rod of any kind in her hand," who gives him $200 every December for the chapter.
I walked the river in the rain with Darrell Bailey, the general manager of Baker Roofing in Weyers Cave, Virginia. Baker Roofing is a sponsor of the event.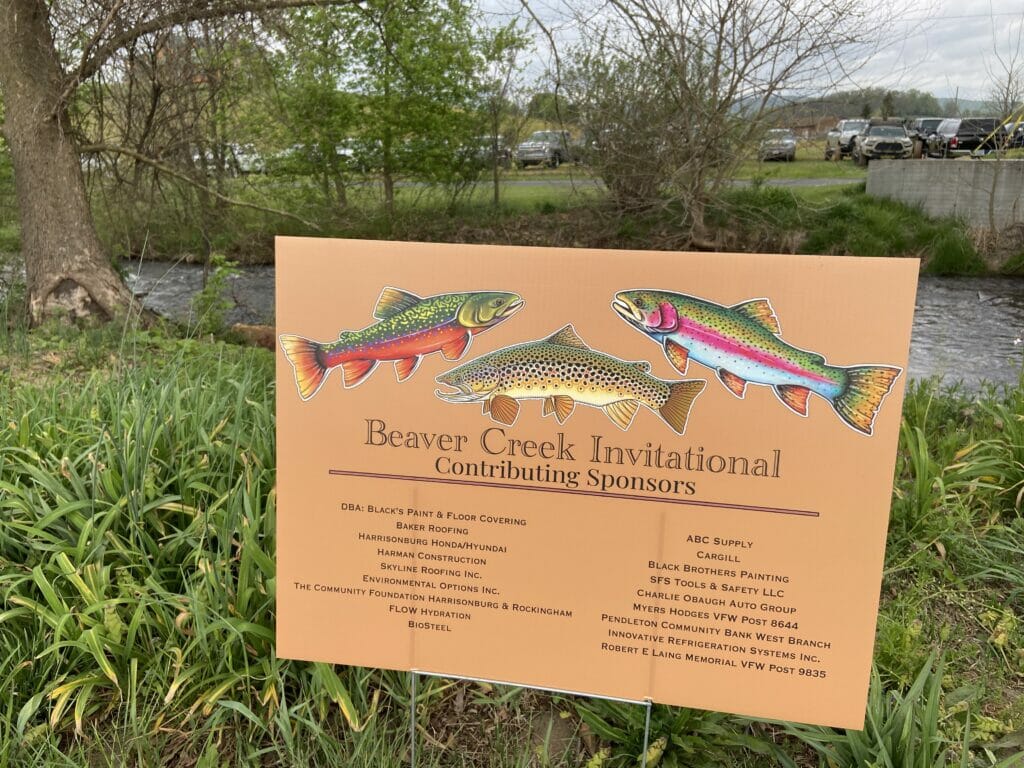 I asked Darrell if he fished. He shook his head. "My 97-year-old Dad fought in the Battle of the Bulge. I walked this event with him last year. When I asked the owner of our company if we could support the event, as a veteran himself, he said, 'Of course. Let's do it.' Even though I do not fish, I love the fact that TU is repairing streams. We need to support native fish and their habitats. When nature is sick, we get sick. I am not an environmentalist, but we have a responsibility to steward."
When Steve and Tommy Urglavitch from Urgie's Cheesesteaks in Harrisonburg came by in the pouring rain with the 50 or so Philly cheesesteaks, chips, and drinks that they donated, they left with a resounding "hoo-rah!"
Colby and Brian Trow, the great owners of Mossy Creek Flyfishing, donated the proceeds of the Fly Fishing Film Tour and their Iron Fly Tying competition to Massanutten TU, resulting in nearly $15,000 in donations that will allow the chapter to expand its work with veterans and kids through programs such as Trout in the Classroom.
I spoke to the group at lunch under a tent with rain pounding on the roof. TU's Service Partnership has long offered free memberships to veterans and first responders. So, it was natural to gift all the veterans at the Beaver Creek Invitational memberships into TU.
After all, as Saint Ambrose told us and the Massanutten Chapter shows us, "No duty is more urgent than that of returning thanks."