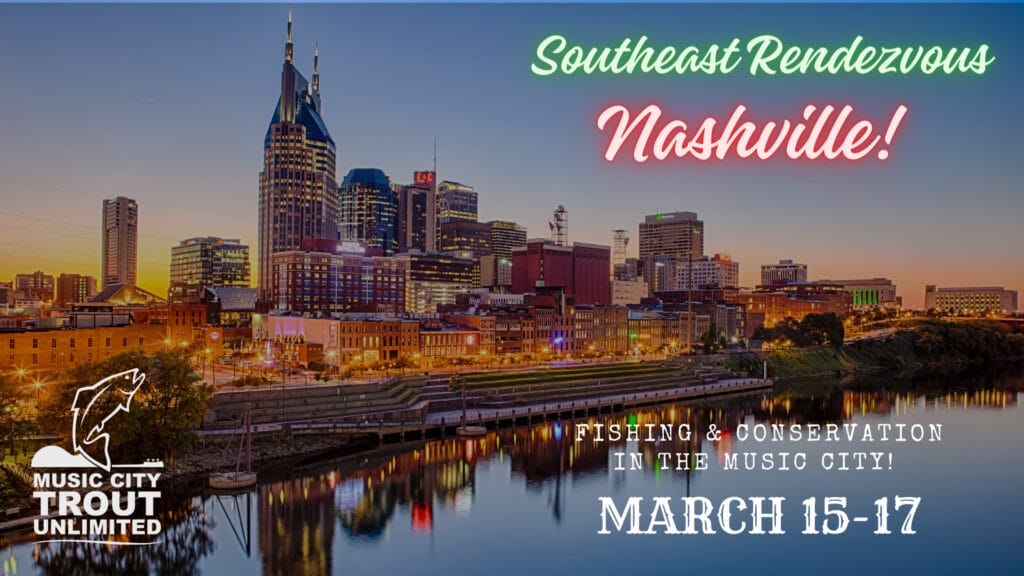 2024 Southeast Rendezvous
March 15th-17th in Nashville, TN
Join fellow TU members, supporters and volunteers from across the region on March 15-17th, 2024 at the Holiday Inn: Nashville-Vanderbilt Downtown for some great fishing, informative presentations, inspiring dialogue and engaging camaraderie with those who share your dedication to TU and our mission.
Located in the heart of Music City, where the sounds of country music fill the air in every nook and cranny, Nashville is the perfect place to showcase how conservation can thrive in a big city by connecting people who care about cold, clean rivers and streams to opportunities to make a difference. Join us for a range of great activities from diverse fishing excursions to conservation learning opportunities and hands-on activities all weekend long. This is the perfect location to join us for the weekend – and stay longer to make a family trip or fishing or music-lovers escape around this great event!
Despite its size, Nashville is within striking distance of some amazing fishing opportunities, and we hope to score some great early Spring weather to make that a reality!
TU regional rendezvous are occasions to be inspired – by the work of TU staff, lessons from volunteer leaders, and conversations with newfound friends. They are also an excellent opportunity to discuss the unique issues facing the region as well as a chance to network and build relationships with fellow TU volunteer leaders.
Registration
Registration
Registration options will include:
Hosted fishing on area waters with local TU members
Late night social events and hospitality – and loads of live music!
Participation in all seminars and workshops on Saturday and Sunday
Breakfast and lunch on Saturday and Sunday
A fun, fundraising dinner on Saturday night for Music City TU
A hands-on conservation event Sunday to help us leave Nashville a little better than we found it
* You can register for the entire weekend, or register for one day only at a discounted rate
**Attendees are welcome to register children and partners and encouraged to bring friends new to fishing and conservation!
For questions and additional details, email Maggie Heumann at maggie.heumann@tu.org.
Lodging & Conference Space
We will be hosted by the Holiday Inn: Nashville-Vanderbilt Downtown
2613 West End Ave, Nashville, TN 37203
The discounted room rate is $199/night, double occupancy for two queen beds.
Book online to get the special TU rate – click here to book your lodging.
Our room block rate expires on February 14, 2024.
Schedule
Schedule
A full event agenda will be posted shortly, but below are some of the key activities taking place.
Friday, March 15 – Hosted Fishing Day
Explore a wide range of fishing options with friendly volunteer TU hosts, or choose a DIY adventure. There are a wide range of options to choose from including nearby delayed harvest waters, a unique tailwater experience as well as still-water and warm-water opportunities to challenge your skills and connect you to new species. (Friday fishing is optional and comes with an additional $25 cost to cover boxed lunch.)
Friday, March 15 – Late Night Social
Following fishing, or for those who have been traveling into town all day, after a no-host dinner downtown, join us for a fun and exciting evening catching up with friends new and old over cold drinks while taking advantage of all that Music City has to offer!
Saturday, March 16 – Workshops and Seminars
Saturday's full-day session will include breakfast and lunch networking, group discussions, concentrated workshops, featured conservation presenters and opportunities for TU members and volunteers to share ideas, celebrate successes, and discuss common challenges.
Saturday Night, March 16 – Fundraising Dinner for Music City TU
Following the day's meetings, join your fellow TU members, volunteers and staff from for a great meal and a lively fundraiser to benefit the local work of the Music City Chapter. Saturday night's dinner is included in "inclusive" registration and also open to all local TU friends as a separate registration option.
Sunday, March 17 – Morning Speakers, Hands-on Conservation Event
We'll close out the weekend with a fun networking breakfast and enlightening talk on a local conservation topic, then host a few more small gathering conversations before breaking prior to noon. Boxed lunches will be available and attendees are encouraged to join us for an afternoon conservation event to help leave Nashville a little bit better than we found it.