Speculative Leasing
More than 90 percent of BLM lands – our public lands – are available for leasing. But our analysis shows that only 23 percent have moderate to high potential for oil and gas development. Leasing public lands should not be done on speculation, but rather where there are recoverable reserves that will provide value to the American people and to businesses.
See the Maps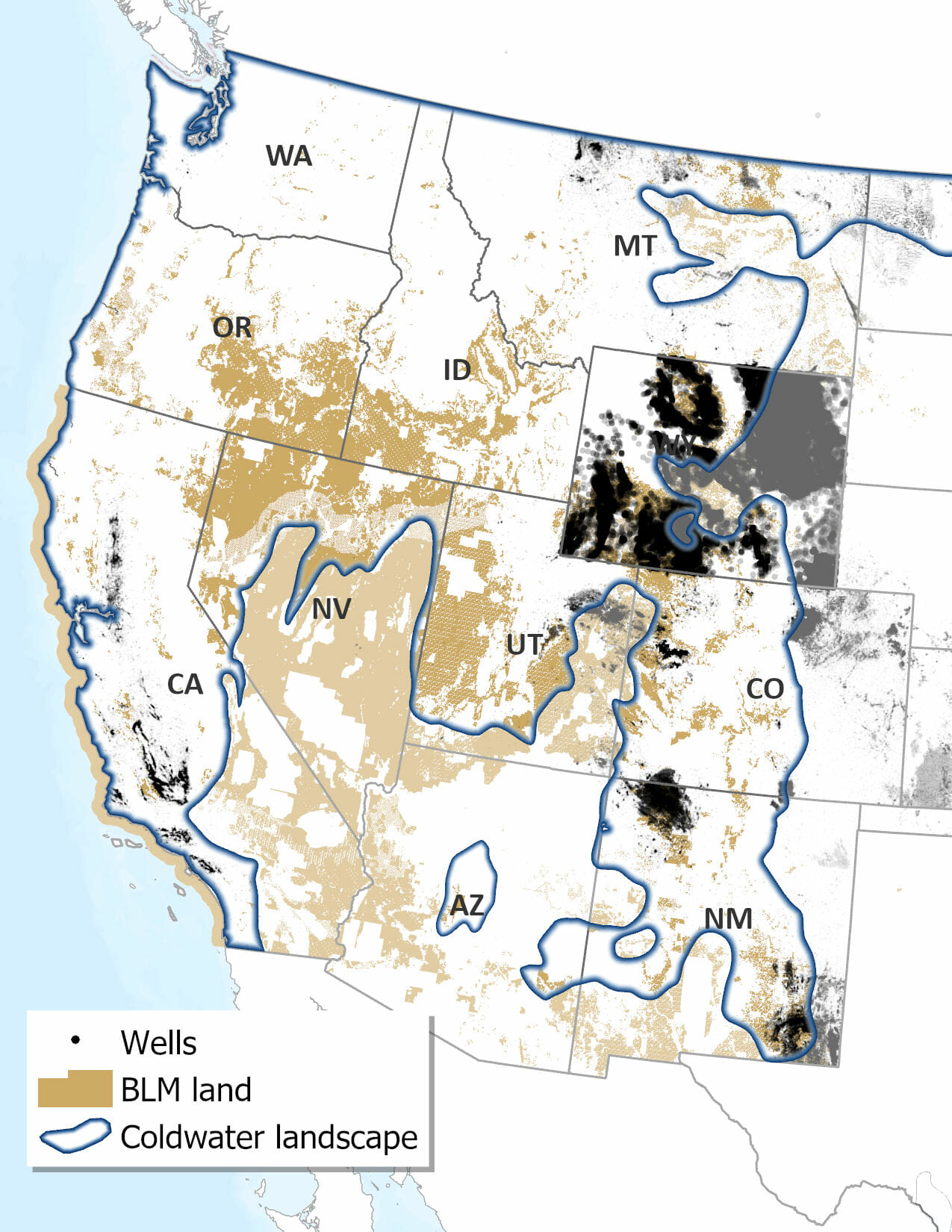 Percent of BLM lands open to leasing
Percent of BLM lands with moderate to high oil and gas potential
As part of Trout Unlimited's efforts to balance coldwater conservation with responsible energy development, including land and water use associated with energy development, production, transmission and transportation, we are working to curtail oil and gas leasing of low potential lands in the western U.S.  
More than 90 percent of Bureau of Land Management lands are currently available for oil and gas leasing (see map on left). Outdated BLM policies encourage management decisions that prioritize oil and gas development, resulting in significant resource conflicts and inefficient use of agency resources. For example, under the guidance, BLM will leave lands open for leasing when its own analysis shows there is low and no potential for oil and gas development on those acres. In the western U.S., only 23 percent of BLM lands are considered moderate to high potential for oil and gas.    
Leaving lands with low or no development potential open for development drives speculative leasing. Speculative leasing involves parcels that are not proven to contain economical recoverable resources worth extracting. However, anonymous speculators are allowed to nominate lease parcels on public land on the off-chance that they might become valuable someday. This can preclude other uses of those lands, like for recreation and fish and wildlife conservation. Once leased, these lands are often not managed for other uses regardless of development status, which creates unnecessary public conflict. Moreover, understaffed and underfunded agencies must allocate limited resources to evaluate speculative lease sales to the detriment of fish, wildlife, habitat, hunters, anglers and other recreationists. 
Energy Assessment Mapping Applications
Trout Unlimited's approach to coldwater conservation emphasizes protecting intact habitat, reconnecting fragmented fish habitat, restoring degraded habitat and at-risk native trout and salmon populations and building a powerful constituency for trout and trout habitat. To maintain and enhance our goals of coldwater conservation, we encourage a balanced approach and upfront planning and management of energy development.  
Our GIS spatial analysis energy assessment tool uses the best available science for Colorado, Nevada, Montana, Wyoming, Utah, Idaho and New Mexico. The too will help ensure Trout Unlimited and other decision–makers are informed by solid data. The data helps Trout Unlimited maximize our efforts with the U.S. Forest Service and the Bureau of Land Management by identifying public lands that have low potential for oil and gas production, but high value for sensitive coldwater fisheries. Users can add layers such as upcoming oil and gas lease sale parcels for decision-making based on criteria including wildlife values, coldwater fisheries values, oil and gas potential and land ownership.